We climbed out of Monte Carlo and headed towards Sospel along 50kph limited roads winding their way along the cliff tops. Here the juxtaposition of old and new buildings clearly illustrated how much development had taken place over the years.
Exiting the final town limits and passing the peage lentry we joined the small but fun roads of the D2566 which wind entertainingly over the Col de Castilllon towards Sospel. Another quick stop for petrol and onto the D2204 towards Breil-s-Roya and the start of the first real traffic we'd encountered so far. Unfortunately it included the ubiquitous camping cars. It seems their owners always choose the wrong times to haul their slow and mobile chicanes over the best roads ( is there ever a right time?), and frustratingly so was the case again today. Eventually the traffic just seemed to disappear and we were left with relatively clear roads until we reached the tunnel de Tende, and as per last year when I rode this road, ended up waiting for the one way traffic to come through from the other side until we could continue our onward journey again.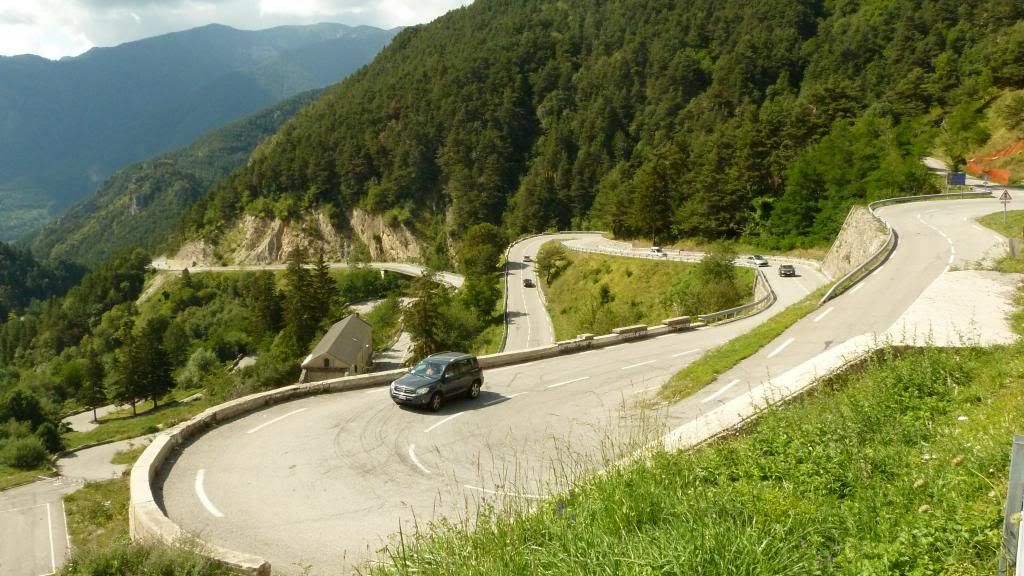 Deja vu struck again when the GPS seemed incapable of finding a route out of Borgo S Dalamazzo to Vinadio, and as per last year, started riding round in circles round the outskirts of the town trying to find it. Eventually I gave up on my Zumo and deferred the route finding to Andy who was more successful and soon got us back on track.  A quick radio chat and we agreed that Andy would pull over somewhere ahead when a suitable lunch spot was found, and a few kms outside Vinadio he pulled over to a restaurant where there were a couple of Italian bikers already sat eating outside. The couple, a guy on an old Ducati SS1000 and his partner on an SV650. After we'd ordered and been sat down for a while talking, the Italian guy remarked that we were not French, confused that my bike had a French number plate but was speaking fluent English. Clearly it hadn't occurred to him that other nationalities other than French might live in France! I had a large plate of surprisingly good pasta whilst Andy tucked into a burger. Suitably fed we began the onward journey through Vinadio, and turned left and over the bridge following the signs Col de la Lombarde.
The Lombarde is quite some distance from the turn, and you start by climbing though woods along narrow and winding roads, not especially well surfaced, but the kind you take gently and enjoy their meandering nature. After some while there is a sharp turn to the Lombarde and the climb to it's 2350m summit. I raved about this pass last year and felt much the same this year. It is VERY narrow in parts but has great scenery and in places an excellent surface. Take it easy and just enjoy the views, watch for the semi blind corners which could hide oncoming traffic, and then enjoy the great descent down into the skiing village at Isola. The road was partly blocked by a barrier and staff wanting to charge visitors for access to the motorbike trial going on further down the slopes, but clearly we were only passing through so avoided any charge.
At Isola the road becomes the open and well surfaced D2205, passing through St Etienne de Tinee then turning sharply right at Pont Haut, where it narrows and starts to climb towards the Col de la Bonette. Initially very poorly surfaced it's quite an open road, then the hairpins begin. The waterfall cascading on your right signifies the "real" start of the ride, then it's a blast as quickly as you choose up to the summit. Today it's quite fast, but I'm all too aware of the many ultra tight and narrow bends with their gravel strewn entries, so am quite circumspect in my enthusiasm for a sporty ride up, but there is little traffic and I'm having fun! With no snow on the extended 100m loop to the top we're able to ride right to the summit and pose for the ubiquitous pics to show we were there. Andy (l)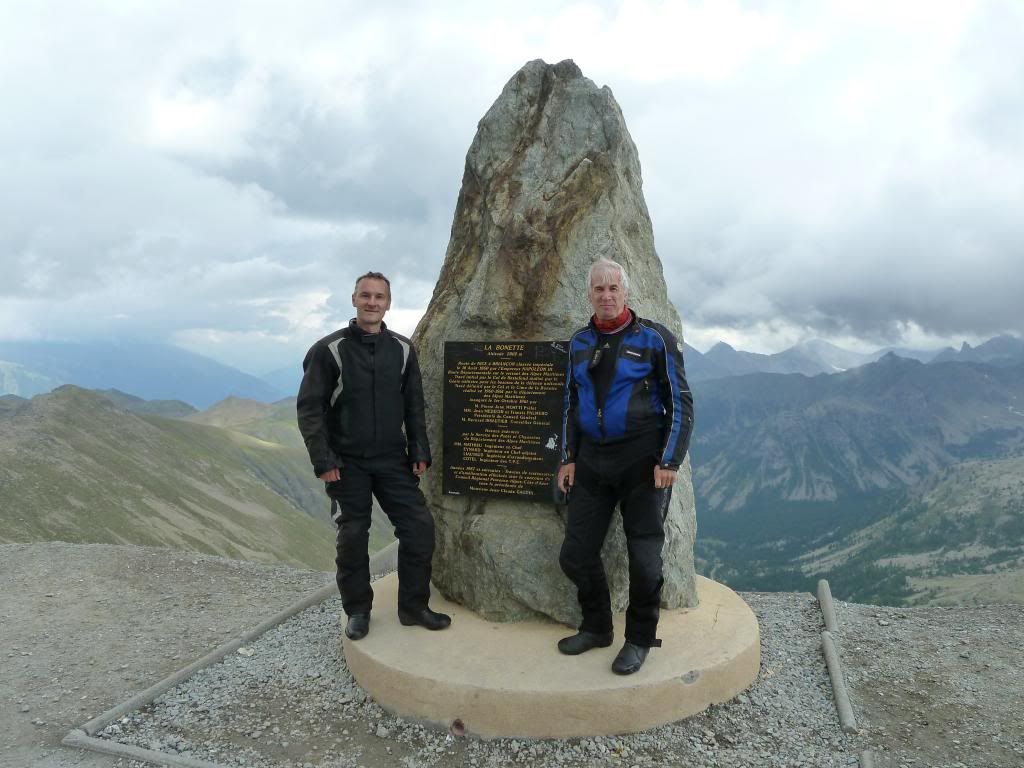 The Bonette itself at 2715m is one of the highest in Europe, and the extension loop takes it to 2802m, which is higher than both the Iseran at 2770m and the Stelvio at 2757m, but many consider it a cheat as it's the loop and not a proper road that takes it to that height, anyway, today it was rideable, and although cool as always at that altitude, revealing great views.
I set Andy off in front for the descent having done my bit leading on the way up, and besides, I know he'll be quicker than me on his GS as the battlebus takes some man-handling on these roads. He's off and soon disappearing as he is able to gets past what turns out to be quite a lot of traffic descending this afternoon while I seem to keep getting stuck behind in the bends.  I catch him up as we get halted briefly by police and ambulances ahead, where it seems a biker has "run-on" in a bend, although Andy is able to ascertain thankfully that it's the bike rather than the biker that's come off worst on this occasion. Arriving at Jausiers at the foot of the descent, we strike off towards Guillestre over the Col du Vars, where we stop for a break, a drink and a piece of pie for me.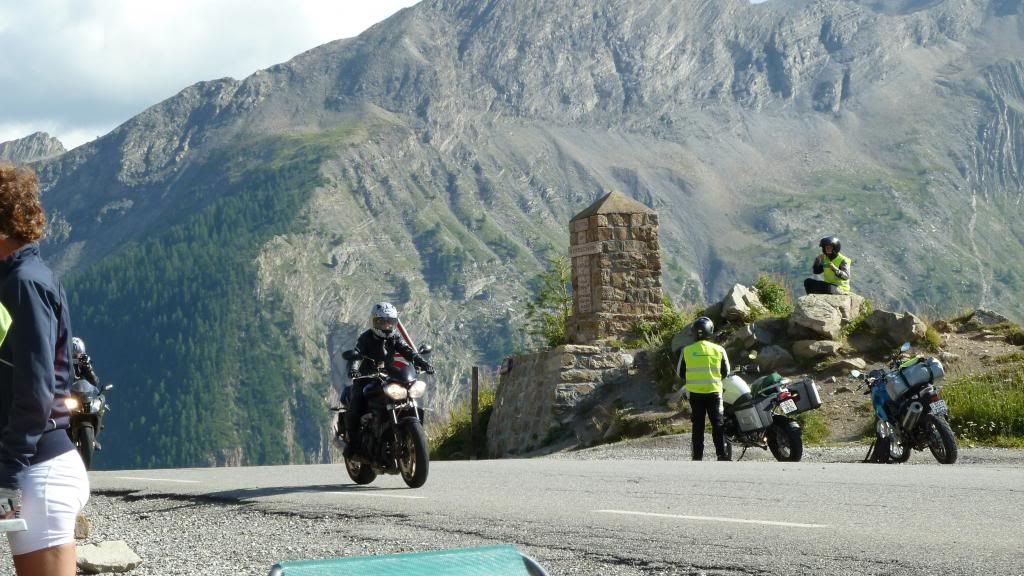 The descent reveals wonderful views across the valleys and across to Mont Dauphin and the mountains in the distance. In fact the descent is longer than the ascent and much more enjoyable from the point of view of its scenery and road surfaces. Down in Guillestre we decide to see if we can stop at my favourite Logis de France, "Le Bon Logis". Unfortunately they've already closed for the season so we revert to the original plan, which was to continue up and over the Col d'Izoard and stop overnight in Briancon.
Once through the gorges of the Combe de Queyras the roads become fast and open for 10 minutes, before reaching the turn off point for the Izoard. The road climbs gently at first through the village of Brunissard before starting the real climb and bends, through the Casse Deserte and its lunar type scenery, climbing ever more steeply round tight and gravel strewn bends (recurring theme ) before arriving at its surprisingly boring summit at 2360m.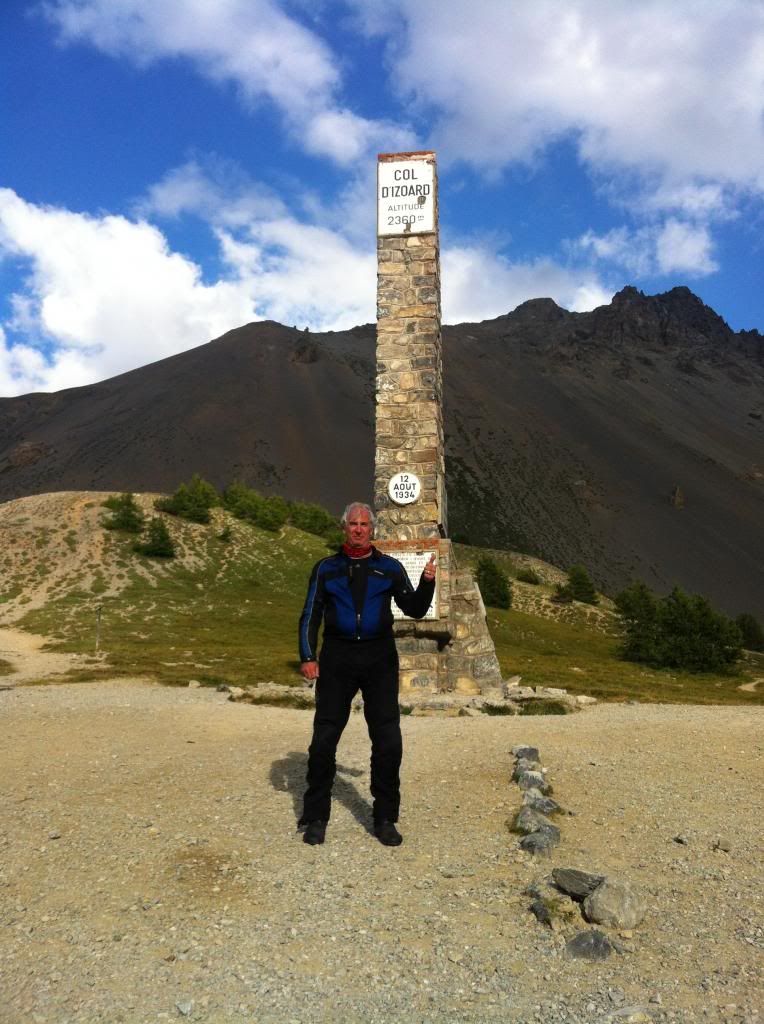 A quick photo and then the descent on initially extremely tight bends with big drop offs, and then down through the woods, the road getting progressively wider and faster as it nears the bottom, and a relatively easy ride down into Briancon. We head for McDonalds to use their wi-fi and search for tonight's accommodation. As per last night it seems there are slim pickings even this late in the season, but after some searching Andy finds us a hotel with a secure garage and we head the short distance there for a welcome shower, meal, beer and sleep.
It had been a long day in the saddle with some very technical riding and big altitude ascents and descents, but who's complaining when you've ridden two of Europe's highest cols and walked round a Formula 1 race track. Another set of great memories banked !
Ride stats for the day, 408kms and 6 hours 52 riding time
FINAL INSTALMENT – BRIANCON TO NYON TO FOLLOW