A lot of the fun in life is searching for things you want then getting them, this I've found especially true with bikes or bike parts, and so it was with the Bitubo suspension I'd had fitted to my R1. Having identified what I wanted, I bought it, had it fitted and a full suspension set-up done, and all that remained was to go out and test it.
No apologies for showing this image again, lovely isn't it?
I booked a trackday at Donington, my 4th this year, and impatiently waited for the fortnight to pass before the date arrived, but with the weather having embarked upon a seemingly long term wet and windy downturn I was worried it would mess up my days testing. The forecast seemed to change daily and even hourly in the days before and things weren't looking great for the day.
Like every event I've gone to this year it had rained the night before, and sure enough it was today too. Setting off at 6.15 in pouring rain, I resigned myself to the fact that that if it didn't stop I wouldn't turn a wheel all day as I've only got slicks.
Donington was, you guessed it, wet. Installed in the garage at 07.15 the rain I looked forlornly outside at the grey skies and driving rain which finally abated at around 08.20 in time for the riders briefing, but with a soaking wet track I didn't ride either the sighting laps or the first two sessions. Thankfully the rain held off, the sun made a welcome appearance, and by the time the third session of the day came round the combination of sun and strong breeze had dried the track enough to allow me to go out.  So how did I fare? Read on.
First impression came immediately exiting the pit lane, accelerating hard on warmed slicks it struck me that the ride was "plush". This was the first word that sprung to mind. No drama, no bite and go, just pure drive. The first lap was one of acclimatisation so not that fast, but after that one lap I was able to push and was immediately rewarded with a turn in that I'd not had on the original OE shock.
As each lap passed I found myself able to turn harder, pick and choose lines, and accelerate harder and earlier, but most importantly, do it all feeling 100% secure in what the bike was doing.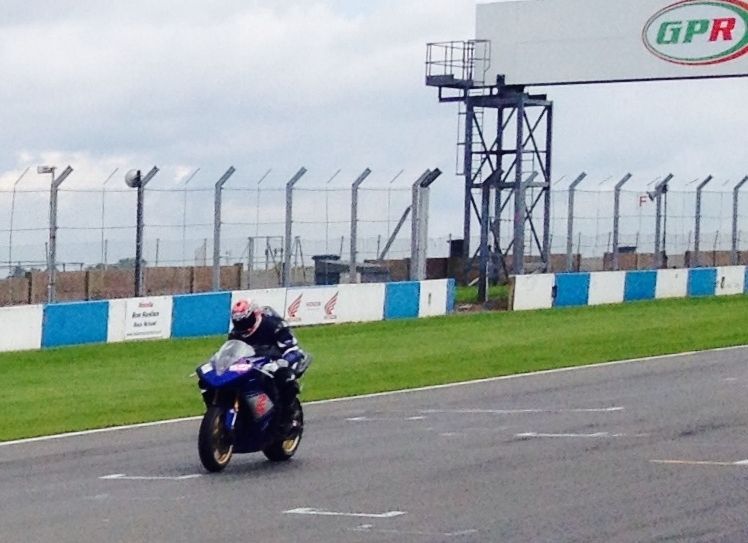 A strange by product was that I found myself entering the Melbourne loop and onto the Wheatcroft Straight in first gear. I never use first gear! Entering the straight I was able to hold a line to the left of the track having turned in tightly, stand it up and accelerate early, instead of drifting out wide to the right.
Carving down Craner Curves as if on rails I found myself able to exit from Old Hall under harder acceleration up to McLeans.
The rise on Starkeys Straight which used to lift the front was despatched as if it wasn't there, and although normally I'm in 3rd here, now I was grabbing 4th.
The Esses were more flowing, and I had a crazy tight line into Melbourne loop as the bike just instilled confidence everywhere.
Teut (TW Suspension Tech) had also changed the settings at the front, and both braking and turn in were superb, the whole bike now functioning as one unit rather than the poor rear following the front ride I'd had with the old shock.
I've no real idea of times as somehow I'd managed to switch the lap timer onto an incorrect program, but my wife was timing me on the iphone and she saw 1.57, which was my best there last year, so clearly the bike was handling well, which I have to say is a huge understatement! Although a little disappointed not to be able to say I'd carved seconds off my times, the feeling the shock and set-up gave me were superb, and makes me wonder why the hell I didn't make the changes earlier? I have no doubt once I get 100% used to this new found improved handling my times will improve, but even if they don't the riding experience it's given me has been well worth it. The shock was amazing, and the set up too. I'd tried to contact Teut at TW Suspension to let him know how things were going but he was busy when I called, so I left him a garbled message telling him how pleased I was. To my surprise he rang me the next day to discuss how I'd found things in detail, how many companies will give you that level of service?
A huge thanks to Teut then, and here's one rider totally converted to the fact that an investment in suspension is the best place you can spend your money!