Day 3
My room had this view up on the hillside which we would pass by this morning.
I decided to treat myself to breakfast for a change and scrambled eggs and sausages went down well to start the new day. We removed the bikes from the locked garage, returned the key, and with the route keyed into the GPS, (even though I don't need it), we set off, stopping first for petrol before climbing out of Briancon and up towards Montgenevre. From here we descend through the tunnels with their long distance views to the downhill bobsleigh run in the distance, and through the town of Oulx and onto the relatively boring road to Susa. Here the pace picks up, the roads narrow, climb, and the fun begins.
There's little traffic and I'm off, speeding (legally of course) past the odd car that is actually on the road, onwards and upwards towards the spectacular Lac du Mont Cenis, enjoying a relatively free run in the still cool morning temperatures.  We pass a group of riders on their choppers with ape hangar bars and wonder how the hell they can ride in such an awkward position, but their group is well disciplined, move over to let us pass and give a cheery wave.
Down in Lanslebourg we strike East for Bonneval sur Arc and the ascent of the Iseran. At 2770m it's another biggie in altitude, but today I'm riding it slower than usual and taking time to marvel at the sun shining on the glacier in the distance, and taking pictures of the fabulous scenery that normally I'd just pass through.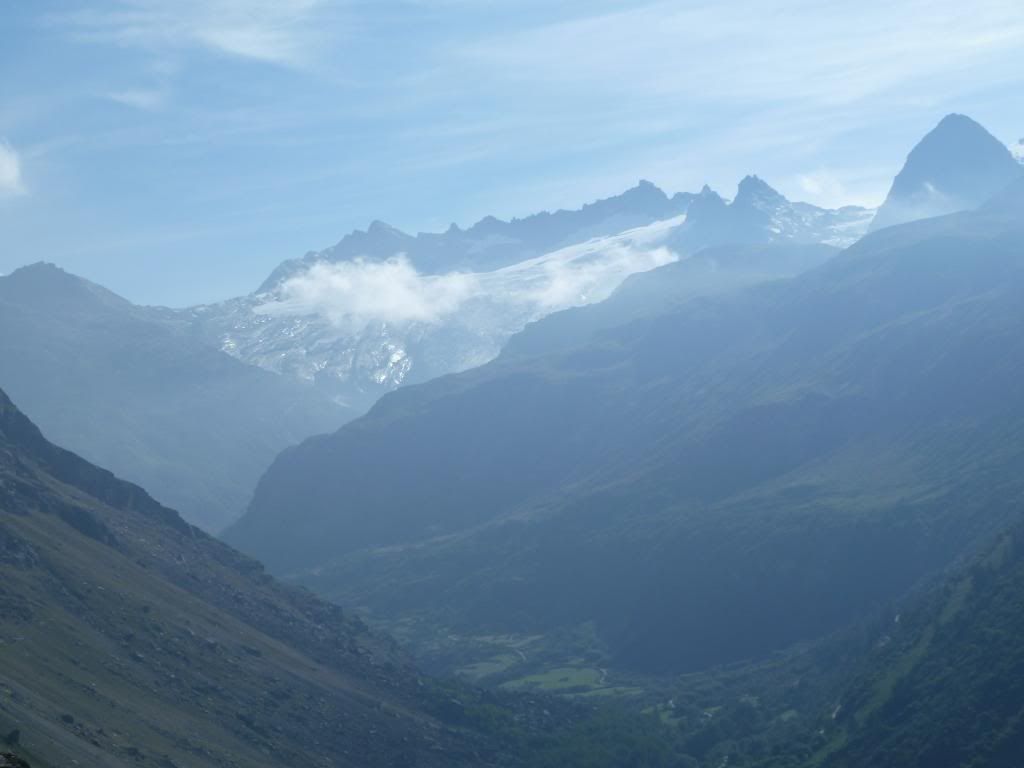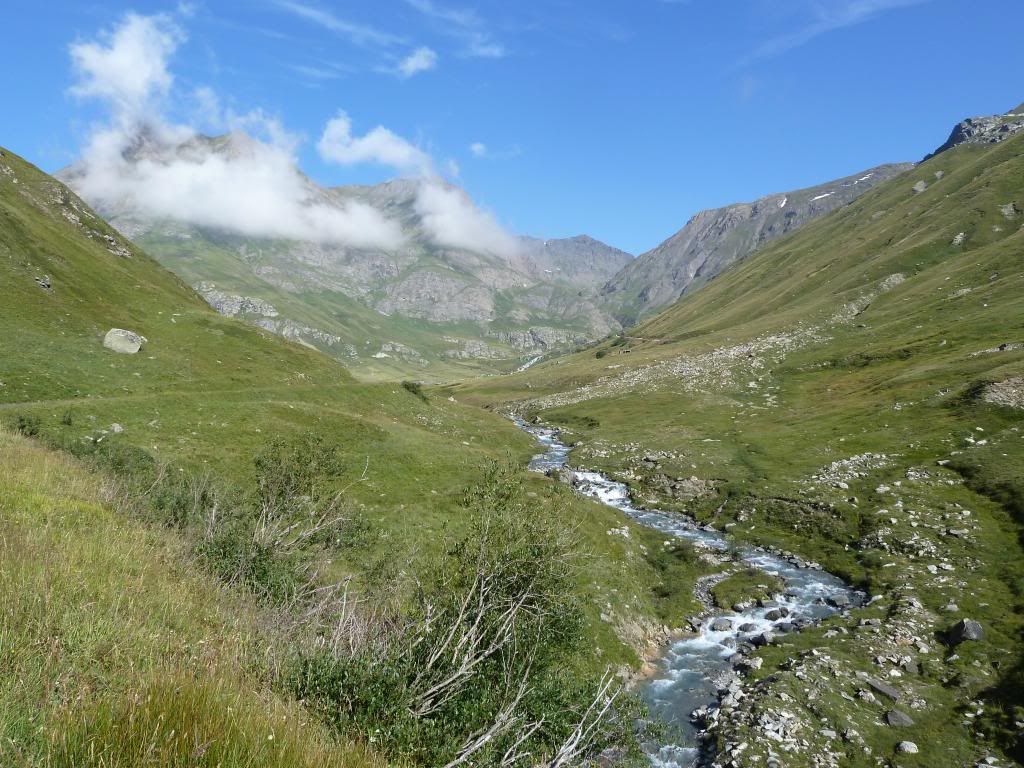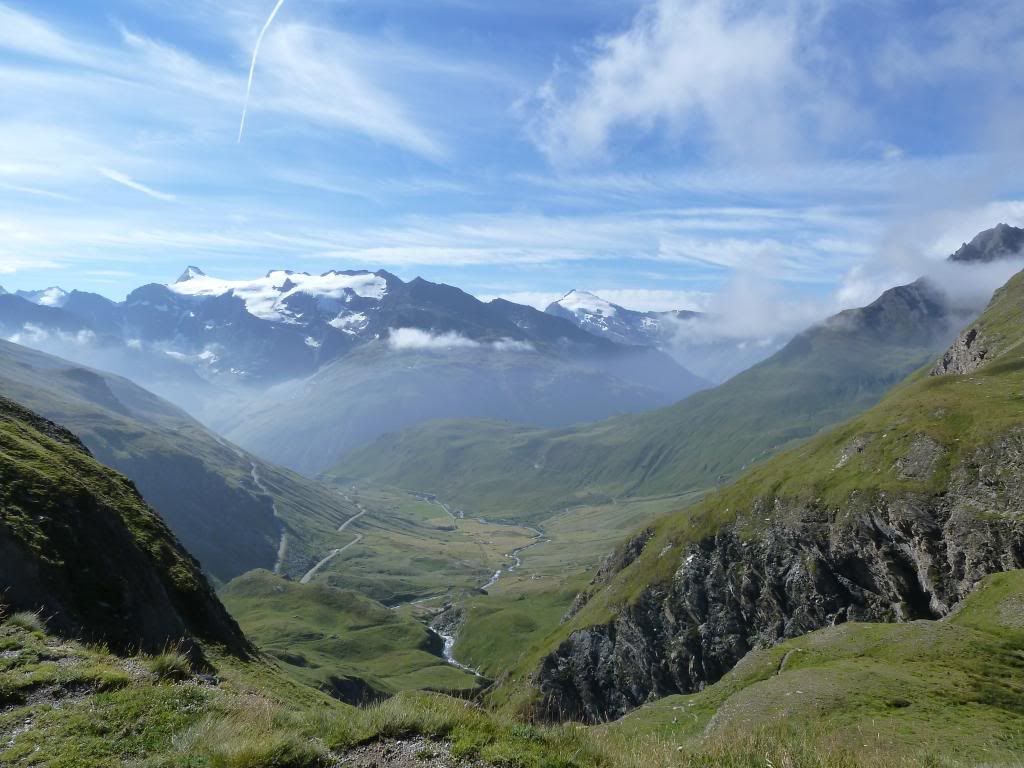 At the top Andy is waiting for me before I send him off ahead again, knowing from last year's ride here he's much quicker than me on this descent, but also because I don't want to ride quickly this morning and am enjoying the views.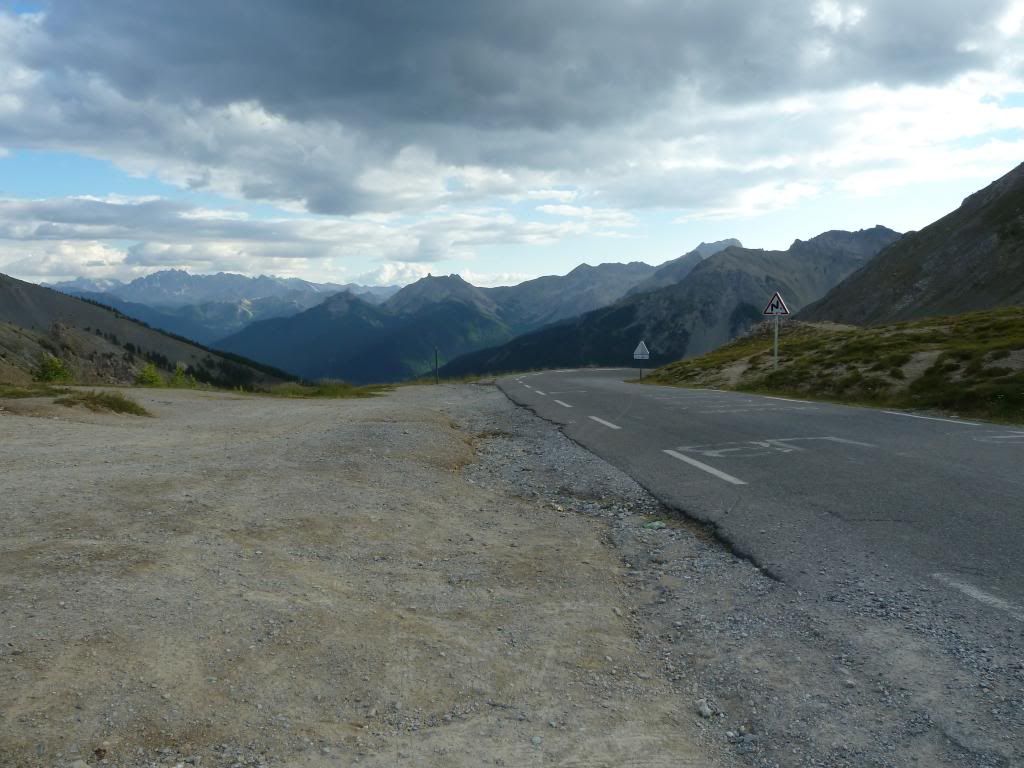 Sure enough Andy's rate of descent was much faster than mine and I found him parked some kms ahead waiting patiently      ( or maybe not?) for me to appear. We stopped for coffee in Val d'Isere and sat inside the restaurant, taking advantage of the fact they were showing the MotoGP warm up on TV. Not so great watching Cal crashing his brains out though!
Onwards past the barrage at Tignes and it's giants head mural and down to Bourg St Maurice, where the next couple of novel parts of this ride were to come into play, riding the Cormet de Roselend and Aravis in the opposite direction to that I normally ride them in.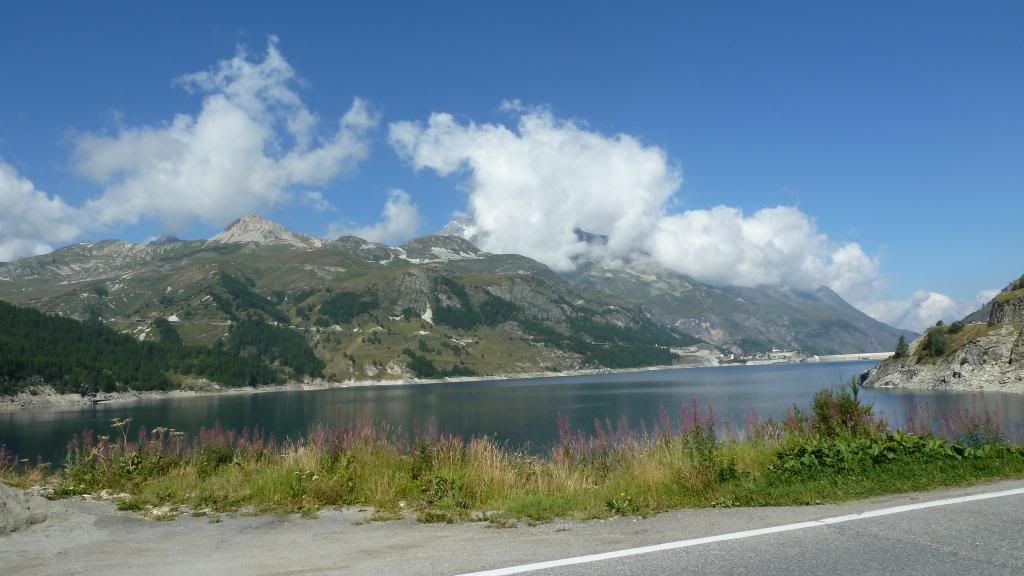 Doesn't sound like a big deal, but I've always ridden these cols in the opposite direction, but today going South to North I'm enjoying the novelty of riding what to all intents and purposes is a new route. The initial climb up from Bourg St Maurice is easier than the descent, and then as the roads open the climb is really good fun. The views are now opening up ahead of us whereas normally I'd be straining to look back over my shoulder to see them. The Lac de Roselend is revealed as a wonderful tapestry as you round the final bend and hillside blocking it's view, and we slow to admire the beautiful blue waters and fantastic images ahead.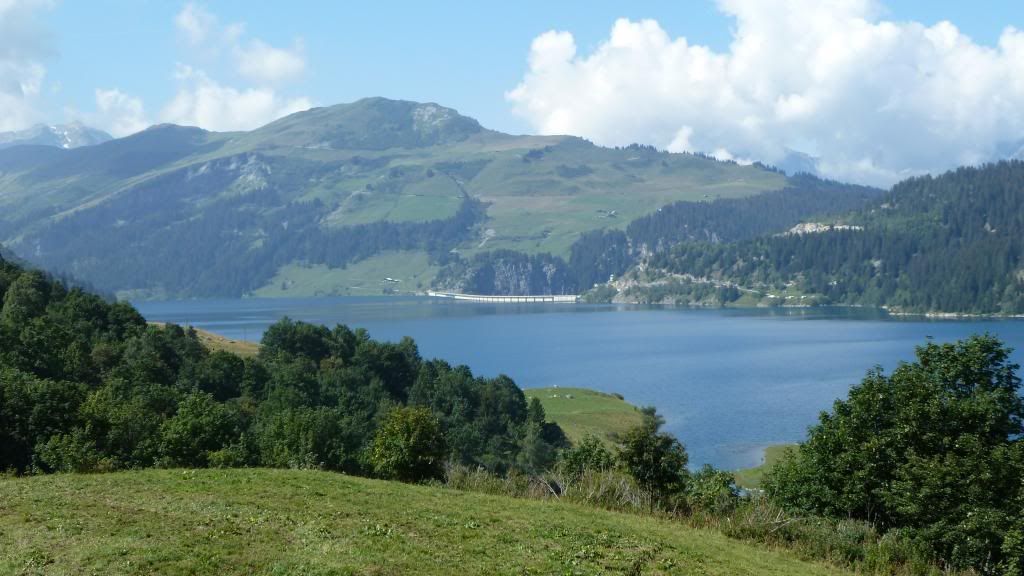 Lunch is at the "usual" restaurant, the service never gets any quicker, but if you've got an hour or two to spare this spot is awesome, and always inspires me to take pictures.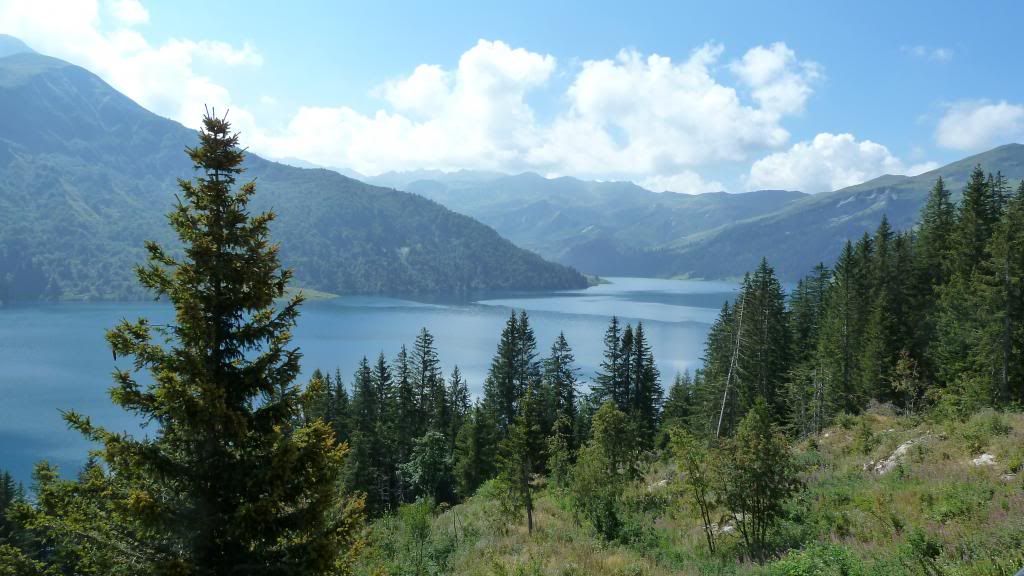 The descent to Beaufort is as much fun as the ascent, although I nearly collected a Goldwing head on when he decided to overtake a car without spotting I was coming the other way! Next pleasant surprise is the section that climbs towards Hauteluce. In memory it seems I've had a few "moments" coming down this stretch of road, and a friend once boiled his brake fluid on his Thunderace, but going up today was a blast and with no issues whatsoever!.
The Col de Saises is still as poorly surfaced as ever, and the dodgy left hand bend over a crest descending is now a dodgy right hand bend ascending. Up and over the Aravis and down towards Bonneville, where a deviation sends us to the motorway, and then towards Geneva and Andy's house where the ride "proper will end.
Todays stats are only 359kms but 5 hours 40 riding time         
I won't bore to you with the boring details of my seven hour ride back home the next day, because they're just that, boring, but when I've been writing and recalling this tale there are some very strong points that came through loud and clear….
It's always worth making the effort to ride the Alps, they're special roads, challenging, rewarding, and fun
Riding with a friend is always better than doing it on your own, an experience shared gives memories you can recall together for years
Doing things differently (directional) can be fun, mixing things up can be rewarding, "variety is the spice of life and all that!"
Choosing your destination gives a sense of purpose and maybe even excitement, and is so rewarding when it turns out to be all you hoped from it
A BMW K1300GT is a great bike when it's running well. A few stalls were the only issues, and when I'm regularly decking out my feet in bends, the front tyre must be working well!
So thanks to Andy for his ever enthusiastic company and banter, and maybe we'll do it again, in the opposite direction (or not?) , another time?