My French neighbour recently asked me if I would take steps to ensure that the snow which accumulated on top of our Lleylandi trees, fell on my side of the boundry between our two properties, and not hers! This was to save her poor husband the effort of shovelling away "tons" of "my" snow! So dumfounded was I by this demand, which was made in all seriousness by the way, that at the time I was unable to make a response. Now, months later on, and after recounting this tale to friends, I could easily have written a book of witty or acerbic replies, but the moment was lost.
I recount this bizarre tale to demonstrate, in a roundabout way, the impact that the weather makes on us. In the case above it related to personal relationships with neighbours, but on a daily or weekly basis, it impacts on our riding, how far or how high we can ride, even IF we can ride at all.
This Sunday was another example of a weather impacted day. The plan had been to ride some great roads at medium altitude in the Pontarlier region, but a check of the weather forecast had revealed that the previous day had been rainy, followed by -3 degrees C temperatures during the night. As we have developed into expert weathermen after hours studying forecasts, we quickly came to the assessment that this combination of rain, negative temperatures and altitude, would equal an icy and potentially dangerous riding experience, so yet again we had to change plans.
The ride morphed from an all dayer to an afternoon only local affair, allowing the day to warm to a heady 12 degrees C and the roads to clear. Despite it being a little windy there were to be 3 of us out today. Leaving the supermarket petrol station I heard Mark's GSA arriving, damn noisy these twins! After a brief greeting and a reminder that he was already running late, I headed off to meet Brian at the prearrranged 13.00 start time. I was a couple of minutes late, but Mark who had yet to refuel his supertanker sized fuel tank rolled up 10 minutes late. Useless complaining as this is par for the course, although last time we made him buy the drinks a a penalty for making everyonewait. Today we can almost accept his late arrival, as having managed to run his GSA empty a couple of days earlier due to  a faulty fuel gauge, he wanted to be 100% sure he had a full tank today!
With so many fallen leaves the ever photogenic Fort l'Ecluse is clearly visible today as we head out towards Seyssel and Aix les Bains.
Exiting Seyssel we joined the Circuit de Vignobles de Savoie which is peppered with lots of amazing and very picturesque old farm buildings. Must take more pics next time!
We stopped alongside the Lac de Bourget and decided that we'd try and ascend Mt Chat rather than the planned Col du Chat. Brian hadn't ridden either so was quite happy to go with the new plan, although I suspected that he might enjoy it a little less on his 1300S than either Mark and his GS or and me and my GT would!
Yet again we were thwarted though, as less than halfway up we found the road blocked and had to retrace our tracks. No problem, back to the original plan and the Col du Chat then. Stopping briefly for Brian to admire the views, Mark's way ahead and relishing the tight bends, but at the next junction he's stopped for some reason looking down at his bike. Not sure why, but looking back up he suggested we take the alternative road behind him rather than our normal route which was straight ahead. Decisions decisions. Still, live dangerously I say, so plan C evolved, and we set off not knowing exactly where we'd end up but quite happy to try some new roads.
Sometimes a spur of the moment change of plan reaps dividends, and this was another of those occasions. Soon we found ourselves at this viewing point overlooking the Lac de Bourget.
Although nowhere near as high as the Mt Chat viewing point we had aimed to ride to, this was nevertheless an excellent alternative.
View to the left
View to the right and direction Aix les Bains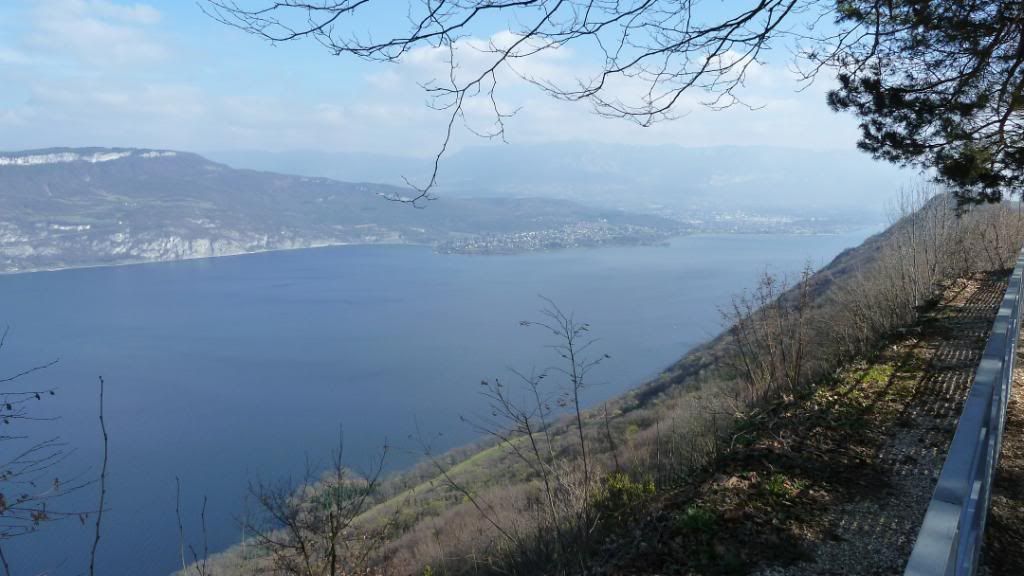 Lakeside chateau
Looking left
Looking right
After 10 minutes of reflection and photos, we headed off again on what proved to be an "interesting" road, and almost immediately an unseen rock came close to having me off . The ride developed nicely though and it was great to find "new" and previously uncharted roads and valleys, and only because we'd decided to go one way rather than another.
Here is another chateau, one of many dotted around here and there. This is in the village of Fulley.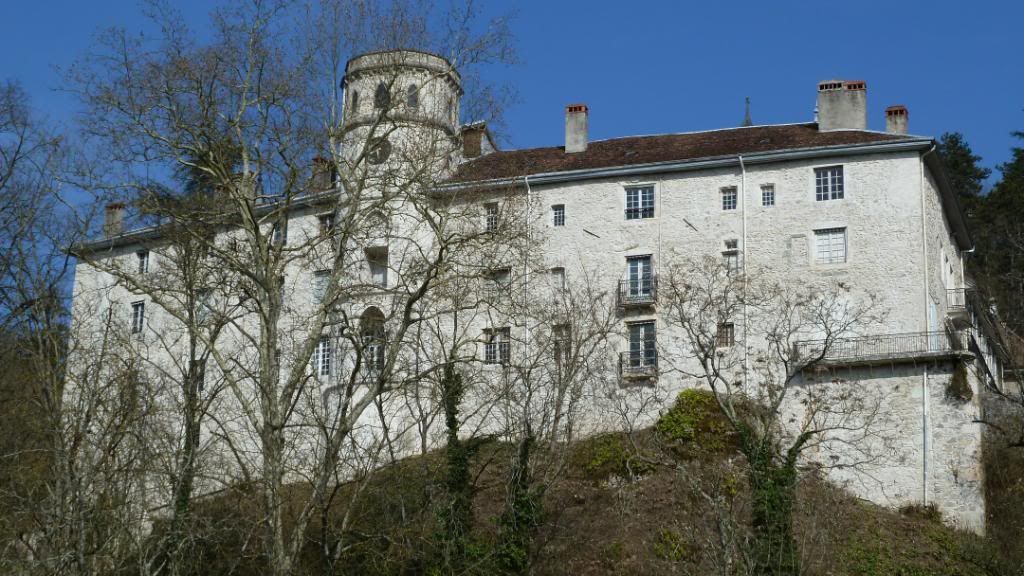 After enjoying our new found playground we returned home alongside the lake near Belley and cross country to Bellegarde. Coffee and a chat at Brian's in a village in Switzerland you'd never find again without a GPS, where we  recounted the highlights of the ride and looked forward to the forthcoming weekends track days where a few of us will be seeing how competitive we really are. Home after a mere 230kms, but nonetheless we'd had an enjoyable ride, especially so as it's still officially winter!
IF YOU ENJOY THESE REPORTS AND WANT TO EXPERIENCE SOME OF THESE FANTASTIC ROADS FOR YOURSELF, WHY NOT TAKE ADVANTAGE OF THIS MONTHS SPECIAL PRICE REDUCTION OFFER ON ALPINEBIKER TOURS-
SEE ALPINEBIKER.COM WEBSITE FOR DETAILS