Saturday arrived, and so did the forecast warmer weather. The days' ride is planned to be circa 257kms and was to be mainly the "TT Route" but with a different start section and a revised end, taking in a loop around Aix les Bains and returning on the Route de Vignobles to Seyssel.
10.00am is the designated start time. I arrive on the exact stroke of 10.00 to find Marc and Andy waiting, but no Mark and Sev.  This is perhaps not unusual as Mark operates on a different time continuum than everyone else, and even though he lives a minute away from my place, he's almost always late! Of more surprise than Marks non arrival is the fact that Marc has brought his S1000RR rather than the K1300R. No heated grips, radio, GPS, camera, or comfort add-ons, he's decided to take the opportunity to ride his expensively carbon clad RR and take advantage of the opportunity to ride it, even though rain mode will be the safest power option today, and the DTC will prove to be useful on the still greasy roads we'll be riding on.
An SMS arrives from Sev asking us to wait, and eventually 20 minutes later Mark and Sev arrive on their new anniversary GS1200 Adventure. We set off, and immediately find the road to Bellegarde is awash with diesel and extreme caution is required. God knows how much fuel the muppet driver has dumped from his clearly overfilled fuel tank, but there is so much of it I can smell it and there is a clearly visible trail for miles! The roads from Bellegarde to Nantua are also damp, but have less diesel on them. From Izernore we climbed before descending to Thoirette, and then turned left towards Hautecourt, passing the double level viaduct in the pics below.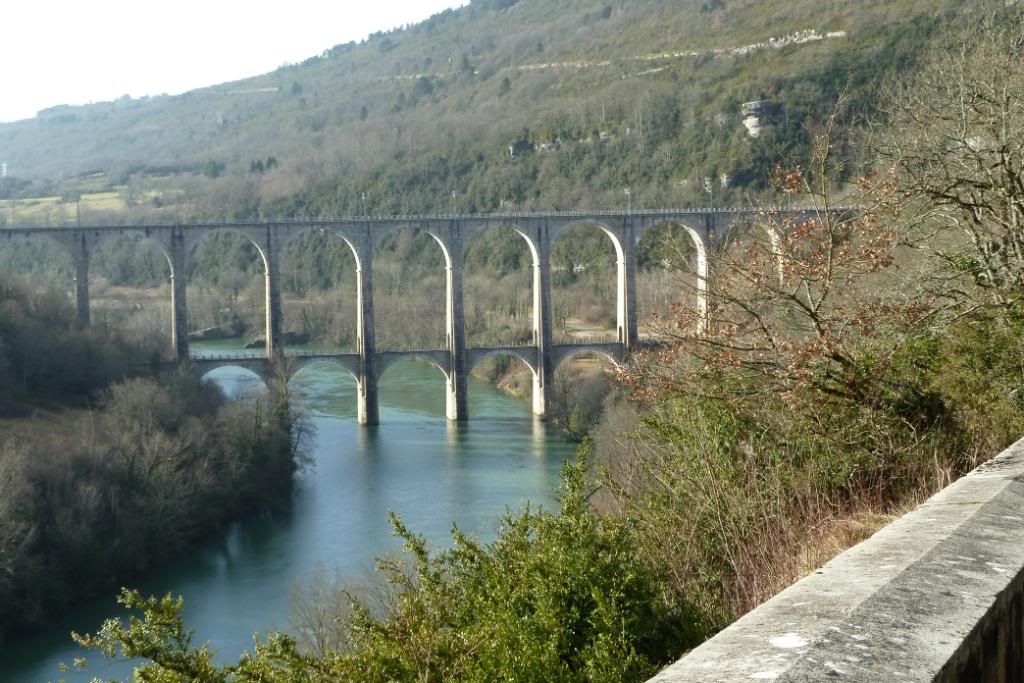 Marc on viaduct
Andy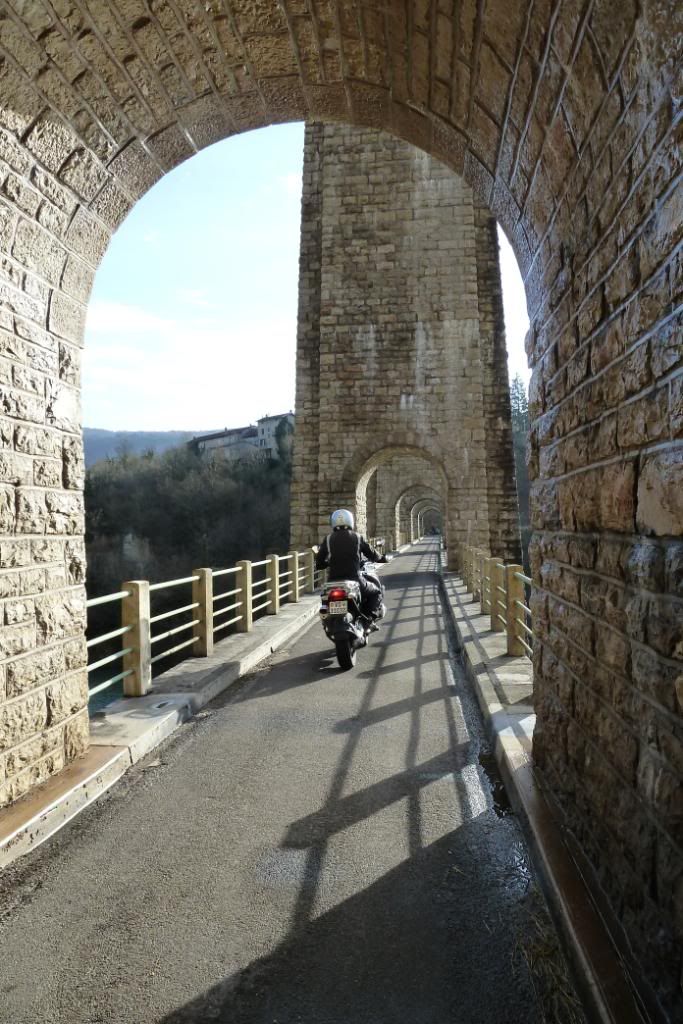 After a cross country ride alongside the river we arrived at Hautecourt, and at the crossroads continued onto the new leg of the route. Following a mix of windy and sometimes very damp roads, we eventually arrived at Poncin and rejoined the old "TT Route". This is a great mix of fast roads through wooded and gorge sections and is really a blast to ride. A bit too much of a blast as it turns out, as we are followed into the car park of the McDonalds lunch stop by a member of the French gendarmerie aboard his police BMW. Marc had been the last to park up and is the first to be asked by the gendarme for his papers. Asking the reason for this check, it transpires that we had all been clocked riding through the wooded section at a speed which significantly exceeded the French national speed limit! One by one our papers are examined, but it seems that we're lucky today as the guy is obviously a biker and seems more interested in asking questions about Marcs S1000RR and Marks anniversary GS Adventure.  Engaging the benevolent officer in conversation, it seems that today is our lucky day, and with papers in order we are left alone to have our lunch and told to enjoy the rest of our ride.
It has indeed been our lucky day as our excess speed was enough to have caused severe pain to bank accounts and licences, but Mark told us that if there is more than one rider appearing in a radar photo or there is a group, the police can't prosecute as they can't attribute an excessive speed to an individual, and the cop had been a decent one, and a biker to boot, so we'd been really lucky! As we ate our McDonalds meals the group good naturedly blamed me for riding so fast at the front, whilst I blamed Marc at the back, and as he was the only one with a fast bike so it must have been him? I made a mental note to myself to be extra vigilant on this stretch in future, and also that as leader I'm always going to be the guy who gets caught, and resolved that now and again I'm going to pass over the leadership baton to some of the others and let them dodge the radars up front!
Here's some photos from Marc of our blue encounter, referring to the fact that my bike is blue and it must have been me that was the speeding culprit! Friends eh! Who's going to believe it was me on a bloody great bus like the GT, I ask you!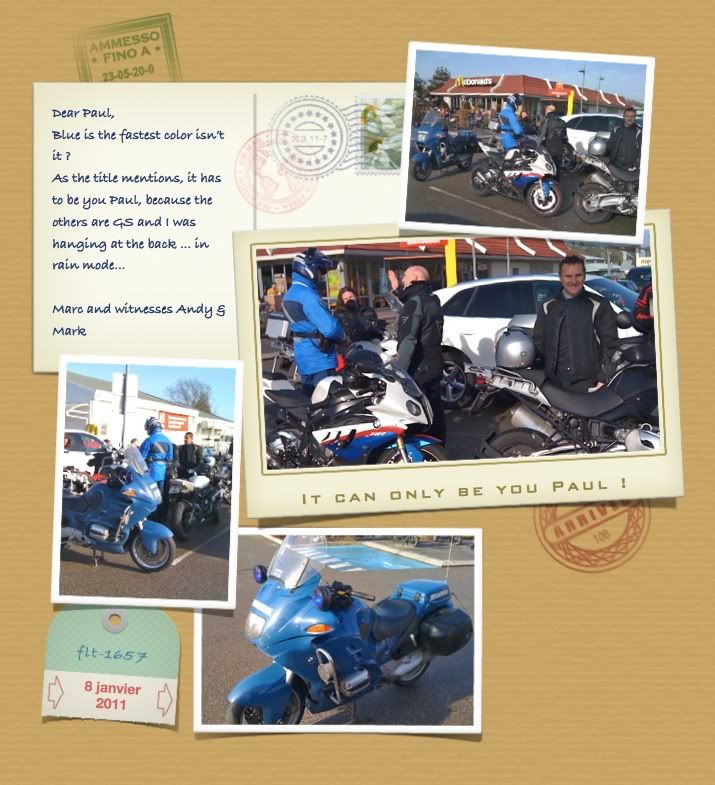 In the afternoon we took a slightly more sedate ride back, here are Marc and Mark definately riding at the legal speed limit.
I took the opportunity to take some pictures of some of the beautiful old buildings en route.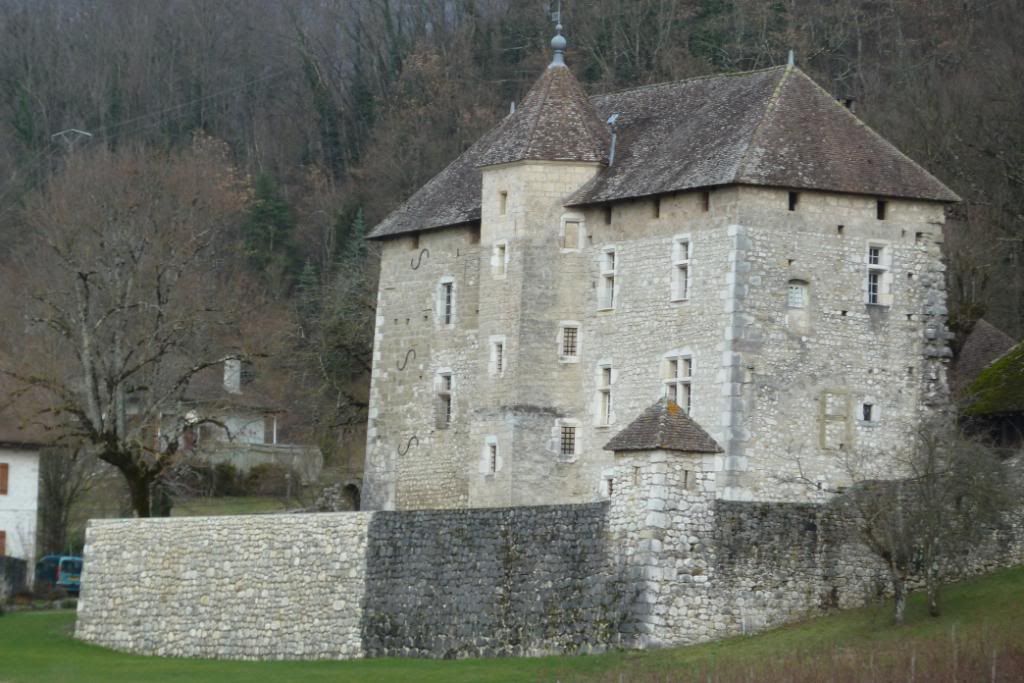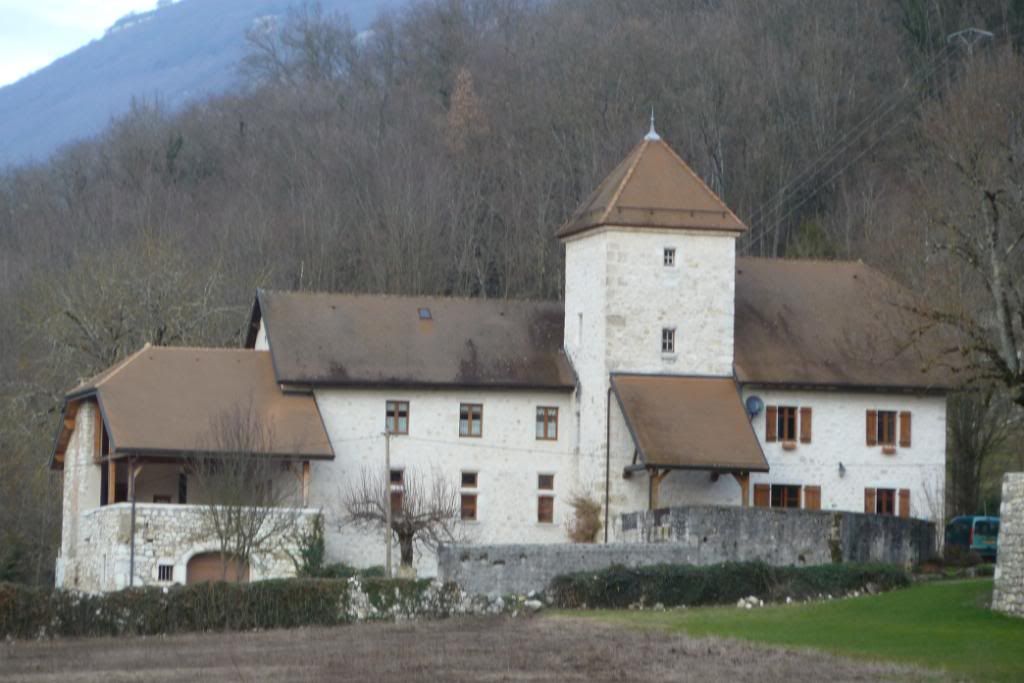 Slightly out of focus fantastic old country house
The bridge at Seyssel.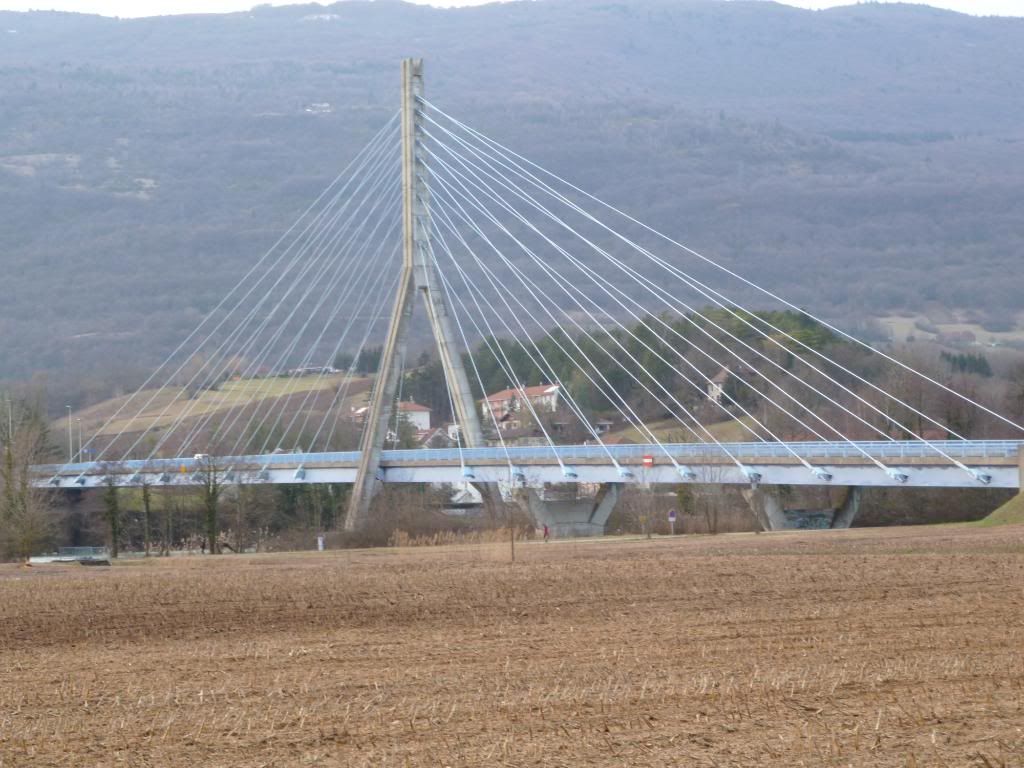 After another deviation from the route in Seyssel as we got temporarily split up, we eventually got back on track to Bellegarde, and stopped just outside the town for a coffee stop late afternoon for the usual exchange of banter about the ride and the mornings great escape, which became an even bigger one when after comparing GPS max speeds, we realised that at some stage we 'd been quite a bit faster than the gendarmes assertion made earlier in the day!
Returning home past Fort l'Ecluse in the setting sun, I took this final photo of the day.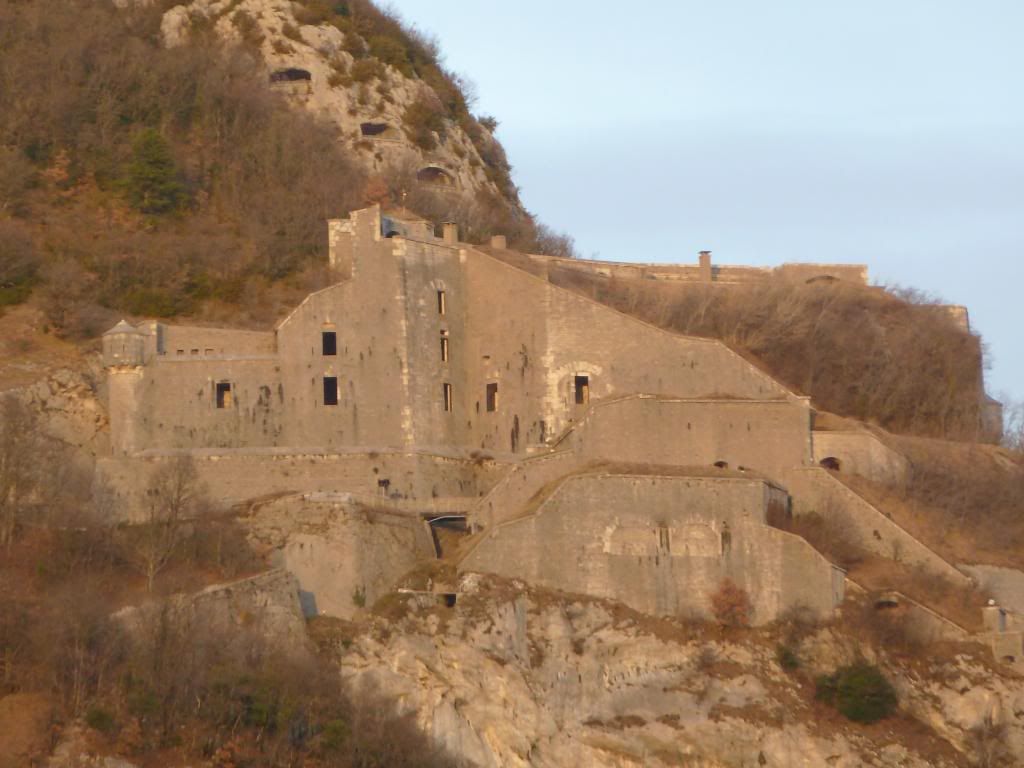 We'd been out about 8 hours, ridden 304kms and had a great first ride of the year, and most certainly a memorable one which will provide a talking point for years to come!