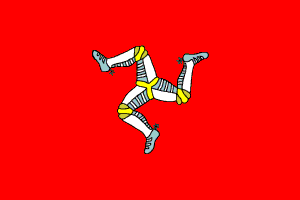 Wednesday-
Breakfast, and a difference of opinions of what we should do for the day. Being my first time in the I.O.M I wanted to go and ride the course again, but the others didn't share my enthusiasm. Jon wanted to go to Port Errin whilst the others wanted to go to Laxey to see the giant wheel there. Looking at the map we decided that we would all ride to Ramsey together, the group would wander round there while I continued round the circuit, with the idea I rejoin them in Ramsey later and we then head out to Laxey and on round to Port Errin, thereby satisfying everyone's requirements.
So we set off and as planned parted at Ramsey, but for some reason I wasn't feeling the ride. Probably riding a bit faster than I should have been, I wasn't riding smoothly and alarm bells started to sound that I should back off and calm down. Overtaking a coach into the town of Union Mills I looked at the bend ahead and saw a police biker looking at me, and when he promptly put on his helmet and gloves I thought oops, I could have a problem here? I've probably been going a bit too fast on my entry into the town and really not wanting to get a ticket, I carried on round the bend and immediately turned down a street on my right hand side, and parked up behind a conveniently parked long wheelbase transit van, from behind which I was able to watch the police biker head off up the road.
Taking the opportunity to refasten my camera, ten minutes later I set off to find a few miles up the road a couple of policemen, including the police motorcyclist, blocking the road as the mountain was closed again. So, back to Ramsey and the cafe for a coffee and piece of cake whilst I waited for the others to reappear.
As I have a GPS I got the job of leading us out to Laxey, where we managed to get split up yet again (you'll notice this recurring trend) , eventually linking back up 15 minutes later. It seems that the guys had gone to the larger of the two wheels just outside the town, whereas we'd stopped at the smaller one in town!
Here's the largest one which you can actually climb to the top of.
And here the smaller one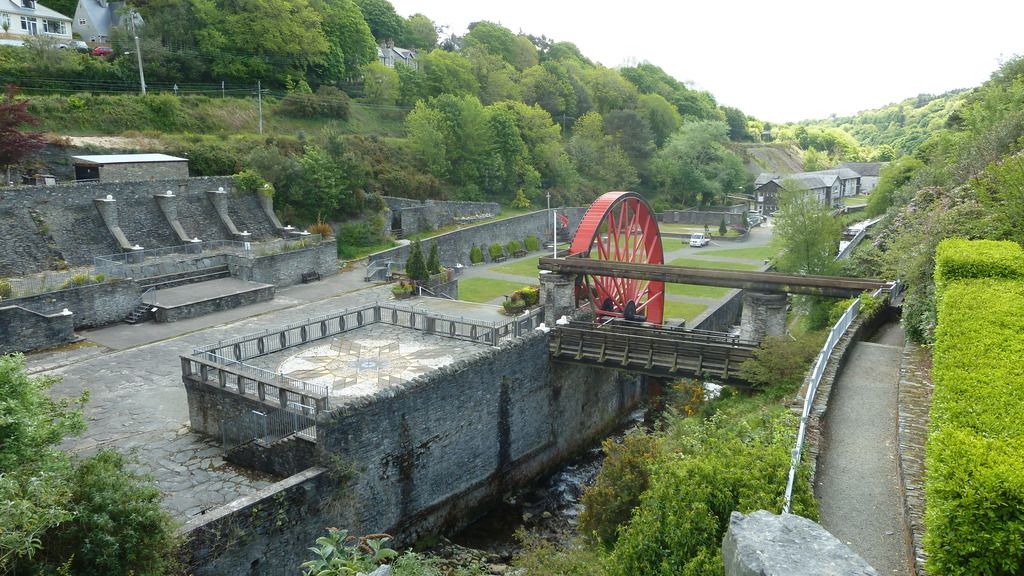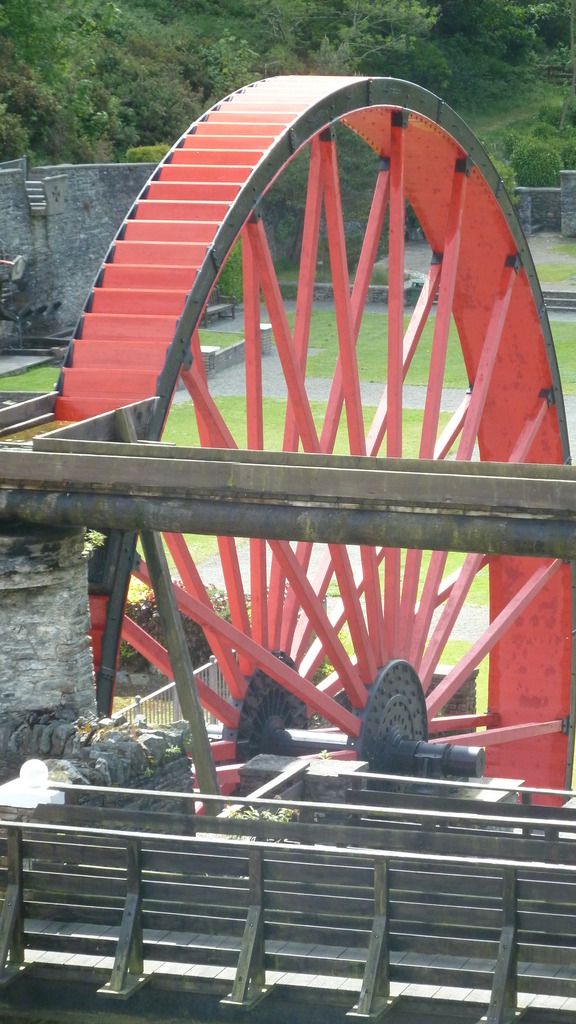 Mountain railway train ambling by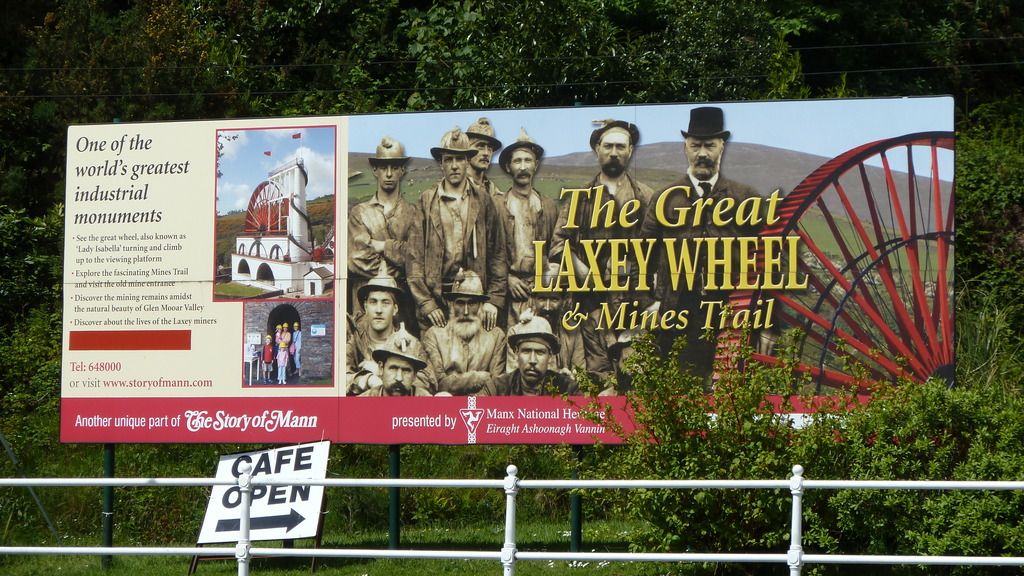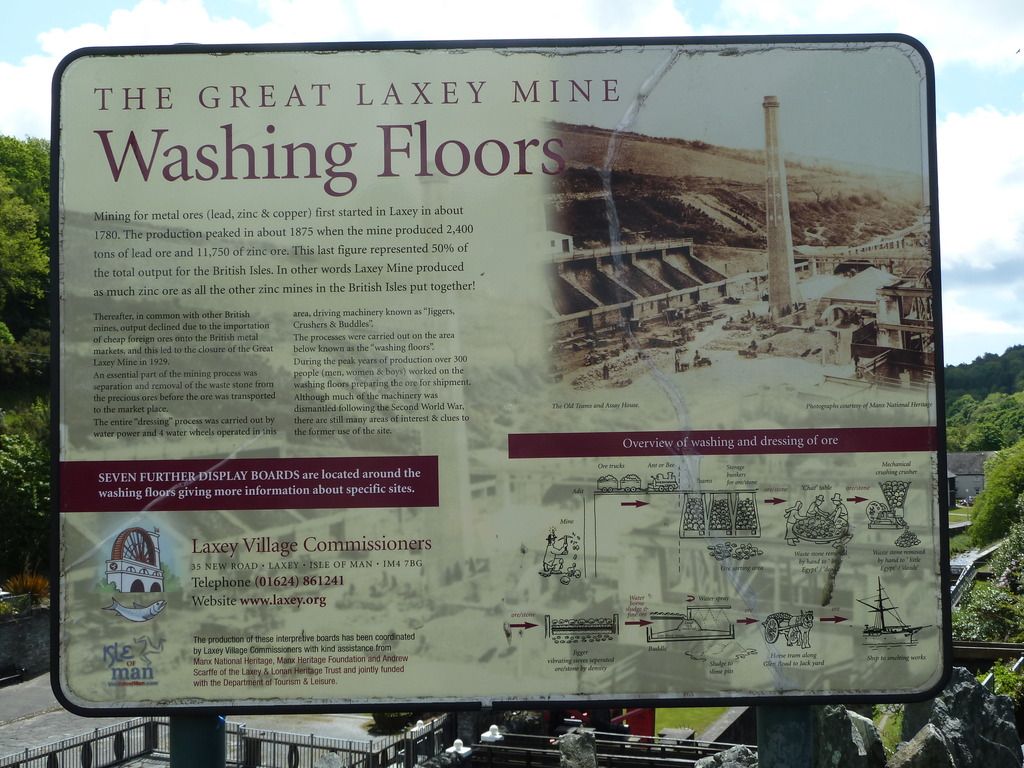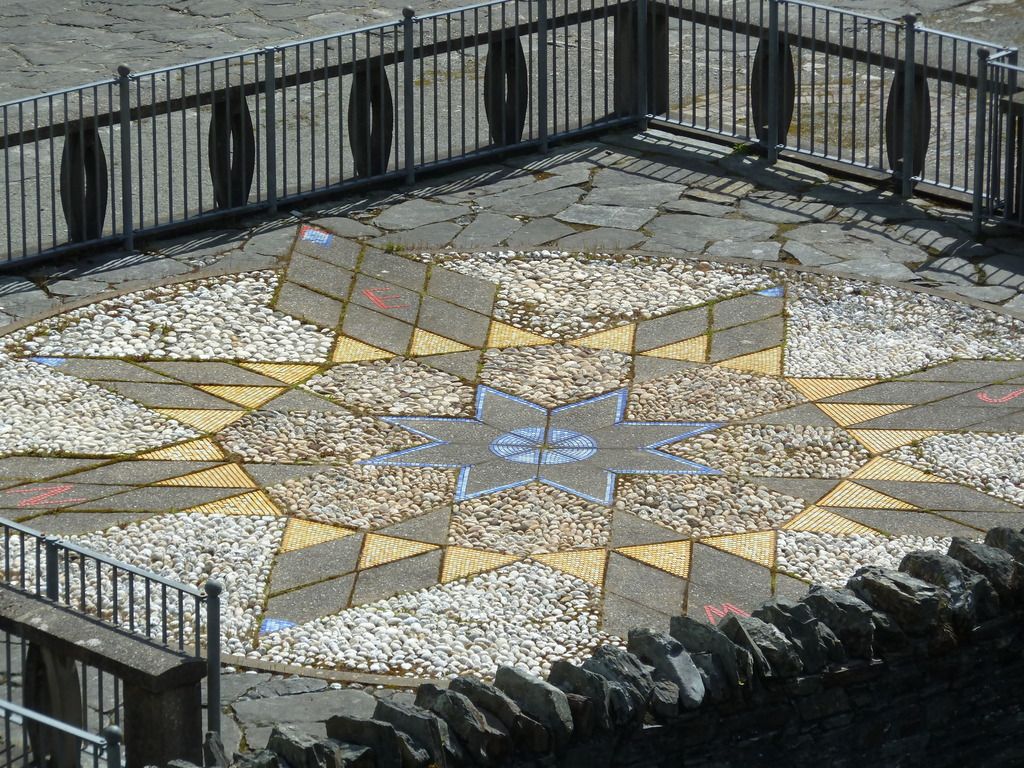 Here we are at the giant wheel, but as the others had been up it before and were too tight to pay the £5 to go up again, I just took some pictures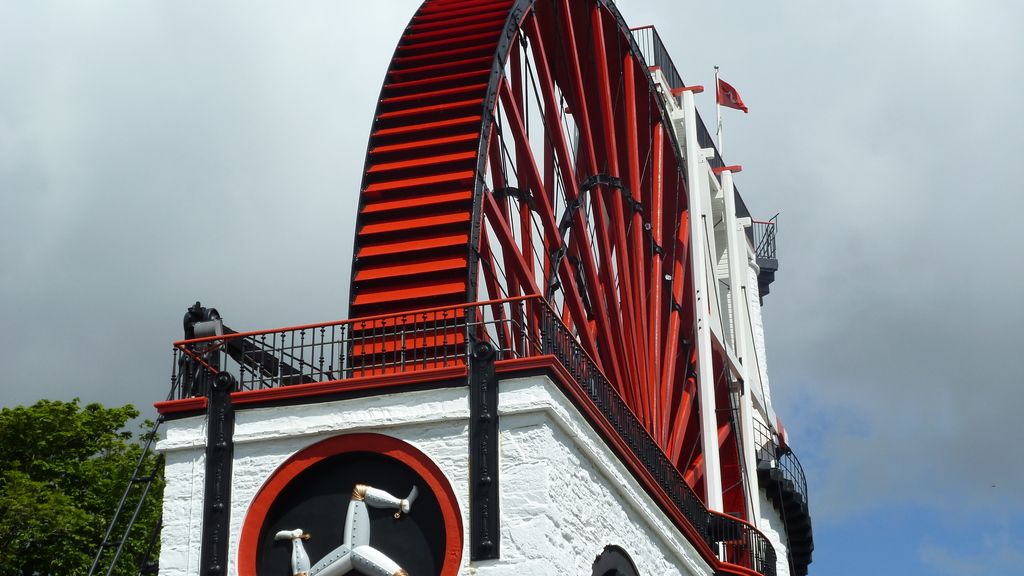 The road to Laxey had been a good one, and the one towards Port Errin was equally good, taking in some lovely country roads and even taking us onto part of the Cookstown 100 course. We didn't actually get as far as Port Errin, instead stopping at the pub below which had good food and an ultra cool toilet which apparently has made it into Facebook in a multitude of countries around the world.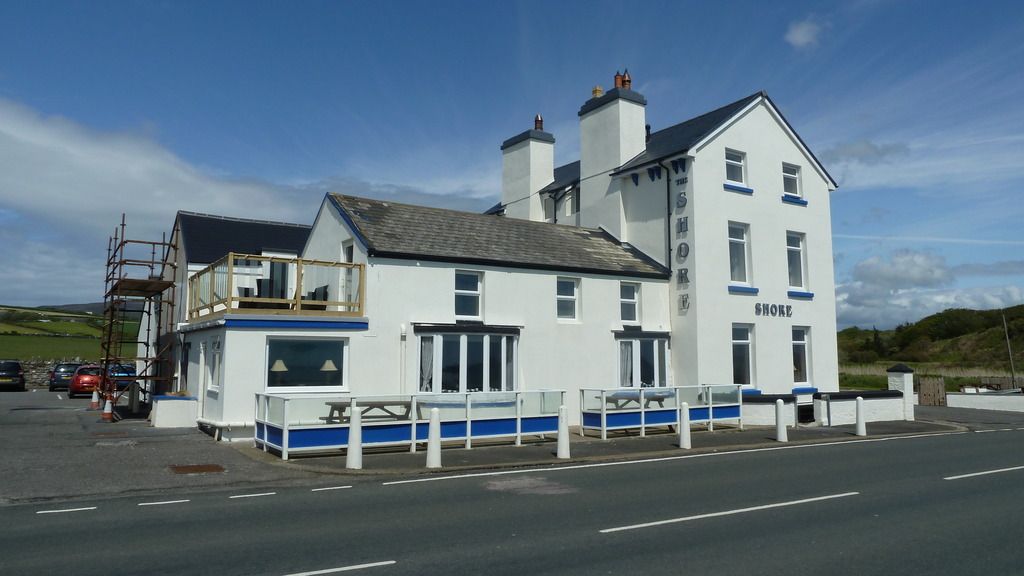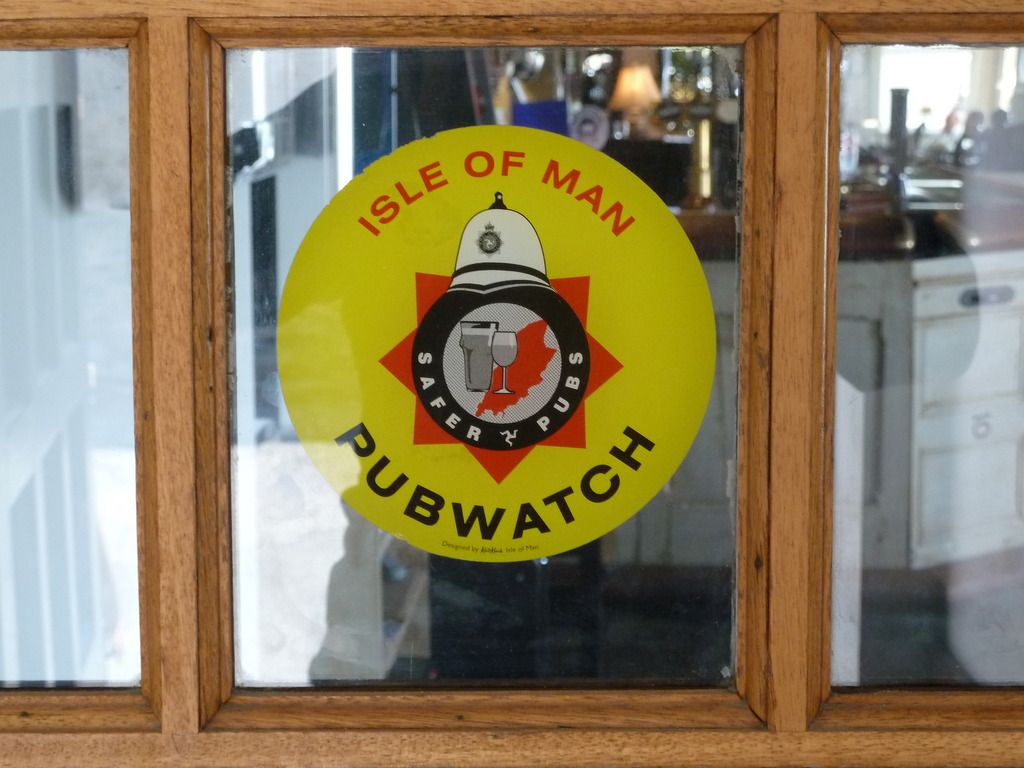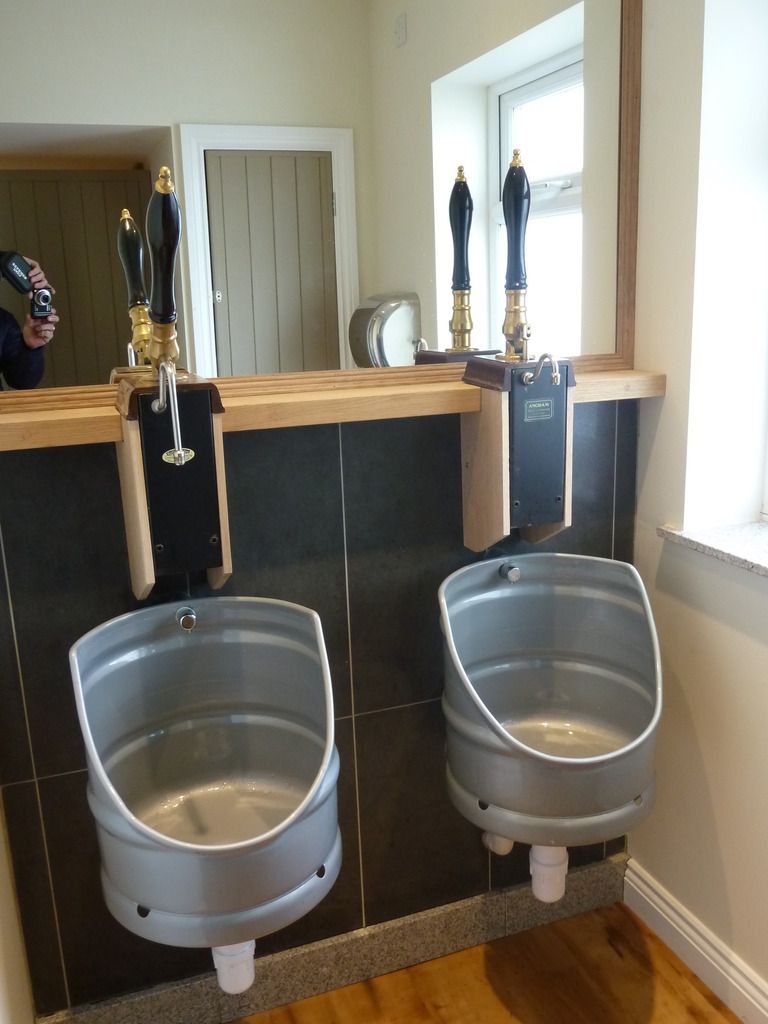 After lunch I decided to have a look at Jims GSXR1000 as I'd had the same bike a few years earlier. Jim has been taking a bit of stick due to the fact he claims he never opens it above 7000rpm. I know the engine in this model is a monster and I'd always felt the handling left a little to be desired on my bike, but when I sat on Jims the reason for his lack of speed and confidence, was immediately obvious. The forks dived massively on braking and returned way too quickly. Insisting he allow me to have a go at trying to improve it for him, I made some adjustments to the preload and compression settings, and 20 minutes later it seemed to have done the trick, as not only was he riding more quickly, he had a big smile on his face. Job done!
Leaving the beautiful setting of the pub, next order of the day was to check out Glen Helen as our potential viewing spot for tonights spectating.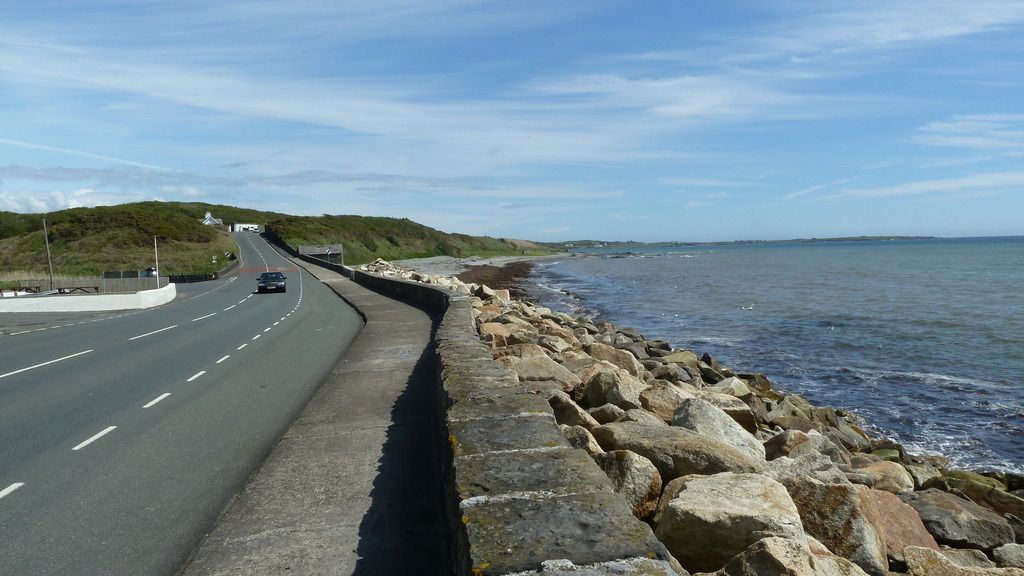 Glen Helen proved to be a great spot, but as we waited the couple of hours for the bikes to start their practice sessions, we saw several worrying events as spectators arrived at this spot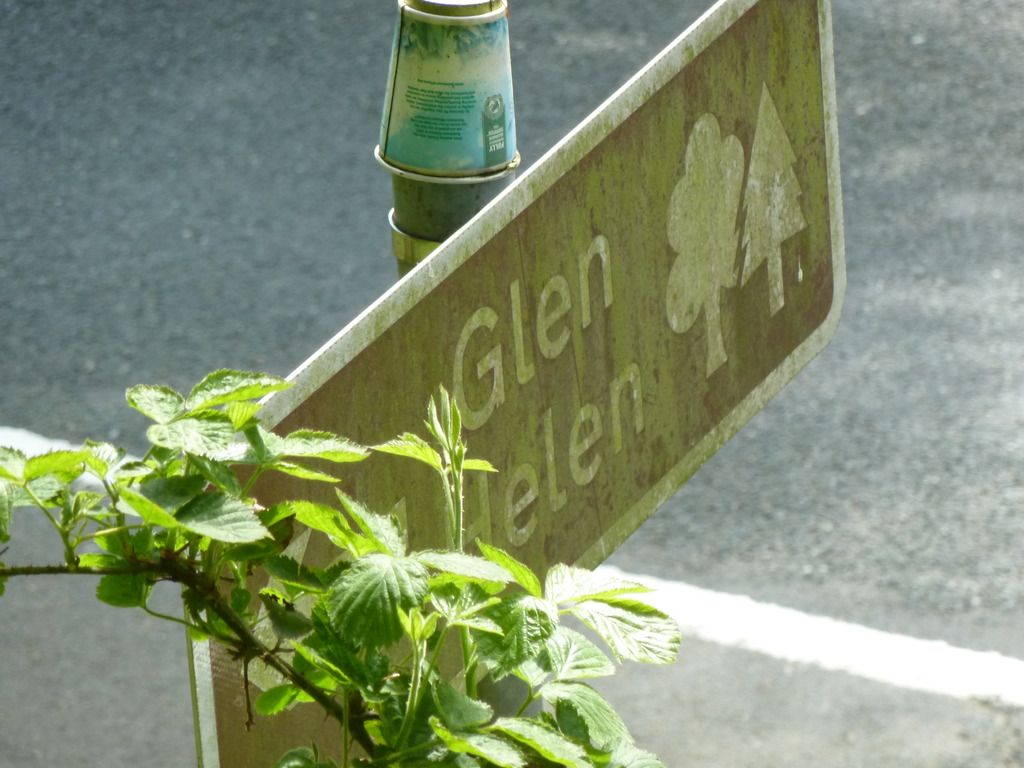 First was a guy with a young boy riding pillion, who suddenly decided he wanted to turn right into the parking but seemingly without seeing the car coming the other way. Luckily he just about stopped in time, only to ride on and almost drop it as he made a second attempt to turn in. The real shocker was someone in a large black SUV who turned across the road so slowly he nearly caused a major accident, as a double decker bus going the other way had to swerve to get around it. You could hear the incredulous shouts and gasps from the spectators as they observed what could have been a very nasty accident. Needless to say he got a major bollocking from the marshals!
The picture below shows you some of the "issues" faced on the island. Imagine living in the house on the right and wanting to get out of your drive!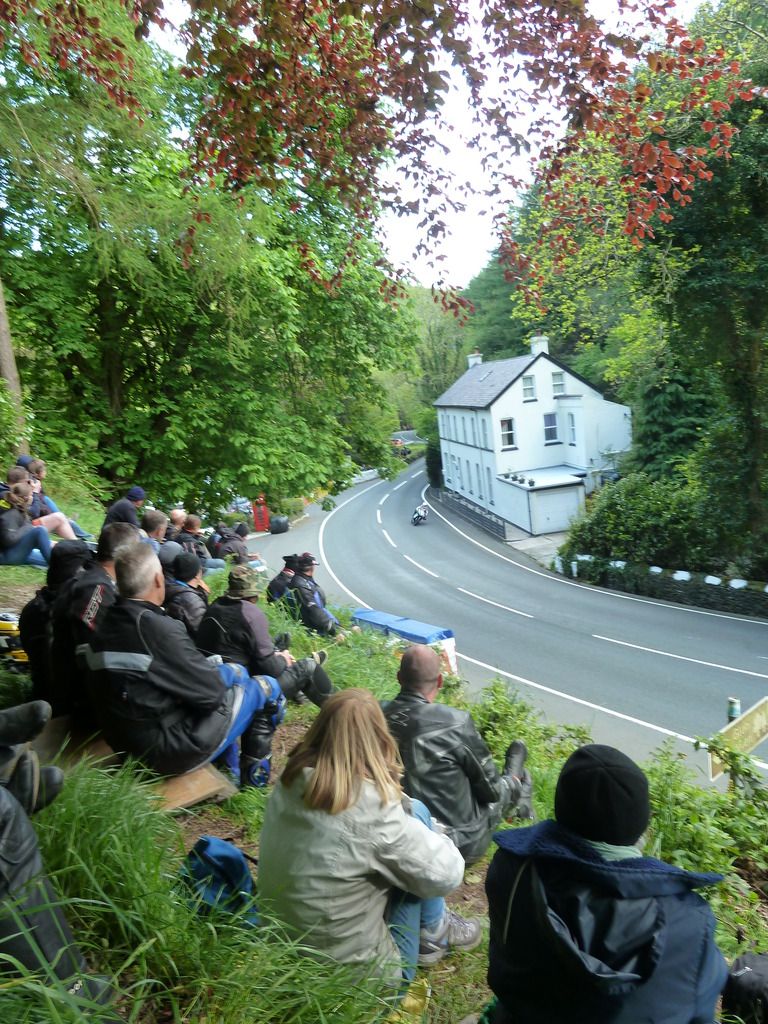 Our spot on the banking gave a good view in both directions and there were two burger vans in the car park so at least we could get a drink and a bite to eat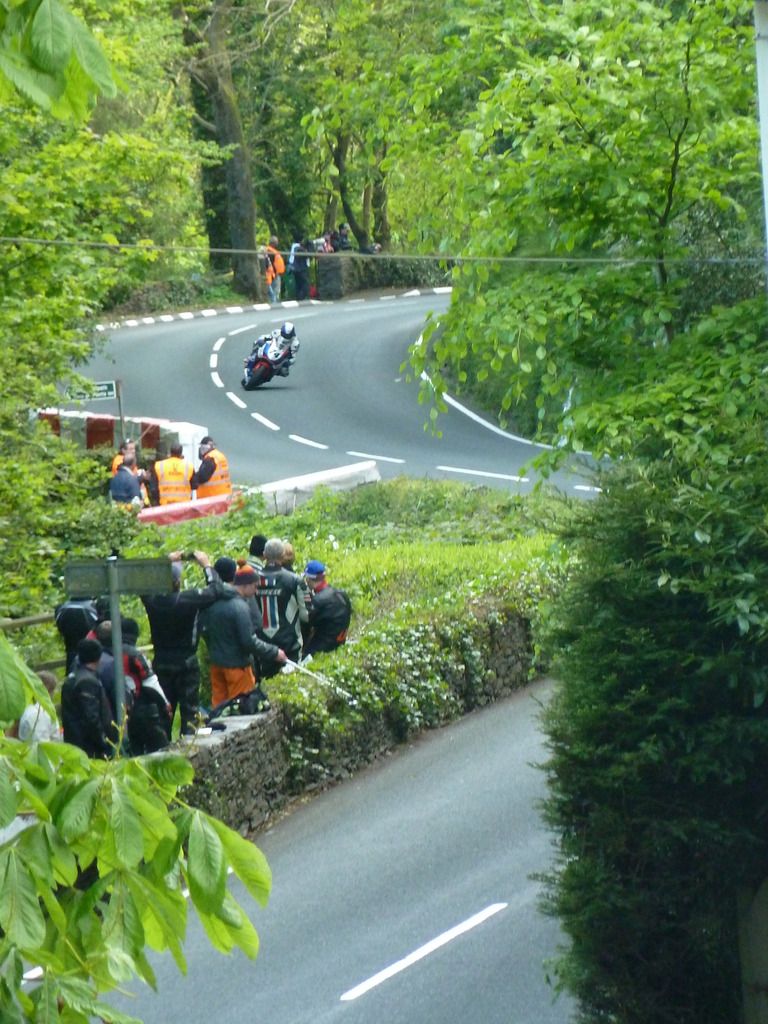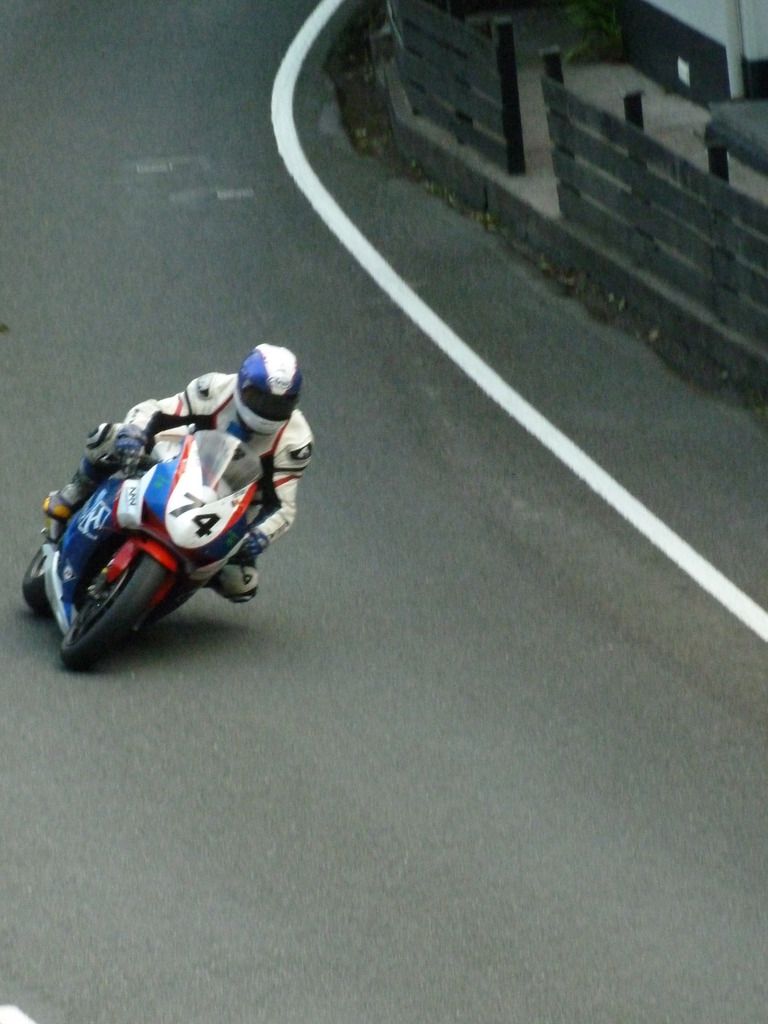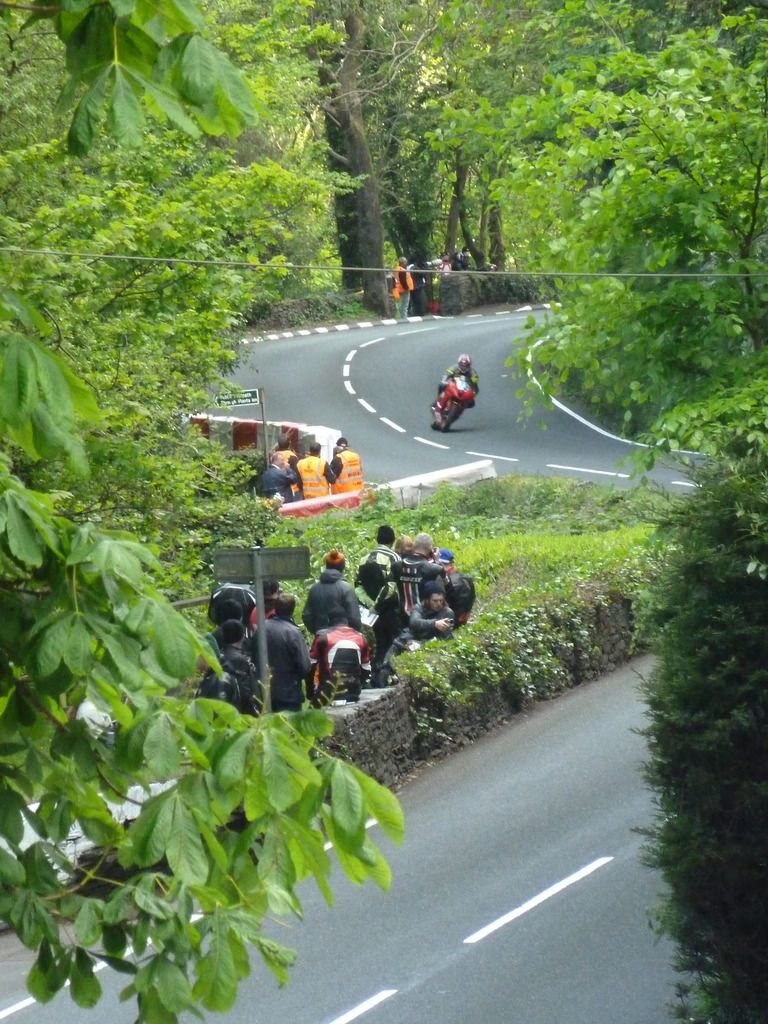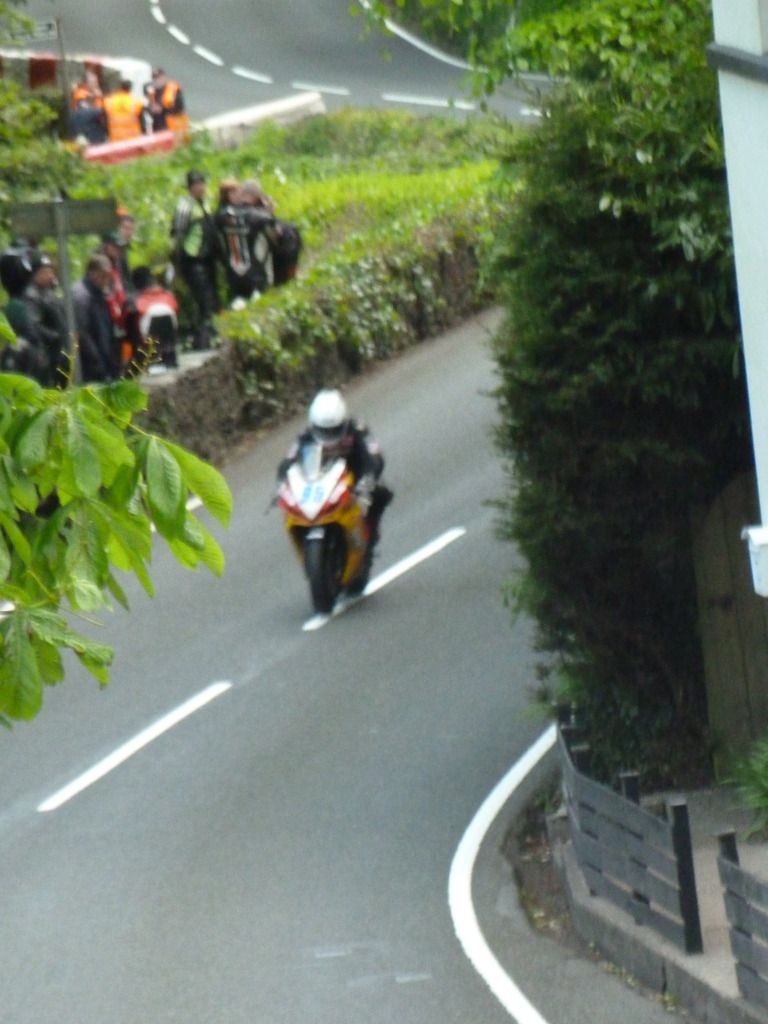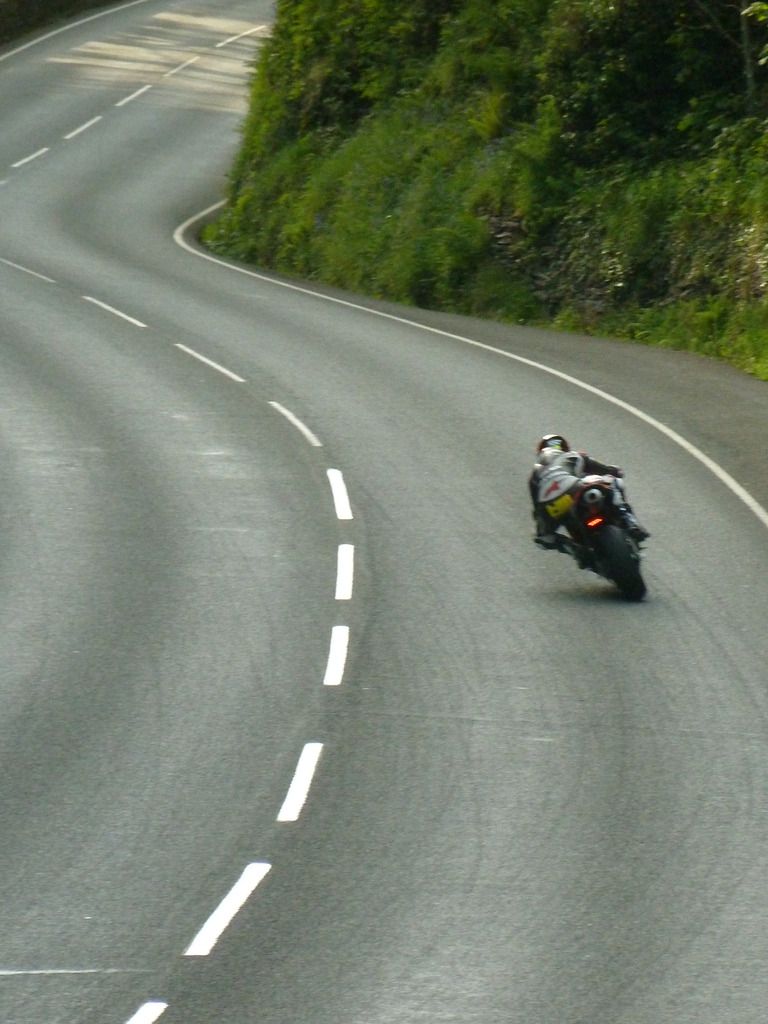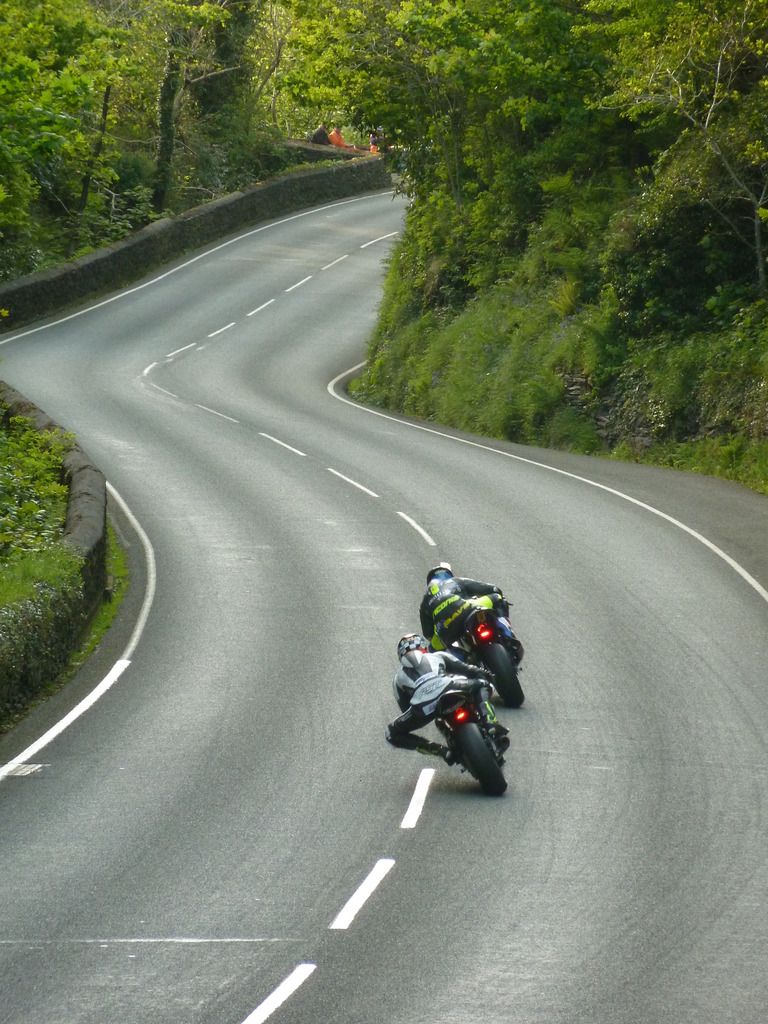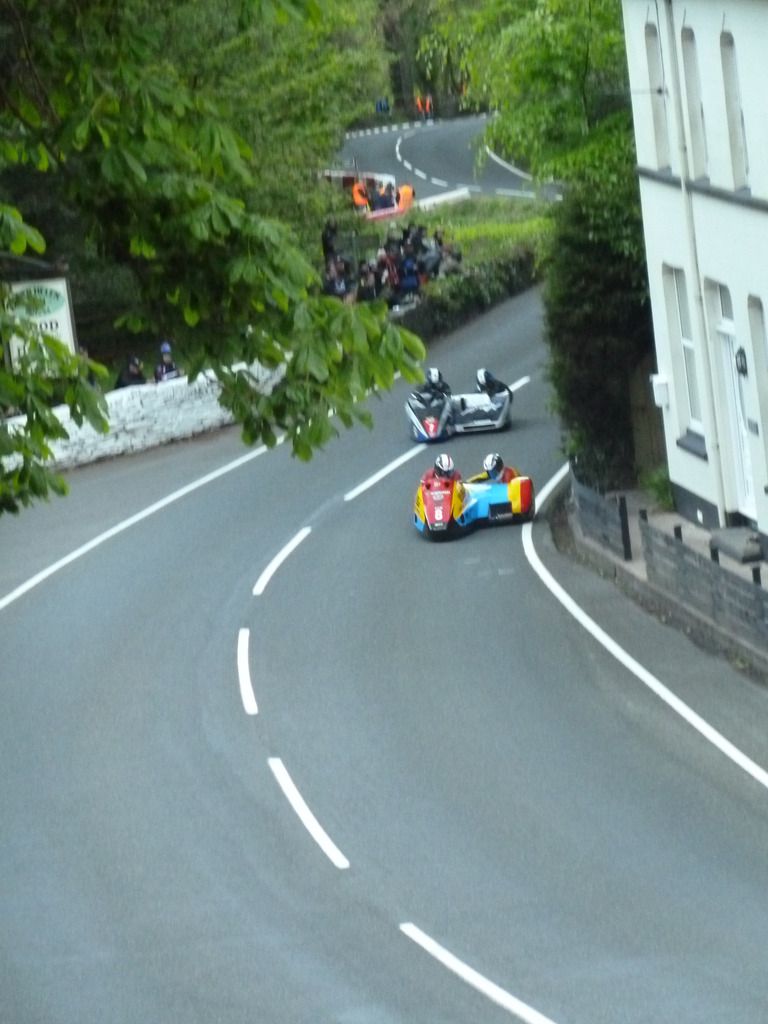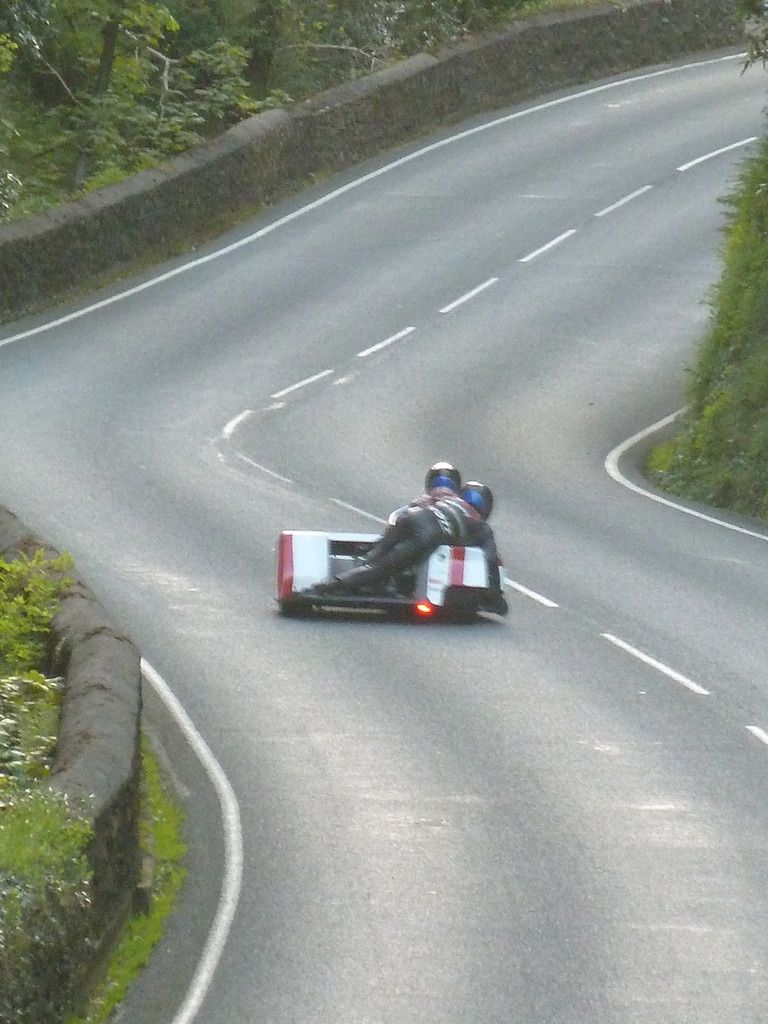 We probably spent the best part of 4 hours at this spot, and when the call of nature came, those who descended our banked seating spot hoping to use the portaloo below, found it to be for the marshals use only (here a marshalls trike parked outside the loo). Luckily there was a toilet block a couple of hundred yards walk round the corner!
After watching the sidecars finally get their practice session (they'd not been on track up until then due to the weather), the evening ended and we headed back to the hotel and the bar. Total riding round the island today- 83 miles
Thursday-
Today is unfortunately our final day, and it started by finding we'd been usurped from our regular corner window spot by a couple of Americans. Don't you just hate it when two people sit at a seat for 6 in a restaurant? Didn't they know it was reserved for us?
Everyone wants to buy something for themselves, wives or kids, so we set off down the road past the Imperial Dragon Chinese restaurant we'd visited two nights earlier on our way to the large TT souvenir shop, where we bought an assortment of jackets, T shirts, and stickers.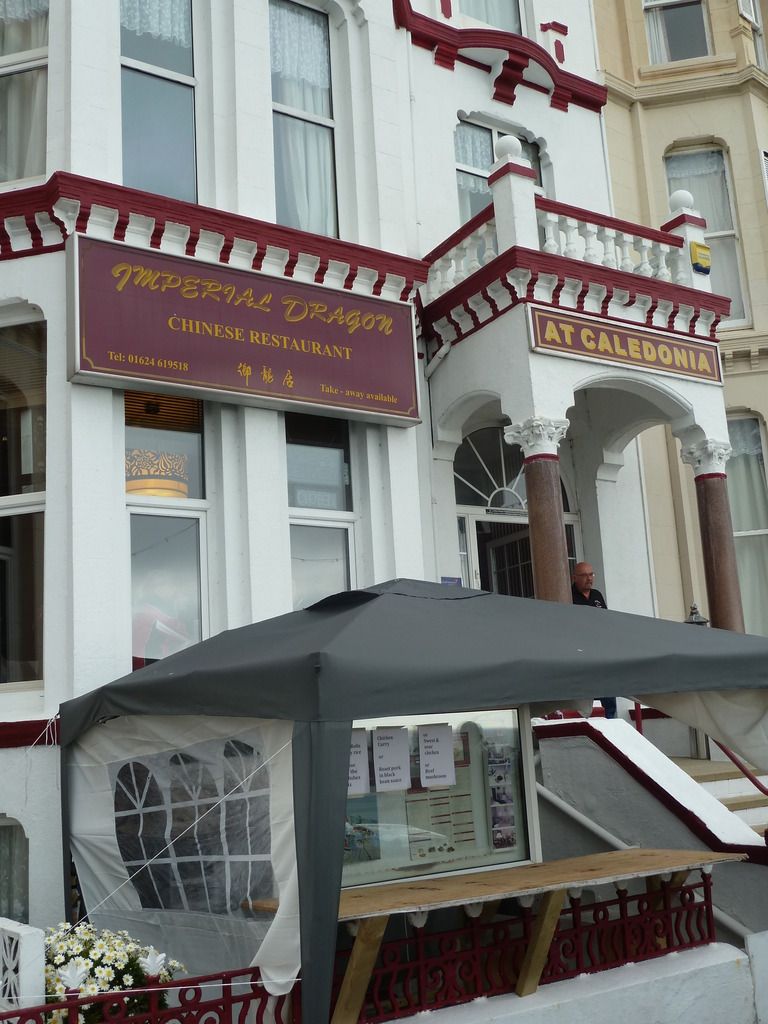 On past this stable, where a pair of shire horses were being tended to before the start of their day, dragging tourist carriages up and down the seafront.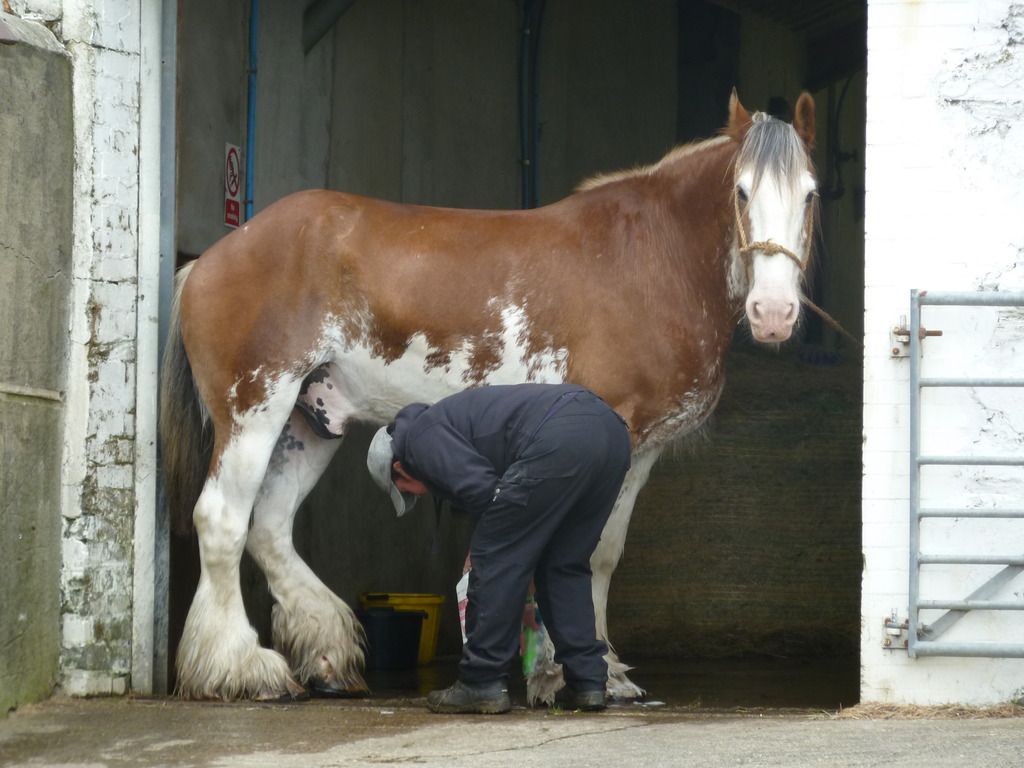 I've done a lot of camping in my time, but I have to say that for this trip I was glad we'd been in a hotel. This and many other sites will be heaving in a few days time when the TT starts for real
Nice sea views from campsite
The walk seemed to drag on for ages but this sign shows we're now closer to the paddock area we're heading for now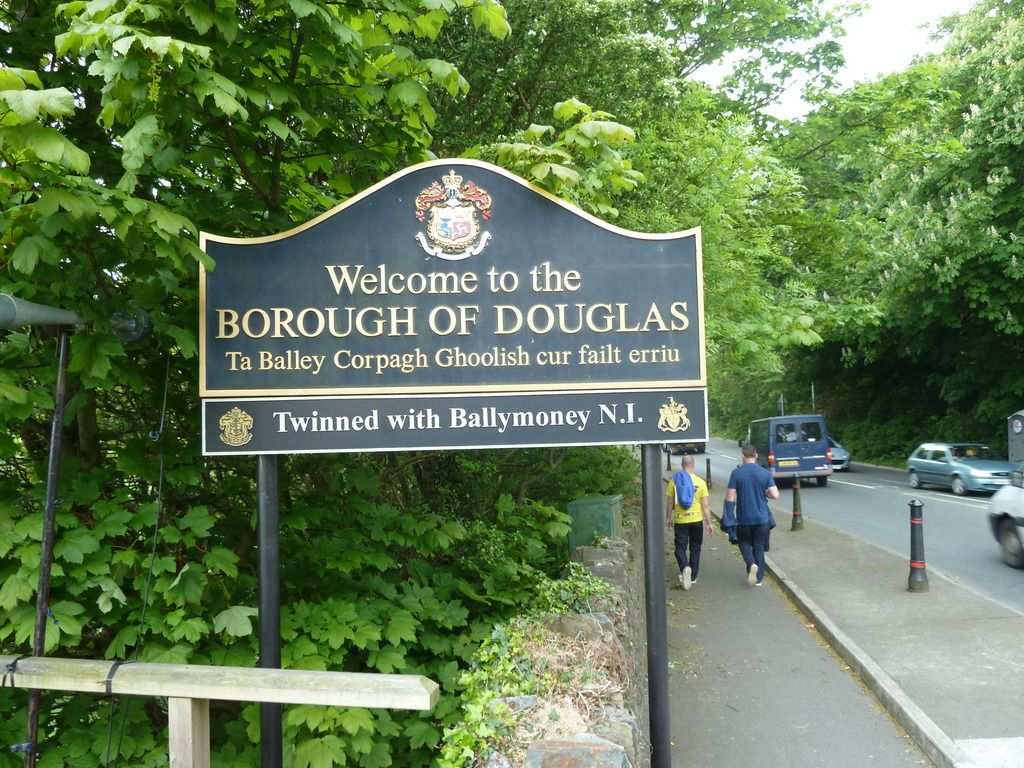 Below- Robert Dunlops S1000RR
The two mega bucks Mugen electric bikes
Famous rider
This is Hutchys bike. Check out the right hand gear shift he need to use now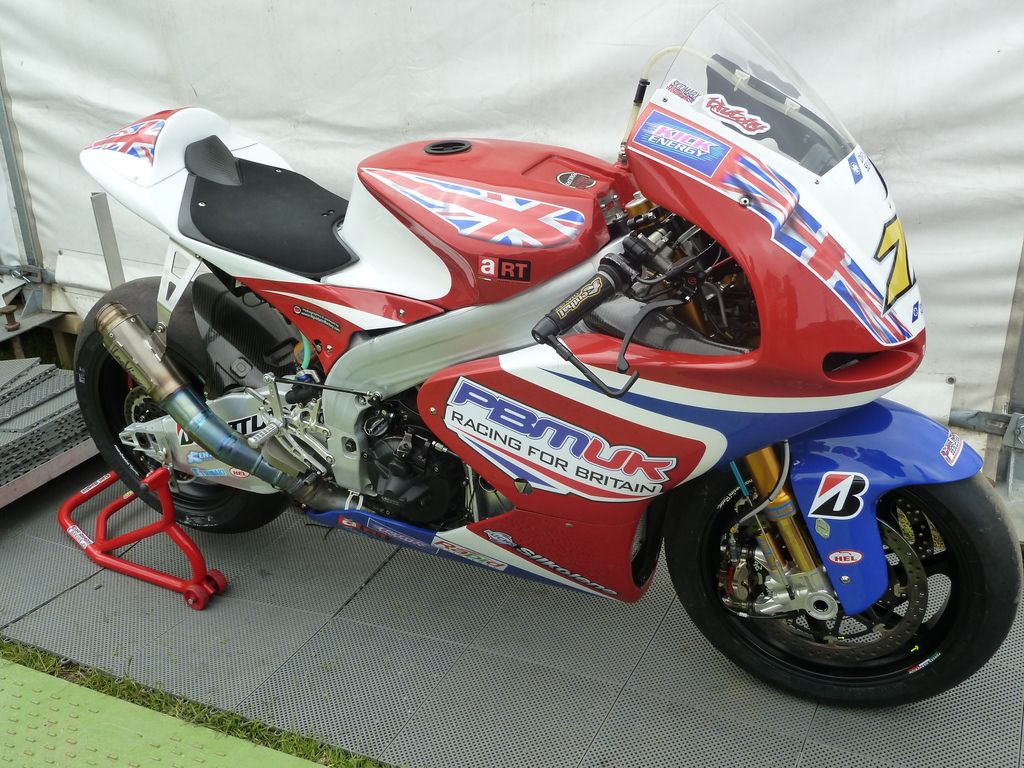 James Hilliers ZX-10R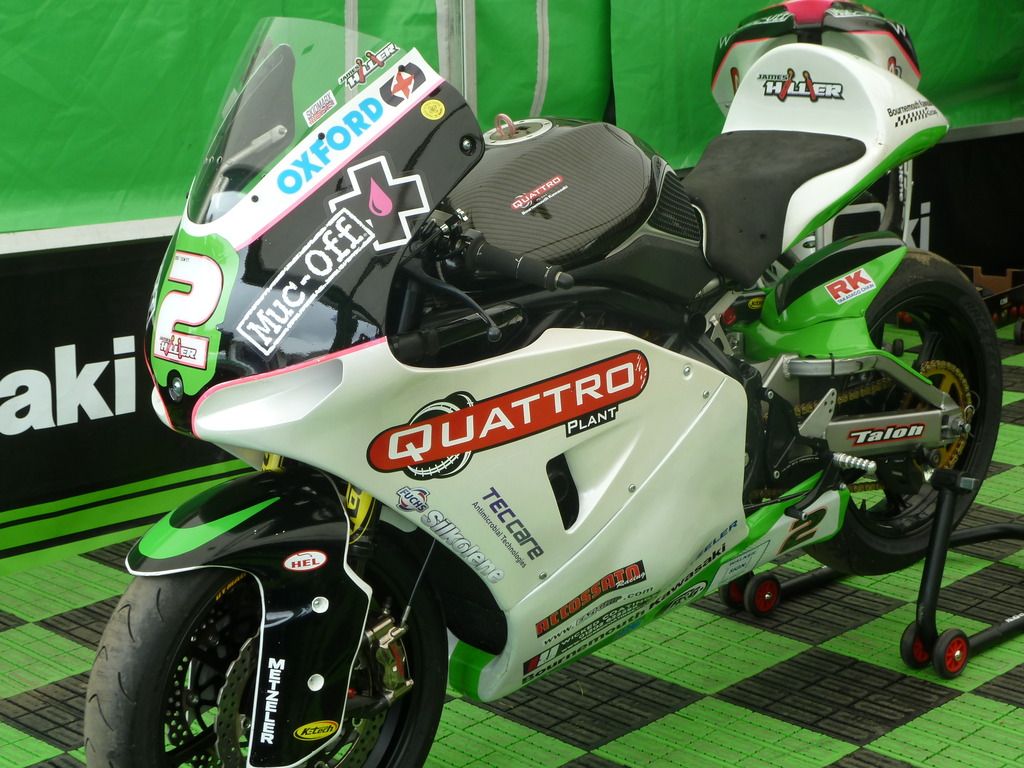 Derek McGee's Wilson Craig Honda
Mar-Train fairings just lying around!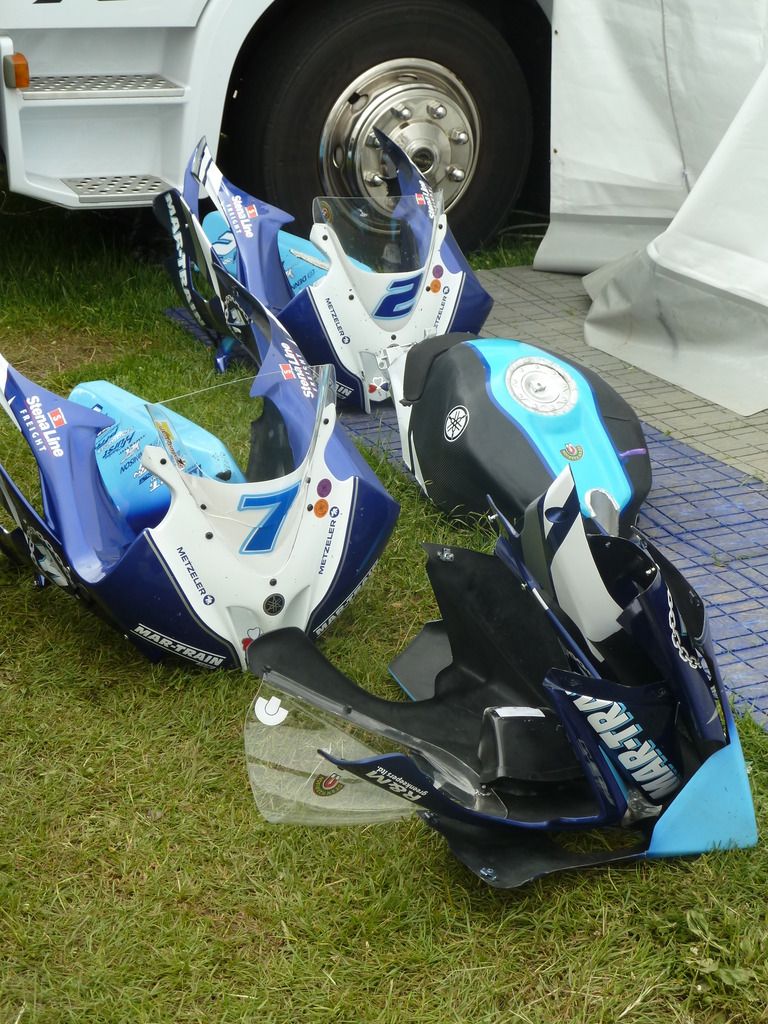 This Anstey replica was in a raffle, tickets £1. Imagine how pleased you'd be if you won that!!!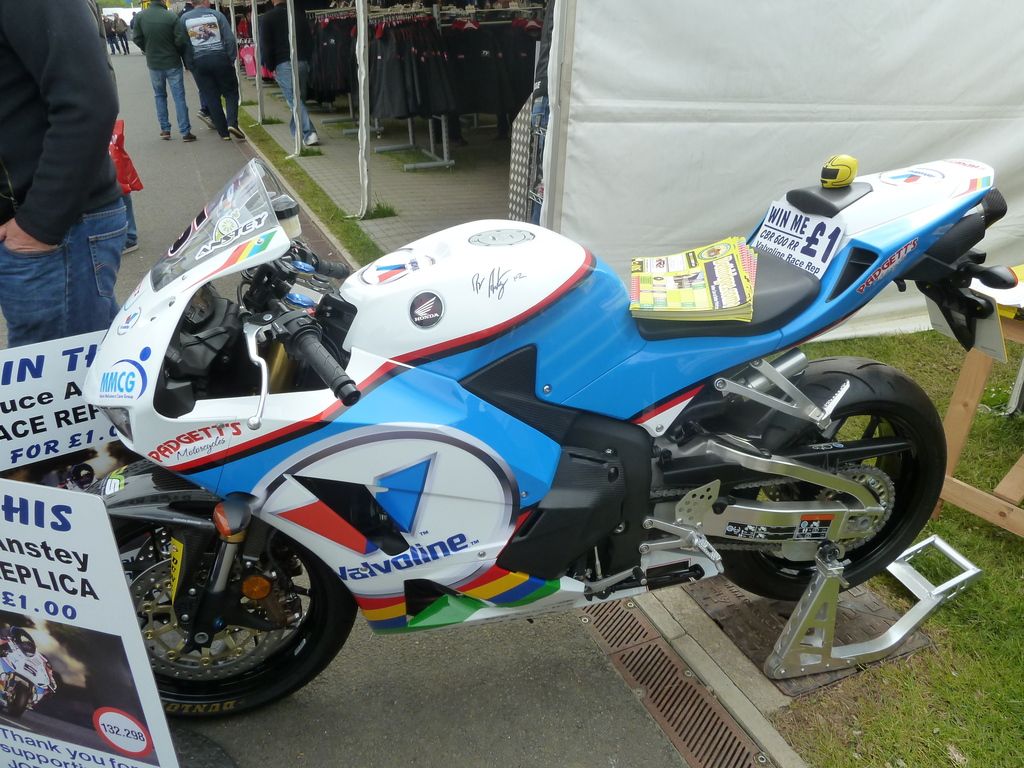 Eventually we had to head back to the hotel, and Roo and I had a quick diversion into a few more of the shops in Ramsey. Check out this Rossi balloon in a betting shop window, bike mania everywhere
Back at the hotel and packed, we loaded the bikes and decided to fill up with petrol on the island rather than having to stop once we got back to Liverpool. Heading off behind Kev, the group managed to get split up, again!, as Jim and Roo got stuck at the lights. The road doubled back on itself as Kev led us up towards the petrol station at Bray Hill, and we saw Jim and Roo on the other side of the road and assumed (wrongly) that they knew where we were going. After filling up we realised that no-one had seen Roo, oops! No option other than to head for the ferry though and soon after he rolled up having watched us enter the port. Of course, the weather has turned nice now that we're leaving, and we're sat in the sun for the hour and a half the ferry company demand you arrive before loading.
Luckily we're on the catamaran again, and this time a lovely smooth sailing and the chance to watch the Dunlop family film "Road" on the onboard TV's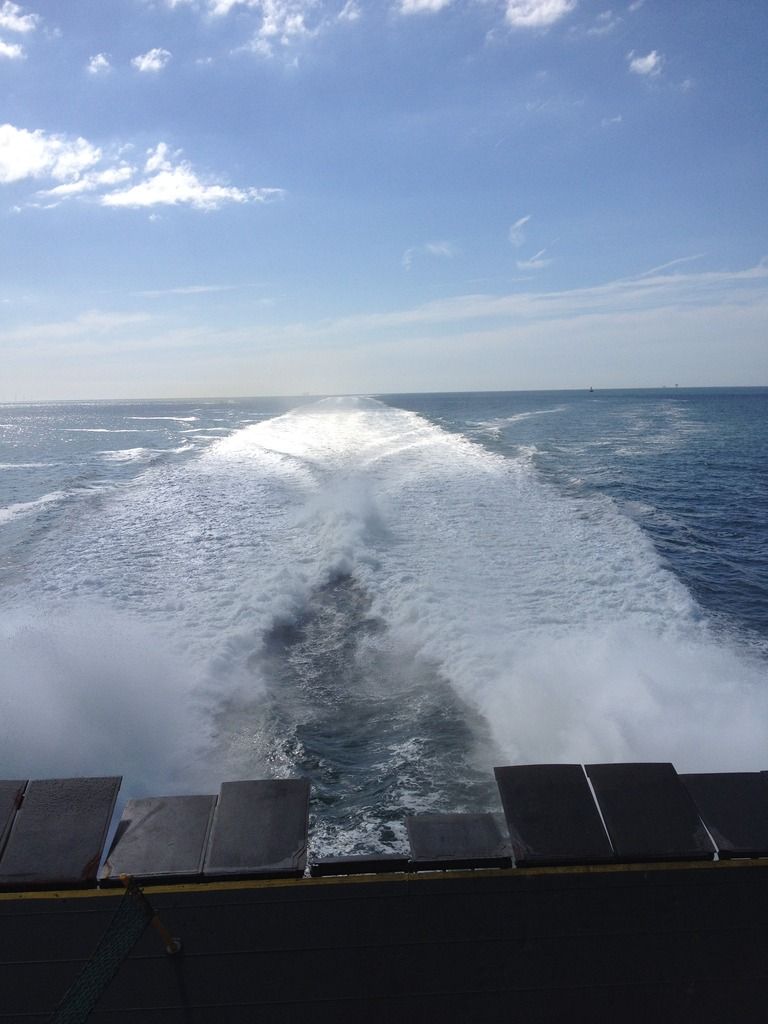 Back in Liverpool and I took the lead, as the GPS takes us out of the city on a slightly odd route, but soon the reassuring signs for the M6 appear. Jim, Jon and I have managed to drop the others filtering out of the outskirts of Liverpool, but they're on the same road for sure, so not having to worry about them finding their way I sat behind my screen and upped the pace a little, eventually dropping Jon and Jim from view.
Eventually I arrived home at 18.55 having ridden 458 miles and 11hours 45 over the course of these few days. The roads had been great, time spent in good company, some tales to tell and bore mates with for weeks to come, another bucket list item ticked off, and a strong feeling I'll go back again.