Next morning I was up early and took a walk outside to take some pictures, with no noise and no traffic, it was great to just enjoy the peace and tranquility of the view and watch the rising sun creeping down the valley illuminating the trees and fields bringing warmth to the day.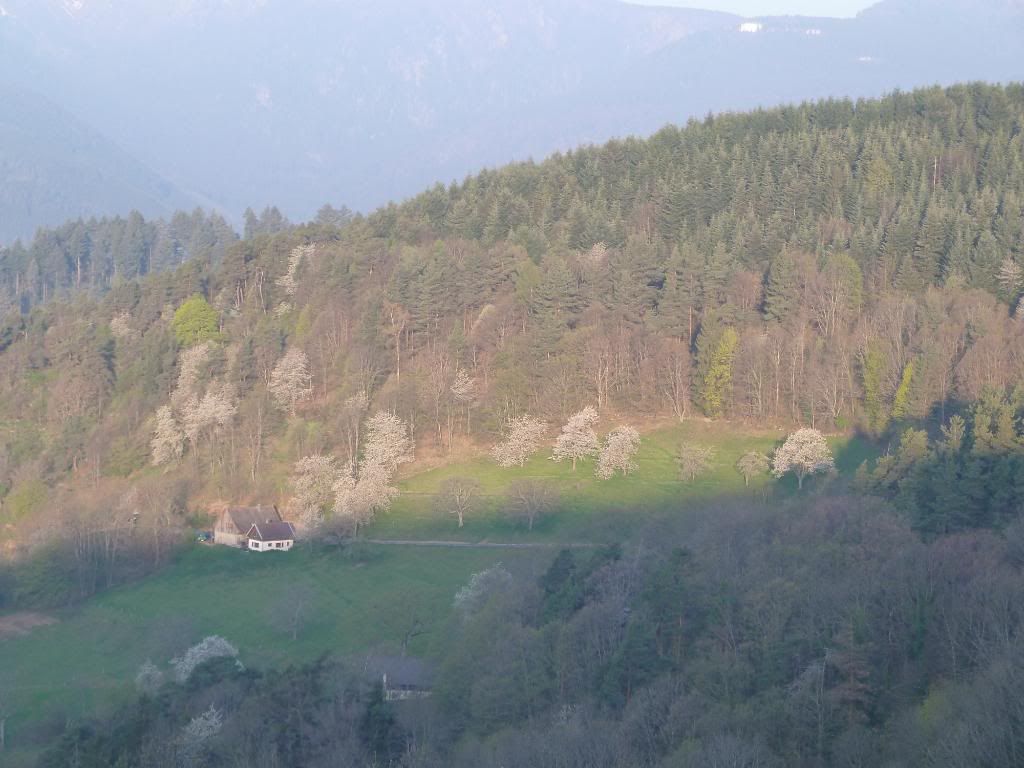 We decided to skip breakfast and save ourselves €24, so were away at an uncharacteristically early 08.50. Small winding roads over the woods of the Col du Linge meant a slowish pace, especially as each time we rounded a right hander it led into blinding sunshine and a lack of vision!
I'd planned to head for Ingersheim after reaching Turckheim, but the Zumo didn't warn me to turn left in time, so faced with a U turn or nipping into Turckheim for breakfast we decided to stop. This proved a good decision as we entered through an archway into Place Turenne and its interesting mix of coloured buildings, complete with Cigonne (stork) nesting on top of the archway we had just passed through.
Cigonne on nest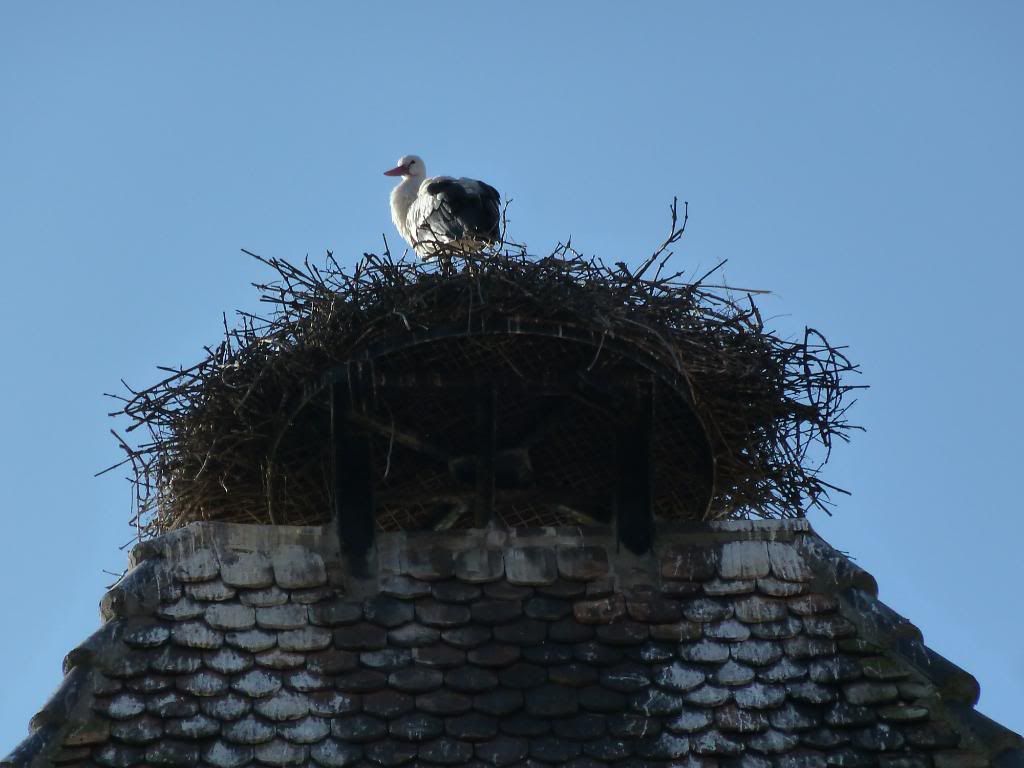 Bike parked outside coffee shop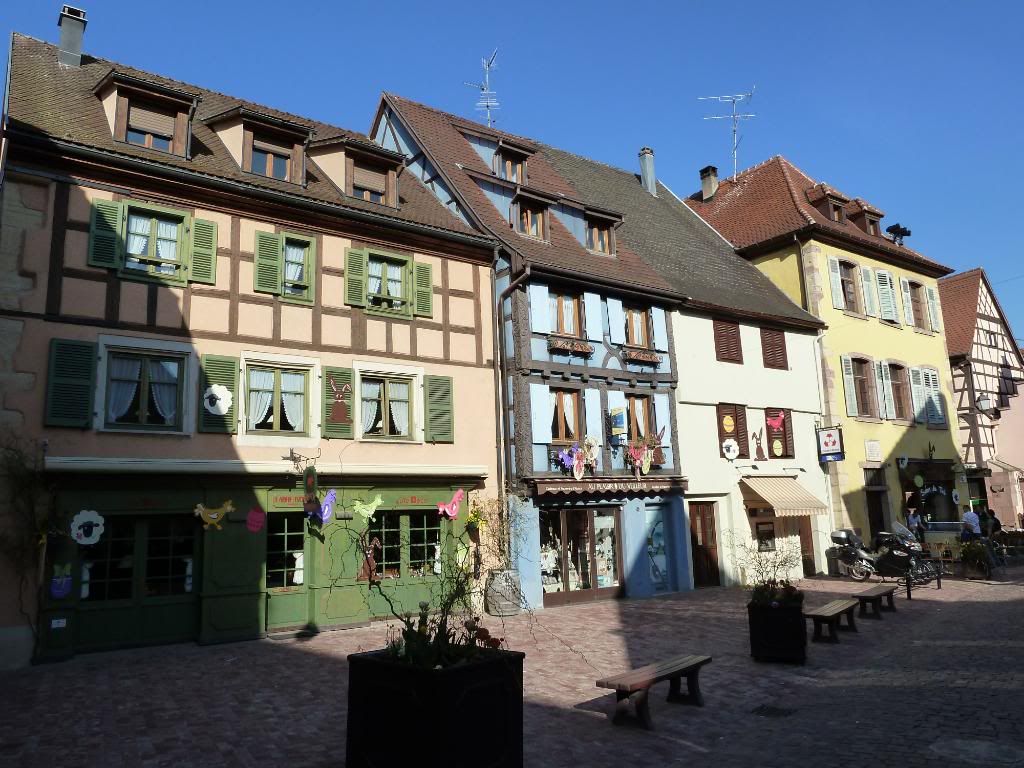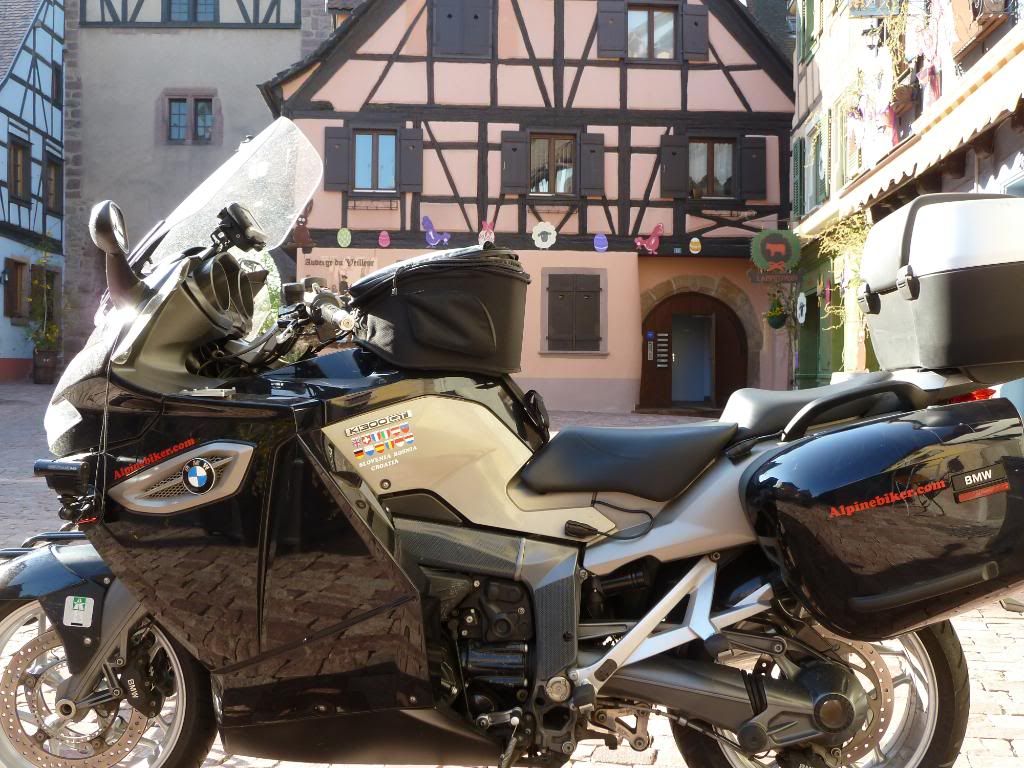 Quaint facade of the Salon de The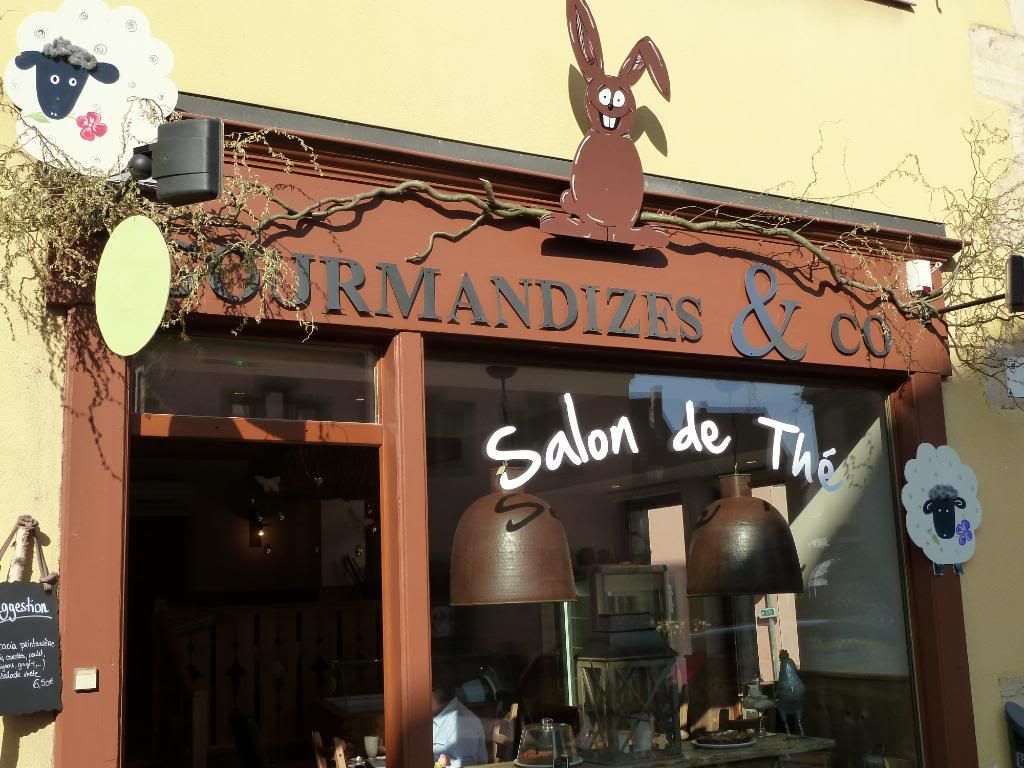 As we sat and drank our tea and ate a croissant, I had the chance to reflect on how sometimes things you think of come to pass as reality. As we had entered Turckheim, my mind had somehow wandered onto the question of what I'd do if the GPS stopped working? Clearly I'd have to revert to map reading, especially given I hadn't written down today's route. No big deal, I'd always used maps, and still do even with the GPS, but then guess what happened? Of course, when the GPS was removed from the cradle it refused to reboot! Time to drink a coffee and manually  replan the route again, gotta love technology!
Once the route was consigned to writing, we set of for Ingersheim and on to Sigolsheim, where we joined the Route du Vin towards Ribeauville through field after field of vineyards. High on the hill in the distance we could see our destination, the 12th century castle of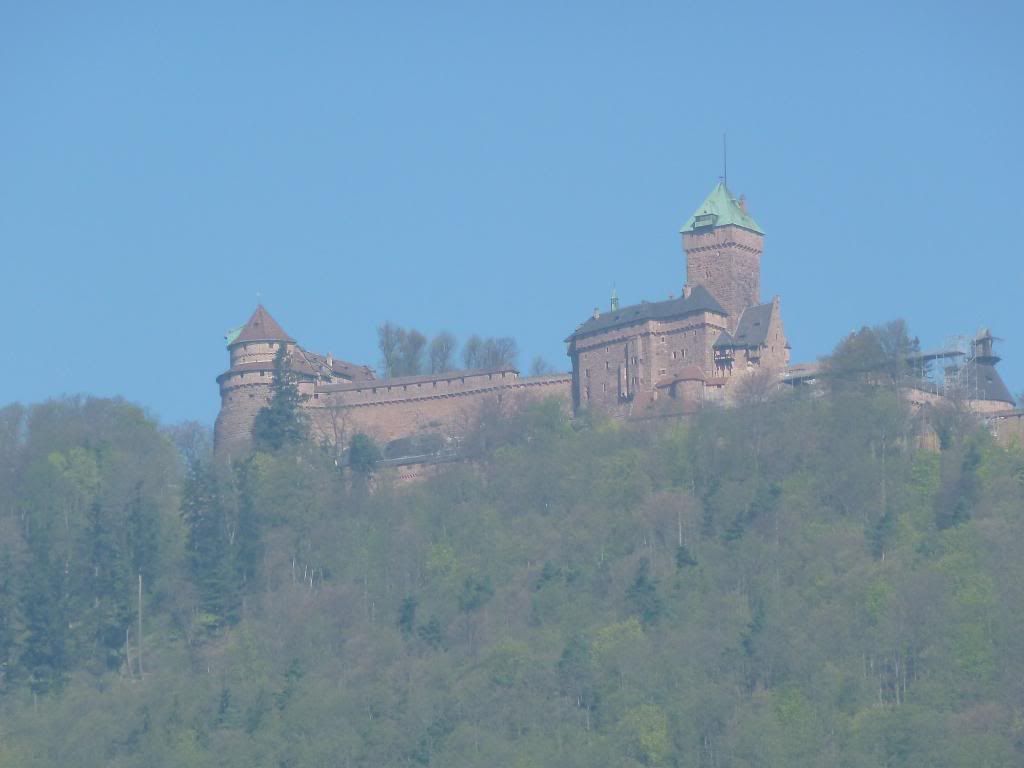 From Ribeauville we continued to St Hippolype where we commenced a climb through the woods to the 757m summit of the castle.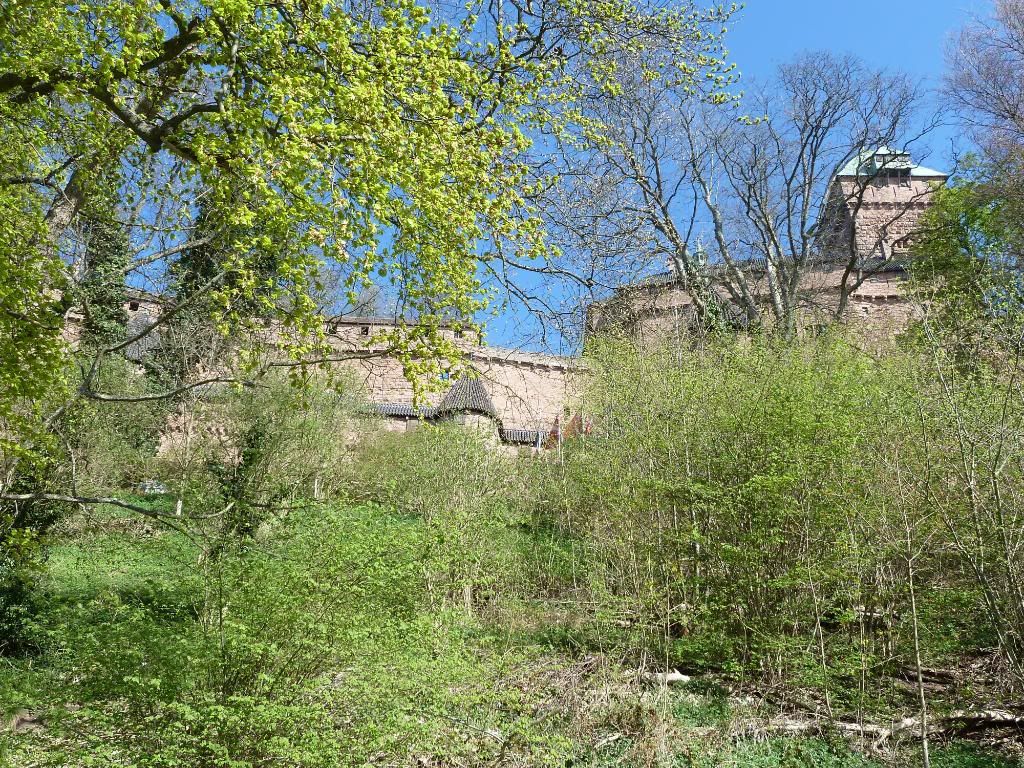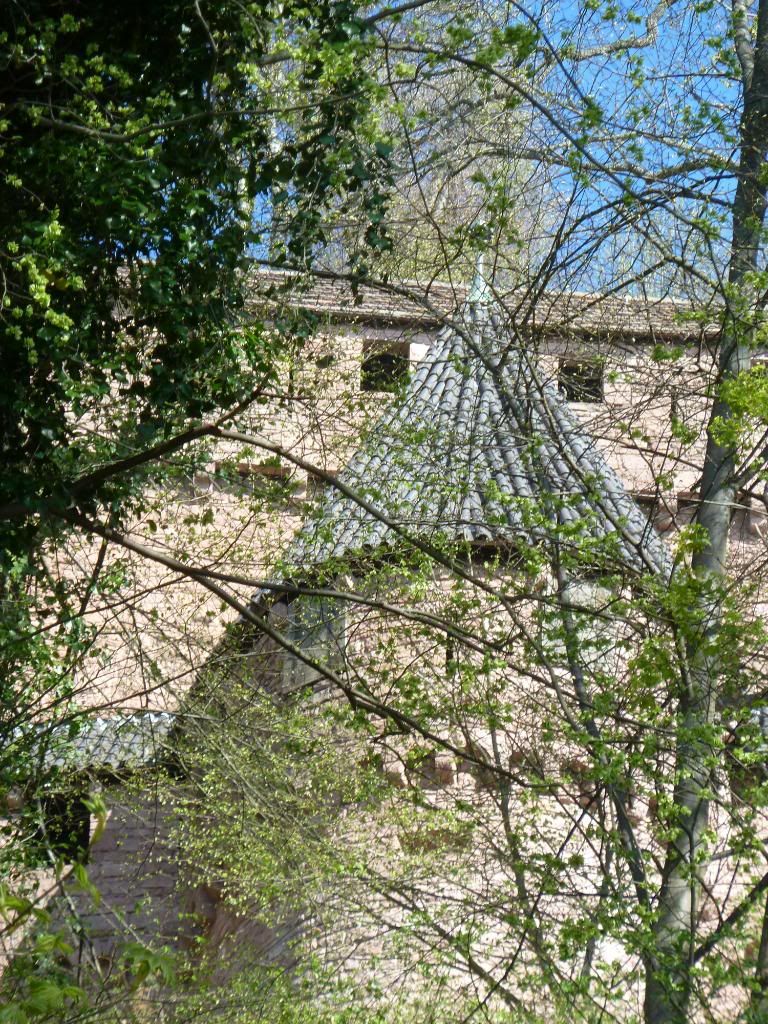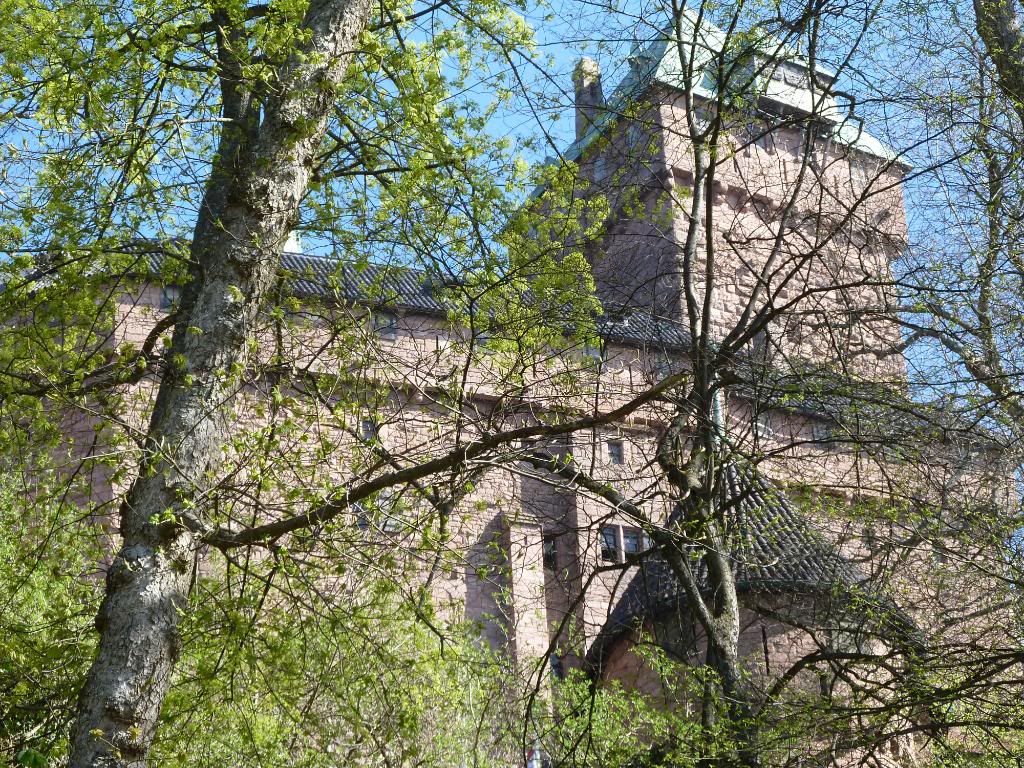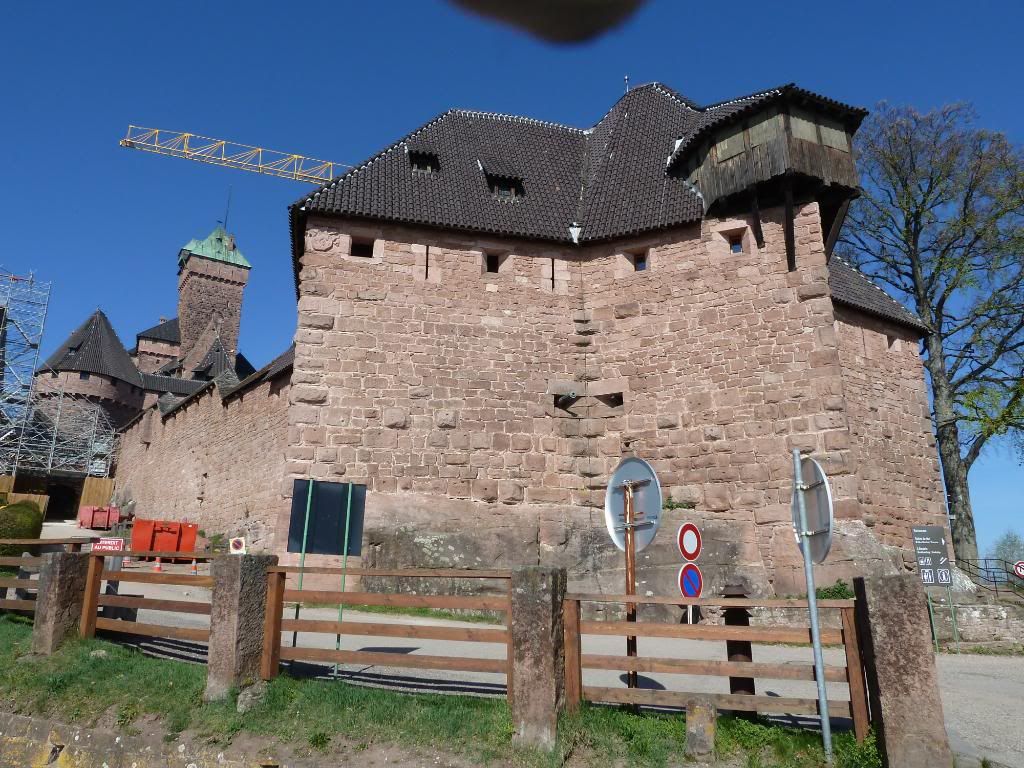 The view out from the castle was equally impressive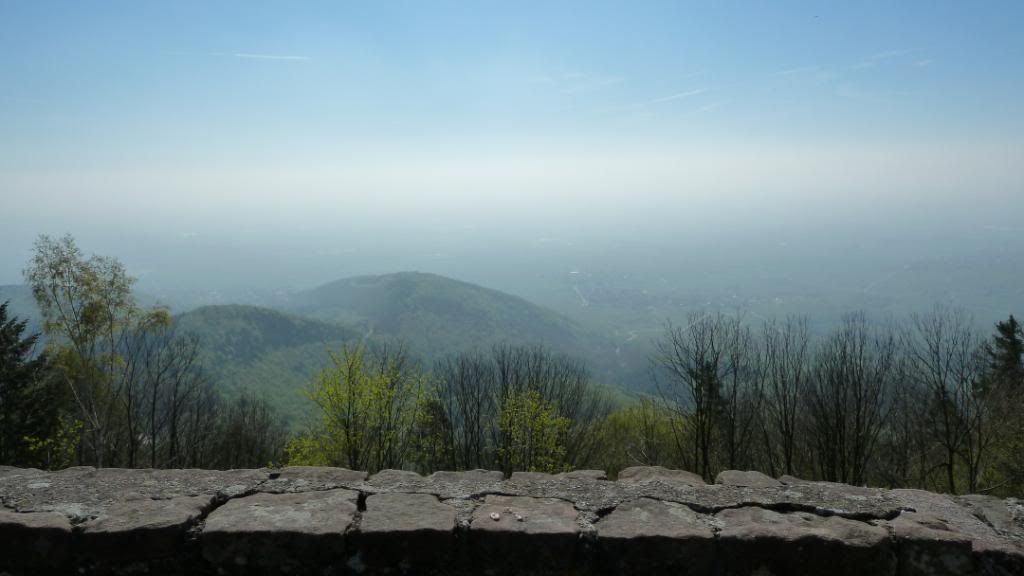 This was to be our furthest point North, and now we started our return heading West via Ste Marie aux Mines before turning South and the Col des Bagnelles to Le Bonhomme, West again towards Fraize, South to Le Valtin, and West via the Gorge de Schmalik to Xonrupt Longmer, Geradmer, La Bresse, Cornimont and Le Thillot.
Beautiful views everywhere!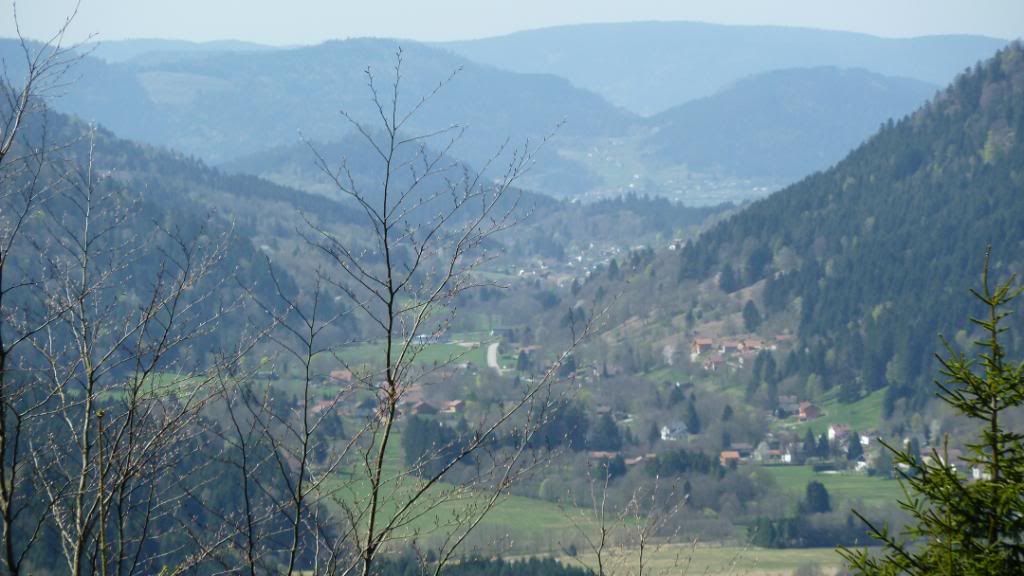 Lots of small walled off pastures in these fields
The road after Le Thillot changed into fast open sweepers where the GT was much more at home, the section from Servance to Turnuay being especially good! At Lure we rejoined the major roads towards the usually difficult to circumnavigate city of Vesoul, and onto Besancon where a refuel proved necessary.
Next destination was Salin les Bains where we encountered a town centre with a road surface in the process of being laid, and the start of a recaltricent engine. By now the temperature was 27.5 degrees C and it seems the GT has not yet been cured of its dislike for heat, as first it stalled at the traffic lights at the roadworks in the town centre, then tried to stall each time the throttle was eased off as I gingerly tried to ride over the uneven gravel surface. Despite much overrevving the revs dropped every time and kept stalling as I struggled to keep a loaded bike plus pillion upright.  Unsure we were even on the right road I took a side turning signposted towards another town I knew the name of, but as it soon became clear it was a minor and poorly surfaced road I pulled over to recheck the map, and yet another stall.
As we were both pretty hot by now, we took the opportunity to shed a layer of clothing, and for me to try and chill as the bikes dangerous stalling antics were driving me mad!
The castle at Salin- les- Bains.
Retracing our way back into town saw yet more repeats of the stalls, revving it furiously garnered some strange looks and by the time we stopped at a garage back on the other side of town my mood and blood pressure were sky high. If you've seen the John Cleese sketch where he whips his car with a stick, this was now me, fuming and swearing profusely I was livid and the cooling ice cream I'd stopped to buy at the petrol station wasn't forthcoming either as they had no fridge!
10 minutes without riding seemed to help the bikes manners, and asking local bikers the direction to Champagnole revealed that the correct route was back the way we had just come, ie back through the town centre and through the crappy road surface again! If we had just kept going last time, we wouldn't have had half the trouble! This time the revs tried to drop but I could hold it and so we continued on to Champagnole safely, consigning to dust and a spec in the mirrors, a couple of Harleys who had had the audacity to creep past me at the traffic lights in Salin-les Bains.
Champagnole to St Laurent en Grandvaux, Les Rousses and down the Col de la Faucille, roads I know well, but I had to stop for these pictures as Mt Blanc was in full display on the other side of the lake and was drawing a big crowd of fellow admirers at the parking spot.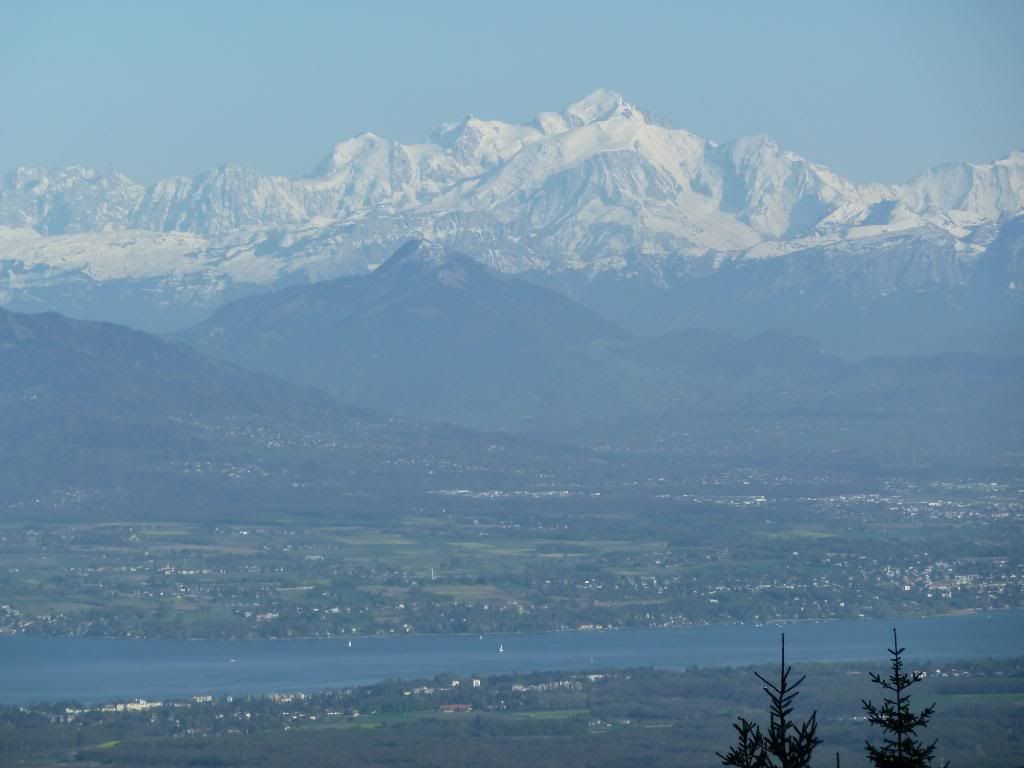 Home at 18.30 after a day comprising 436kms, a technical breakdown (GPS) and a dangerous half hour with a bike which despite a software update last year to solve the stalling issue, clearly still isn't fixed! Neverthless we'd had a good ride, spent valuable time together, and with 813kms under the belt on this trip we'll be looking to make  another one soon.