When I was living in Europe I took every opportunity available to ride and tour, 15 countries and tens of thousands of kms passing below my BMW's wheels. Many hours and days were spent in the saddle, big distances were the norm,  and I became "bike fit". Like everything in life, things chance, and like all good things, it came to an end. A move back to the UK saw the GT languishing in the garage, riding opportunities grew less and less, and a combination of weather, lack of the big open roads I'd been used to in Europe, and mile after mile of speed restricted and camera policed roads meant the attraction of riding quickly diminished, and I started to question whether I even wanted or needed a road bike anymore.
Discussions with Sue led to the decision to take the bike back to France and leave it there, knowing we could ride it again whenever we visited and on roads that were more inviting and pleasurable to ride than those in highly restricted blightly.
Years had passed since we went any distance on the GT, and since we were taking it back it seemed an idea time to take a tour, so we decided to recreate one of favourite shorter tours, a trip down to Andorra and Spain. The lure of good weather, open roads, mountains and tapas spurred us on, and so it was the GT was loaded onto the trailer and escaping the traffic chaos at the Channel tunnel by taking the ferry, we headed south to the Dordodgne for the start of what we hoped would be the rekindling of our love of touring.
Day 1-
With no specific destination in mind or timetable to abide by, the plan was loosely to head towards Carcassone for the first night. I had a rough route in mind and put a few city names into the GPS and let it take us southwards. After a ten km section of autoroute near Perigueux I enabled the avoid motorways option, and we were soon back on open roads and enjoying the countryside.
I'm ashamed to say I didn't note the name of this place perched atop  a hill but thought it worthy of a photo.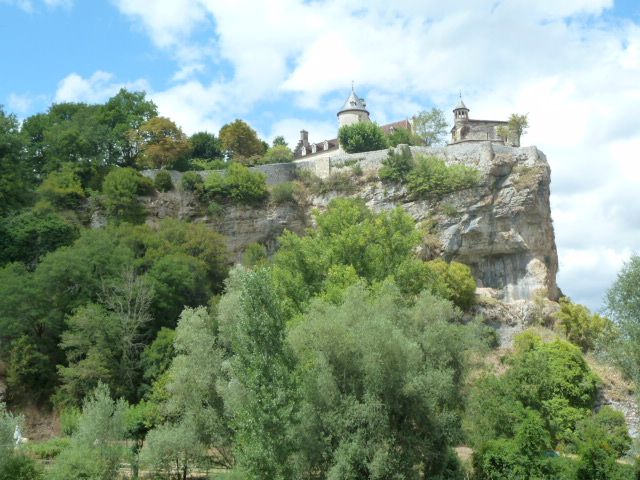 The roads we were riding were prefect for the GT. A mix of big open national roads mixed with great cross country departmental ones, was providing me with a fun riding experience and we were soon back into touring mode and starting to enjoying the fresh air, scenery and countryside, as the bike performed well in its ideal environment.
Some time later we came across this prehistoric parc in Lacave.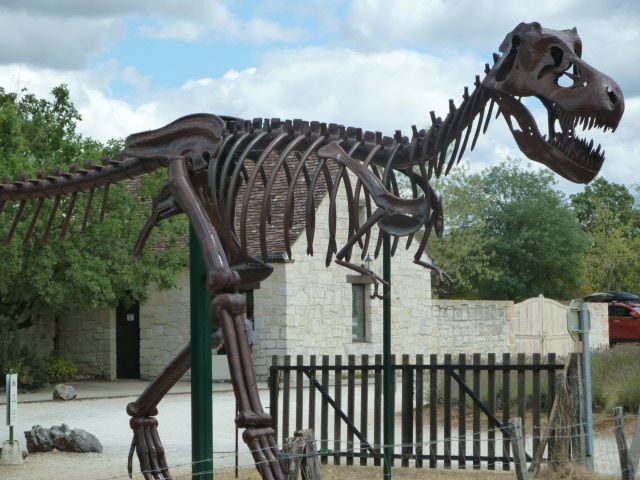 Later on in the day we stopped for pictures at the very picturesque St Martin Lagueppe.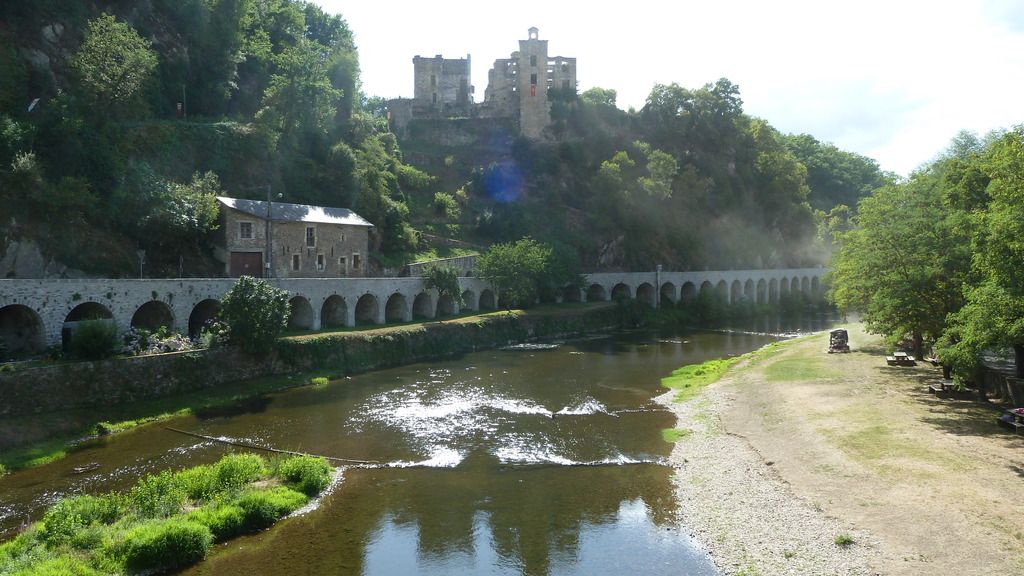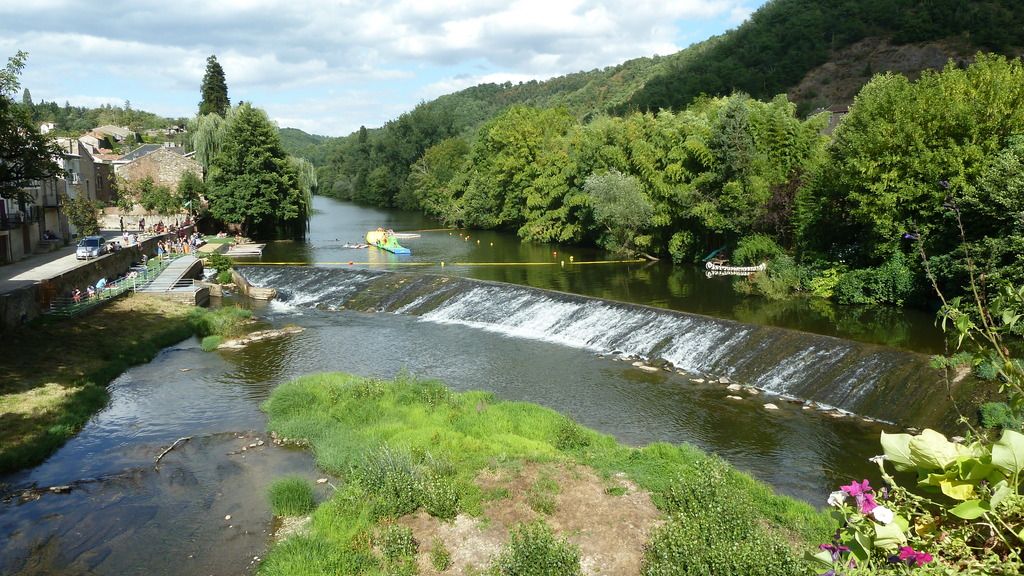 By late afternoon I decided that Carcasonne was going to be too far to get to as we were both feeling a bit tired, and not being used to long days in the saddle I decided to look for somewhere to stop, which turned out to be Castres.
The Hotel Riviere had a lockable garage for the bike and being close to the centre and restaurants, we installed ourselves in the room, showered, and went out later for a meal here at the Brasserie L'Europe.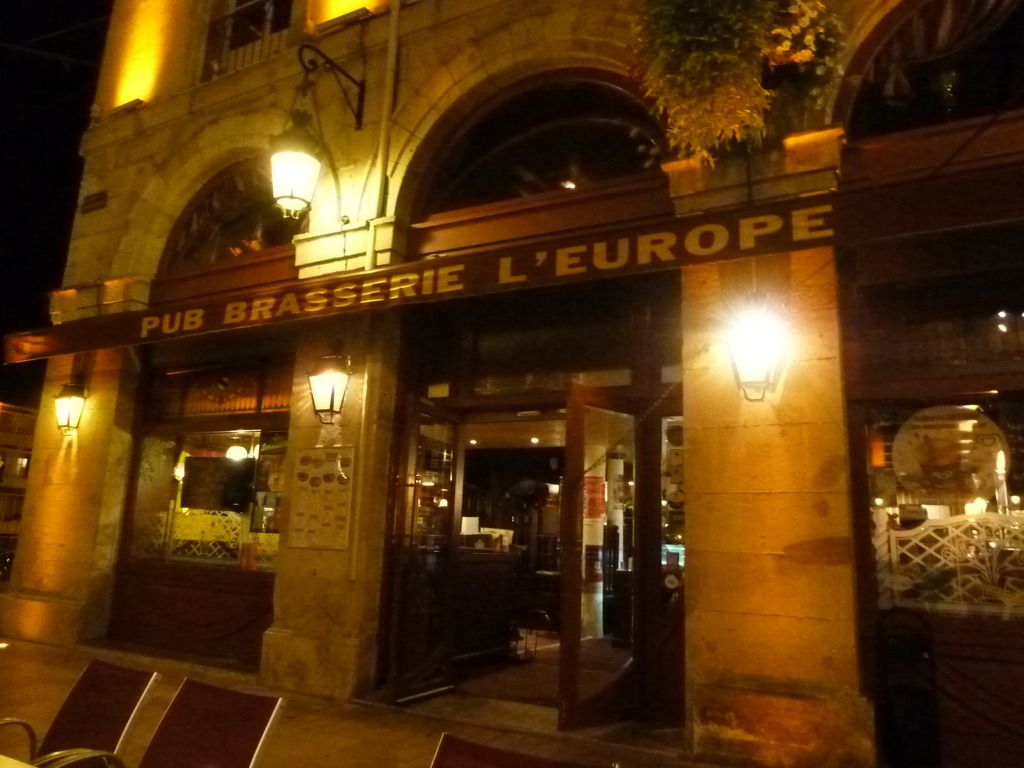 Amazing what a good steak, bottle of wine and a couple of Irish coffees does for your evening. We had a great meal, and although the picture below shows empty seats, they were all full earlier in the evening. Entertainment was provided by a young lady who in between talking to her friend in a parked car nearby, spent an age talking very loudly on her mobile, berating what we assume was her boyfriend,   Is nothing private?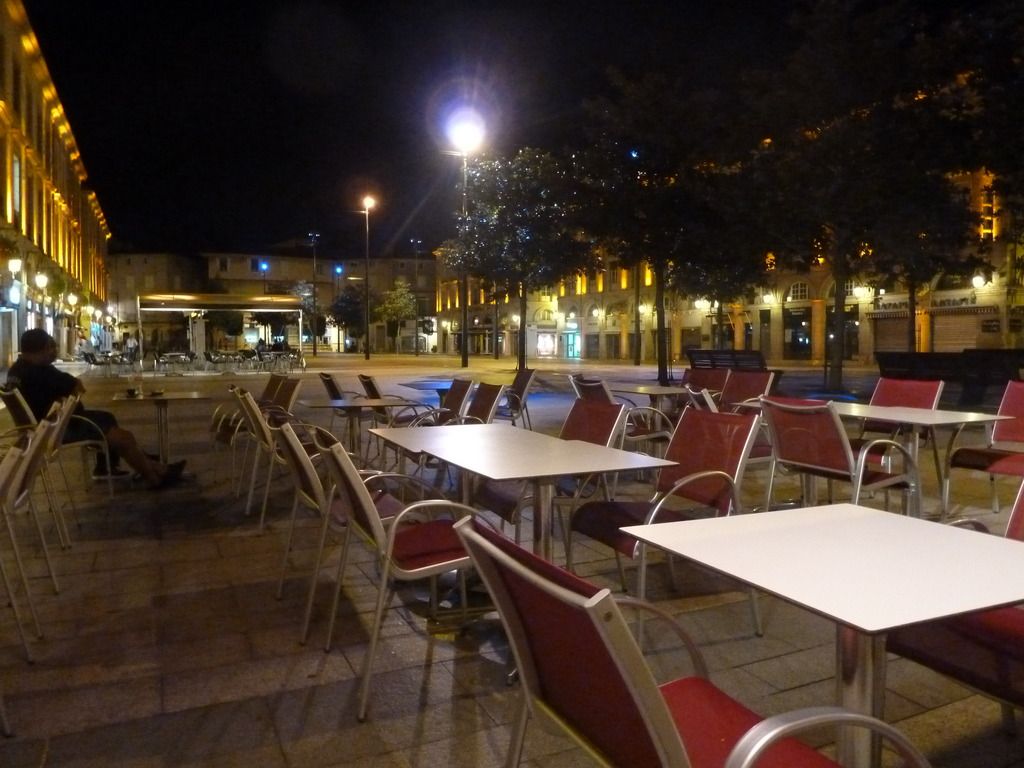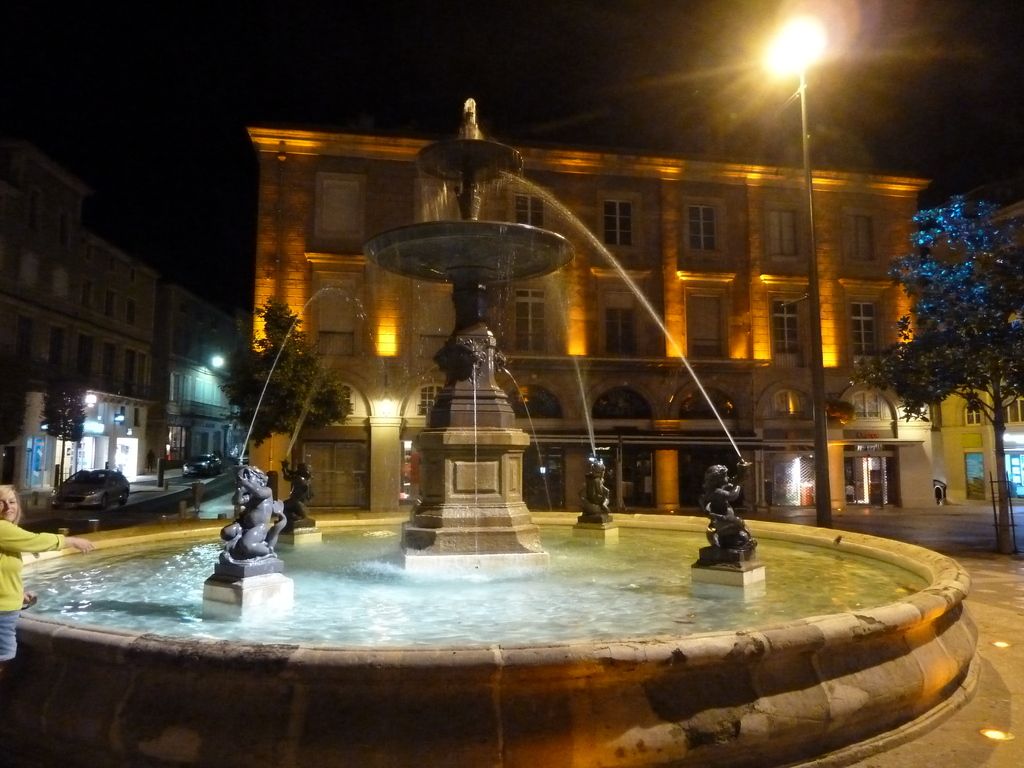 The hotel and GT locked safely behind very large gates.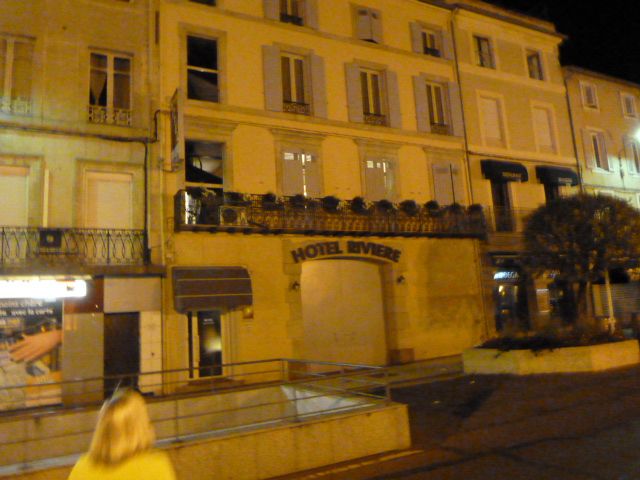 Day 2-
Breakfast, pack, pay and off we went heading for Carcasonne with todays final destination being Andorra.
Bizarrely after riding around Carcasonne I couldn't find the castle I was looking for, so after wasting half and hour riding round trying to find it, we gave up and continued on our way. There are some great roads down towards Andorra and by mid afternoon we had arrived at Pas de la Cas where we decided that shopping round the multitude of bike shops there was the plan for the afternoon. Riding on down into Soldeu we booked into the Hotel Naudi where we had stopped several years ago, unloaded the panniers, and rode a much lighter bike back up to Pas de la Cas for an afternoons shop browsing.
I  bought a pair of Alpinestars GP Pro gloves to replace the ones that got split after my Donington crash last year, and Sue got a pair of Alpinestars ankle boots, so the trip was successful as indeed was our use of our newly purchased Sena S20 bluetooth headsets being used for the first time on this trip. Having used a wired Autocom system for a few years we'd decided to get a more modern system, and once the speakers position was correct inside the helmet (takes a lot of finding!) all was good and we had been enjoying  clear conversations without plugging ourselves into the bike.
Day 3-
Here's the view from our hotel down towards Andorra.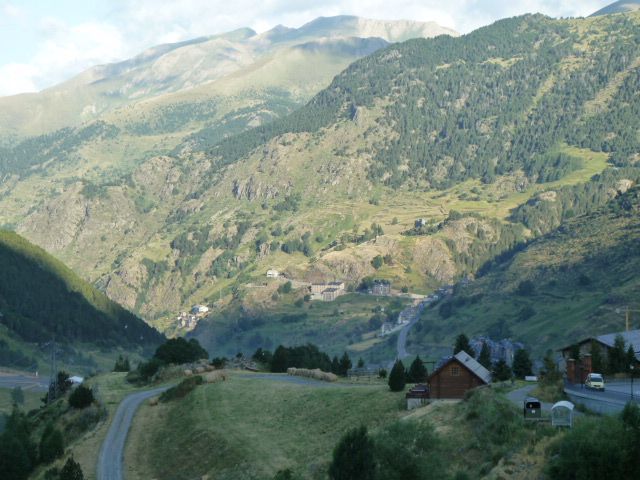 Today was planned as being a mornings shopping round even more bike shops in the centre of Andorra followed by a ride out to La Seu d'Urgell and onto the fabulous N260 to Sort.  Via the wonders of the internet I'd booked two days at the Hotel Florido, another hotel we knew well from previous tours, and was looking forward to spending the afternoon relaxing by their pool.
The N260 was as good as I remembered, and so was the pool. Relaxing with a few beers, interspersed with dips in the pool was a great way to relax, and the 28C temperature and sun  was perfect except….. I didn't use any suntan lotion which was to be a big problem later! Another big problem was that I'd not checked the weather forecast and now when I checked it seemed there were major weather warnings for rain the following day.
We always eat at Cafe Pessets in Sort in the evenings and have had some amazing tapas there, but despite the extensive menu, this time the food didn't seem quite as good, proving yet again that things are never as special as the first time!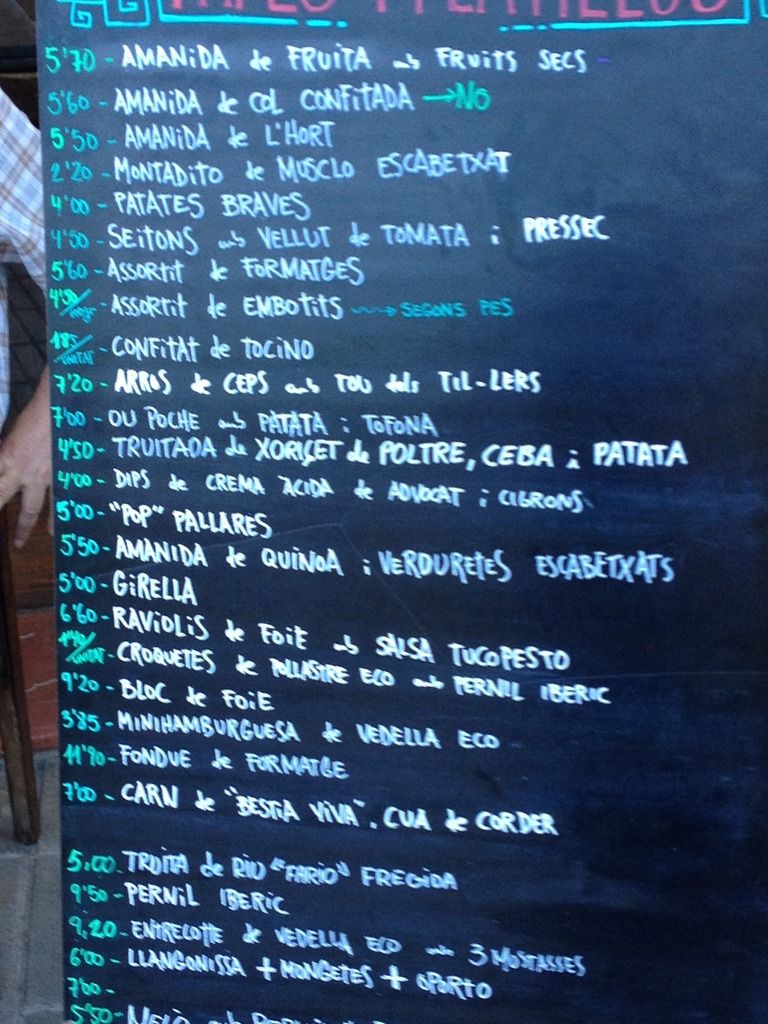 Day 4-
True to the forecast the weather changed and during the night the roof and windows reverberated to the sound of monsoon rains outside. With my planned ride for the day clearly just that, a plan, we had nothing to do other than sit in the room, watch Spanish TV and sleep.
Just look at the amount of rain in the guttering!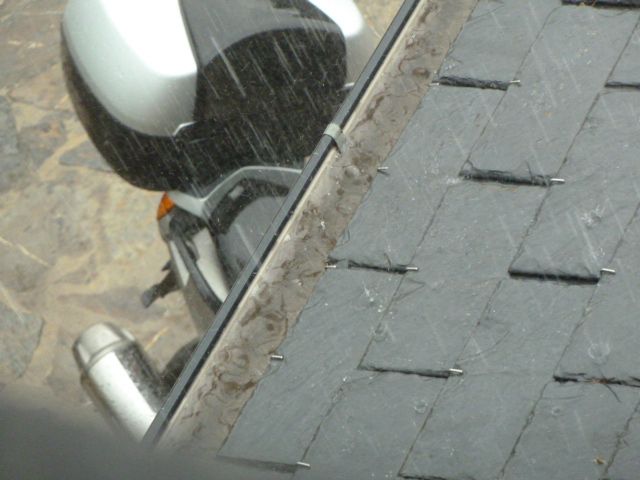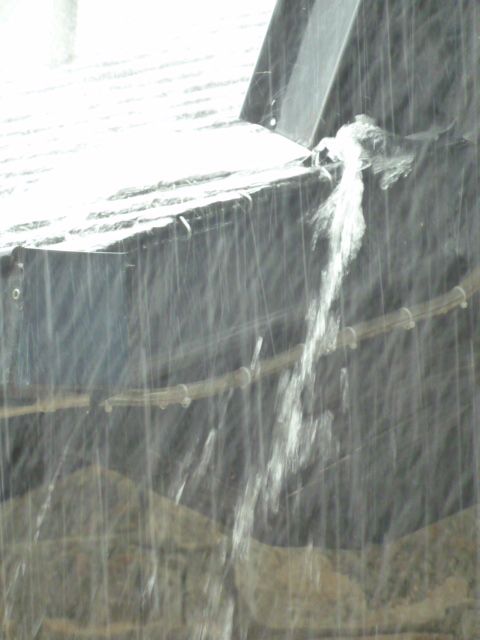 The hotel doesn't have a restaurant but offers pizzas which really weren't that good, but being tired of being stuck in the room all morning, at least it made a half hour diversion from sitting doing nothing.
Eventually around 17.30 the rain abated and desperate to get some fresh air we took a short walk outside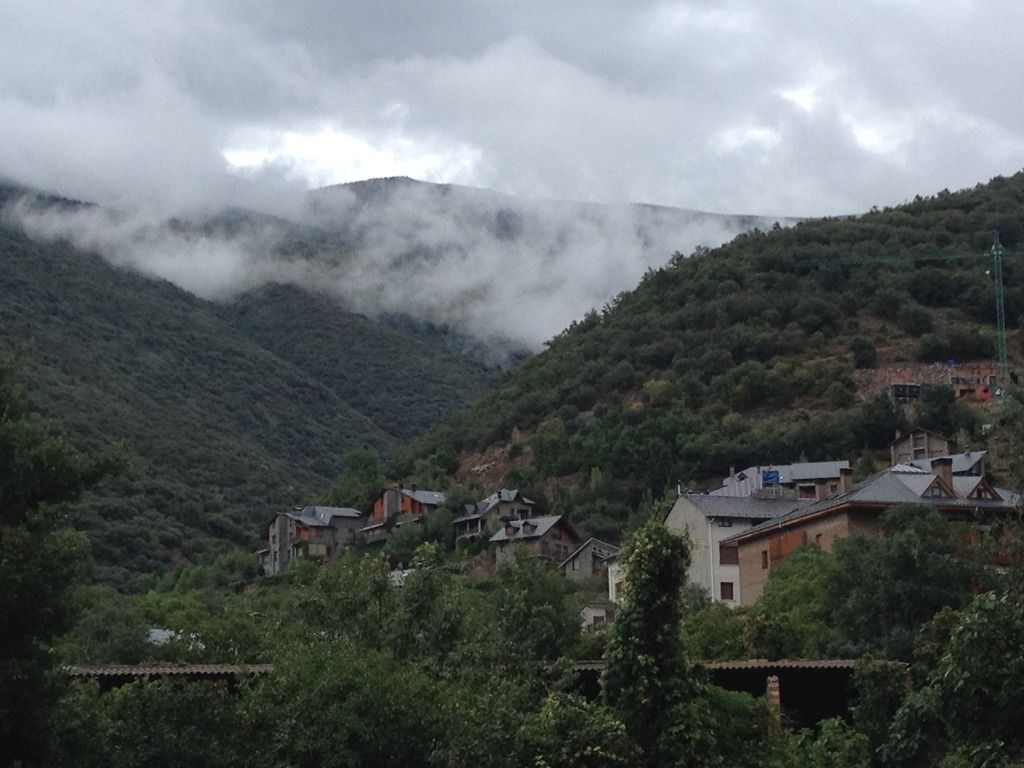 Sort is a big rafting centre and there was plenty flowing nearby.
We saw the sun at 18.01, but the joy of seeing a big ball of light in the sky was shortlived as the rain started to fall at 18.04, forcing us to sprint back to the hotel to avoid getting soaked.
Day 5-
Another bad weather day was forecast and heading North was the best option to head towards better weather but this left a difficult choice, spend an extra hour and kms in the saddle heading south first to get to the better roads, or head directly North over the directly North over the 2000m Col de la Bonaguia which was quicker but with more risk of bad weather due to the altitude.
The Northern option won, and starting the ride in our waterproofs we set off to find less than 10 minutes later the road was blocked by police and firemen hosing the road, not sure if it was oil or rocks they were clearing from a  landslide, but it didn't bode well for the ride ahead.
At this stage I should mention the extreme discomfort I was feeling. Remember the 28C sunbathing afternoon? Well now I was suffering the effects. My skin felt like it was super tight, and despite rubbing half a tube of aftersun into my now lobster pink skin, I was now feeling decidedly sorry for myself.
I hadn't mentioned today was my birthday, and riding in the rain wasn't my ideal way to spend it, and neither was the set of events that followed. We had what felt like a huge slide on a directional arrow. The back end spun out to the right far enough to throw my left foot  off the footpeg as I instinctively tried to keep 285kg of bike and another 180kg of us and luggage upright. Later in Figeac when we tried to find a hotel we had a myopic woman pull out of a car parking space directly in front of us, and completely ignore 120db of horn sounding at her as she drove straight on! Roundabouts were populated by drivers who entered then even though I was already on them and in the space they were aiming for! After several near misses and discounting a very poor hotel, we headed on out towards Aurillac.
Spotting the town of Maurs ahead, another town we had stopped at before, I recalled a great auberge we had stopped at before and decided to head there. The phone number I called to see if they had a room didn't answer, so we trekked cross country in the hope they'd have a room and struck lucky when they did.
Auberge de Concasty-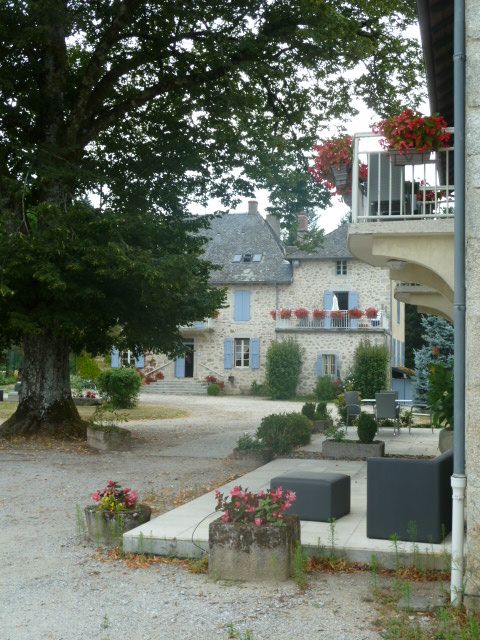 This is a great hotel, a little pricy but they have a menu decouvert in the evening which from previous experience was excellent, so we had that again and weren't disappointed. It was the single most expensive night of the tour, probably costing as much as 2/3 previous nights together, but hey, it was my birthday and I'm worth it!
There's an anecdote about this place I tell people. Years ago when we were last there a Dutch couple arrived in a little maroon sports car with a wicker hamper attached to the rear rack, and their names in silver letters on each side of the car.  Sue was taken by how great it would be to have one similar and tour Europe in it rather than getting tired and wet on a bike, and one day, I'm sure that's what we will do. Apparently the Dutch couple are regulars and were going to be arriving a few days after we left!
Day 6-
Well fed and rested and after a well presented breakfast, we were heading for home today via the very pretty Puy Mary hills. You can tell from the pictures below that the weather wasn't that great but at least we had some of the great views.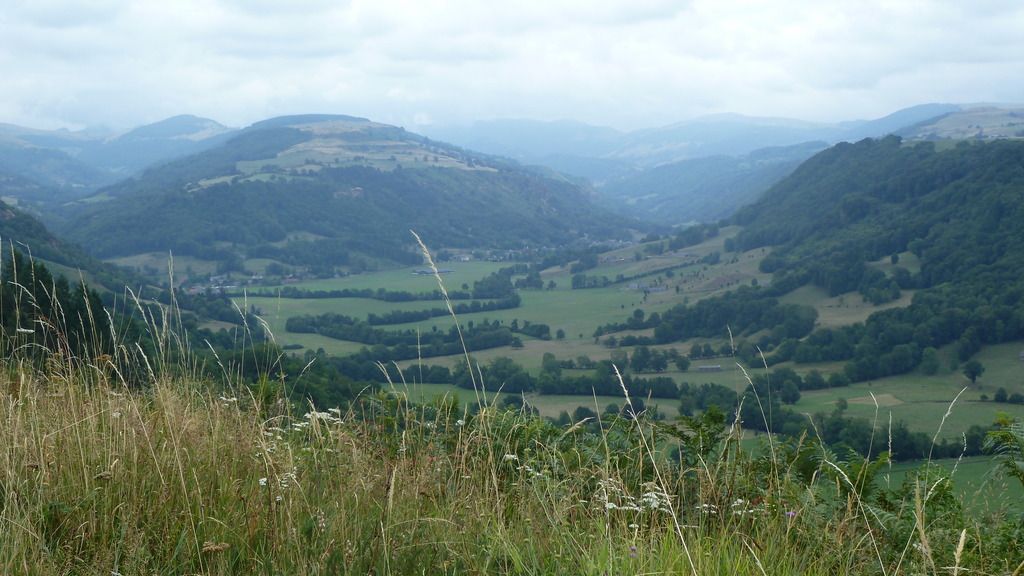 I have this picture to advise bikers-  DO NOT BOTHER GOING TO THIS RESTAURANT. We walked in at around 11.45 and asked for two cups of hot chocolate and were refused entry. Apparently there was a group arriving and the place was all reserved. Now I can understand it was close to lunchtime but it doesn't take forever to drink a cup of hot chocolate, and one option might have been to offer us a seat outside, but NO, nothing of the sort, so we left, and were shocked to see the owners bringing out drinks to walkers outside, and no sign of any party arriving during the 20 minutes we were there. Seems they don't like bikers, so my advice, don't give this place a centime of your business, appalling attitude and lack of service.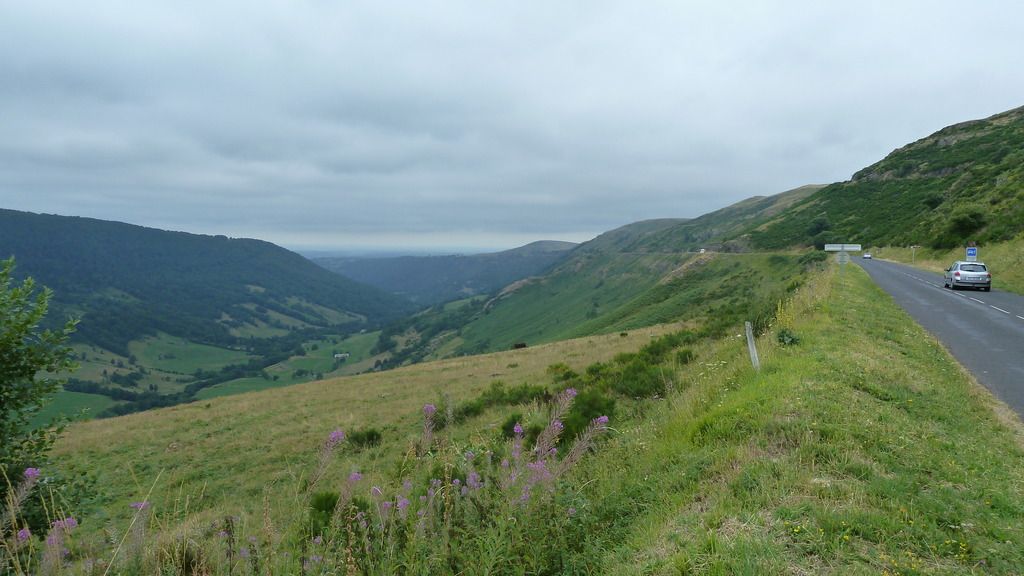 Returning down the Col de Neronne we found a place to eat.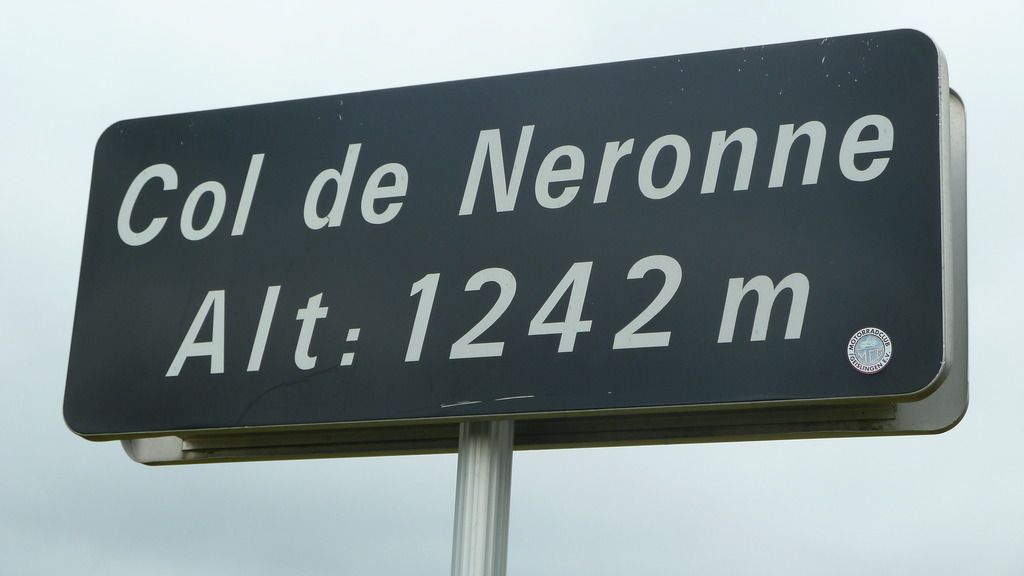 Slightly more friendly than the other place but nevertheless I was instructed to move my bike from the place I'd parked it in front of the restaurant as it was "dangerous", and the server chased off a family who dared to park up over the road and use their benches for a picnic. Geez, what gives with this area, it's so unfriendly!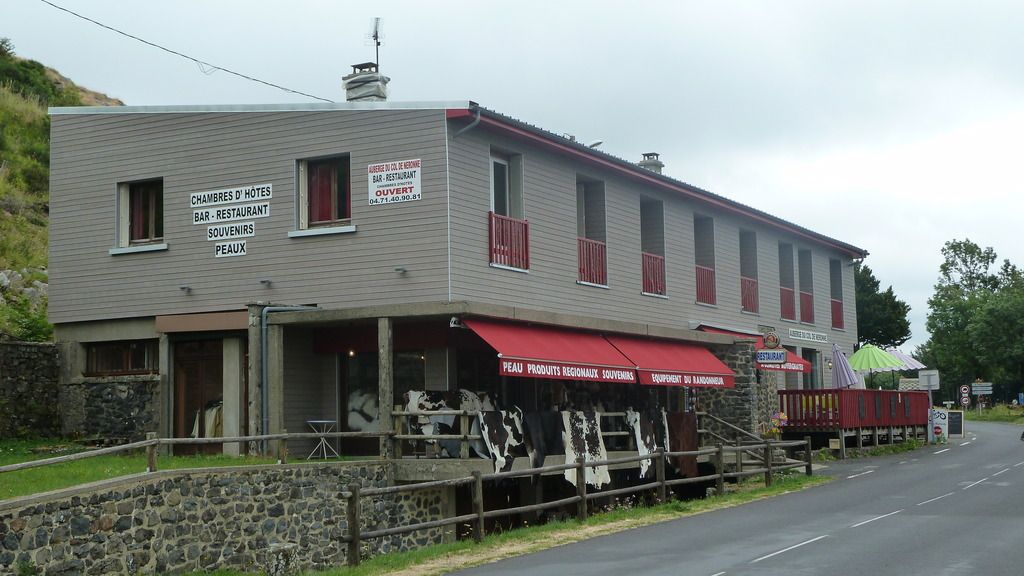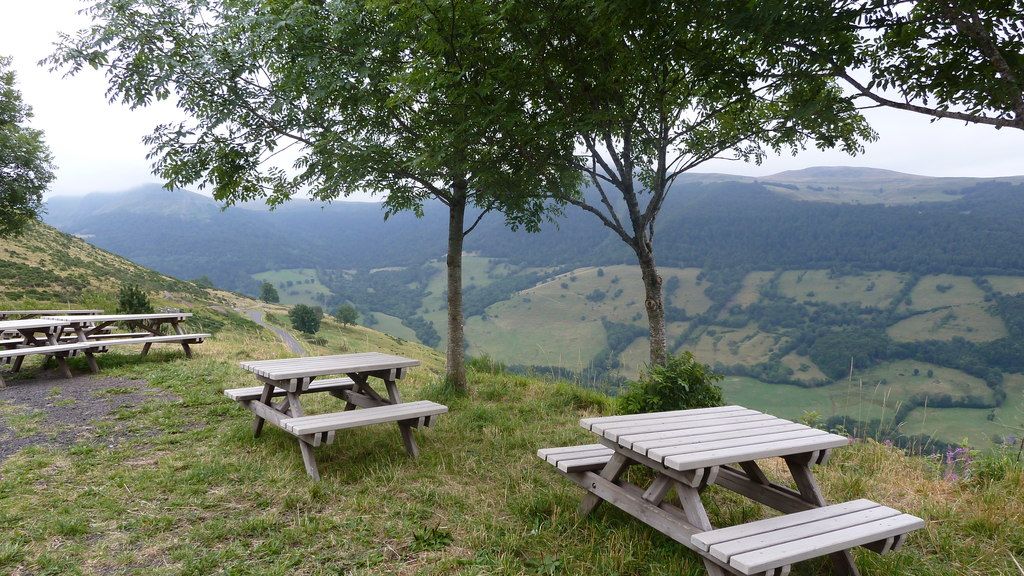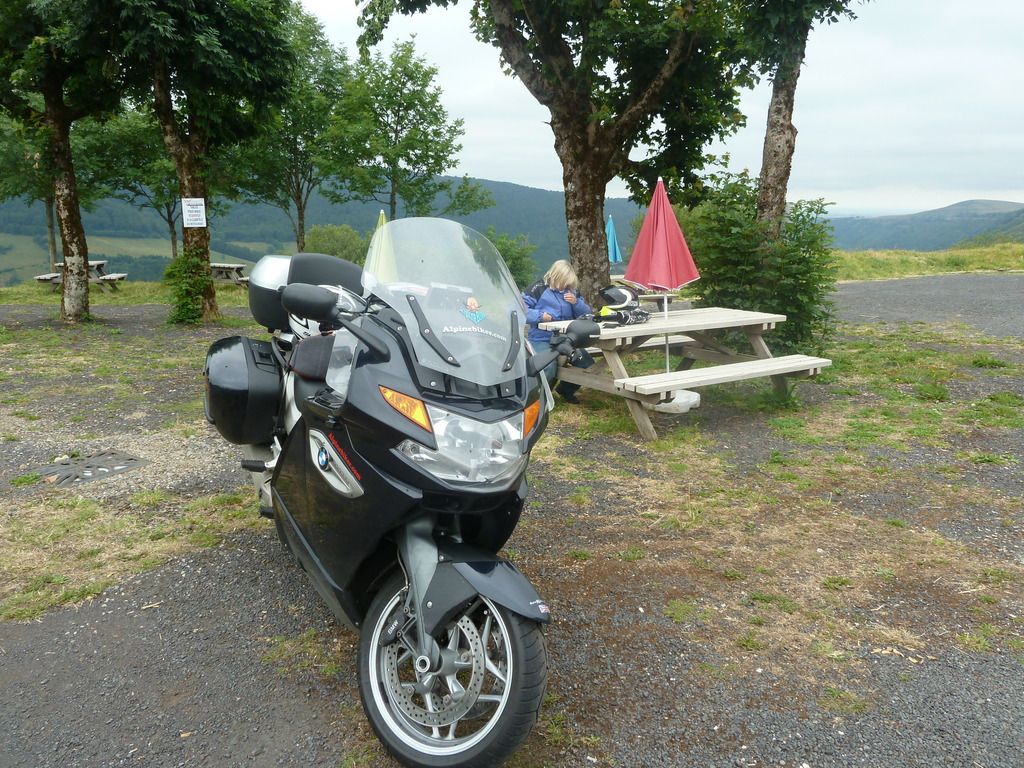 I'd not seen cows with this colouring before.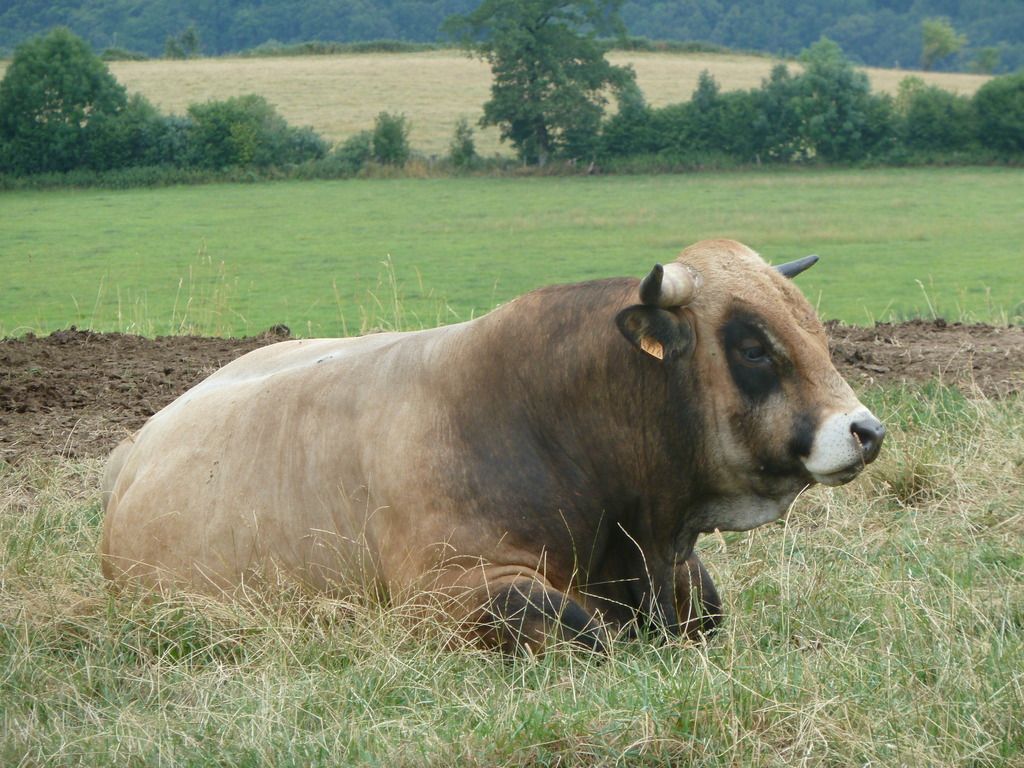 The roads we rode after descending from Puy Mary turned into the ride from hell. It's gravel season in France, the French dumping it randomly on corners as a quick road repair, but as anyone who rides a bike knows, it's horrendous to ride on. Each road became a nightmare, I couldn't tell if the surface was covered in gravel from one bend to the next, and after a couple of hours of riding slower and slower, I ended up with a mini crisis of confidence and the ability to ride a bend at any sort of speed as I didn't know what the surface would be. Deciding enough was enough we decided to cut things short, get on the motorway, and hot foot it home. A real shame to end a tour that way, but the fun element had gone and a couple of hours later it was all over.
So the burning question after 6 days and 2000+ kms, did we enjoy it? Well yes and no. Clearly the GT is best left in Europe as it's ideally suited for touring, and apart from the usual hit and miss gear changes it's still a great bike for this type of riding. Will we get back to the ten hour day two week tours we used to do? unlikely. Did it scratch an itch? Yes. Lessons learnt? Check weather forecasts!