PART 6- THE FINAL CHAPTER
Friday- Today we start on what will be the last leg of our journey together as a group. We will be crossing the Fluela, Wolfgang and Klausen passes to our end destination of Andermatt.
The Fluela is one of those passes that I don't ride as often as I should, and it's a good un, starting only 10kms from the hotel.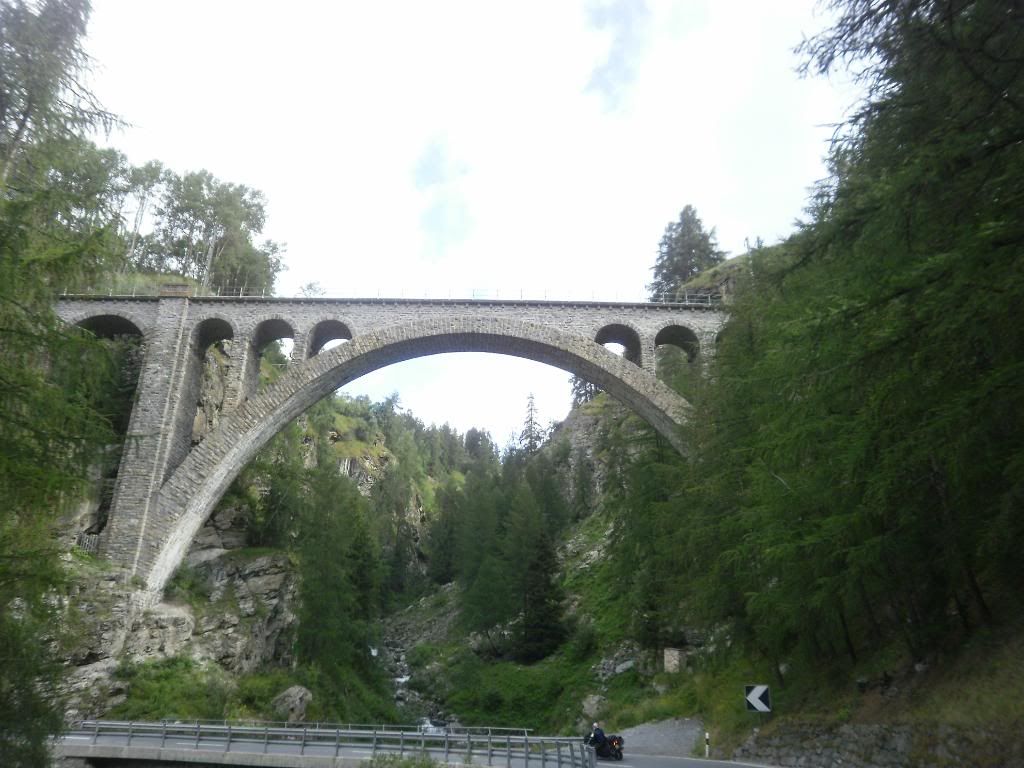 View back down the valley
It's quite bleak at the top today with very little traffic of any description up here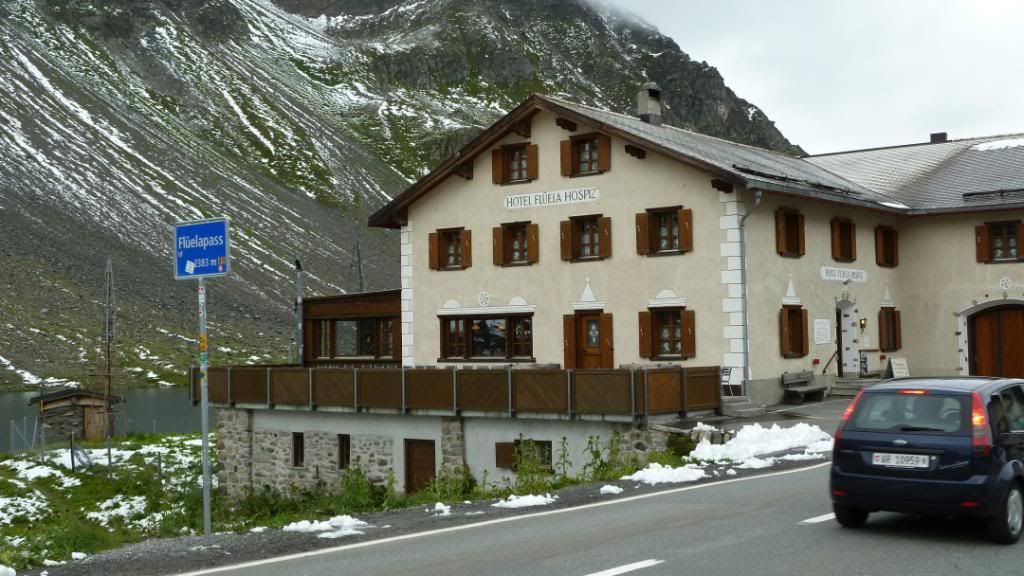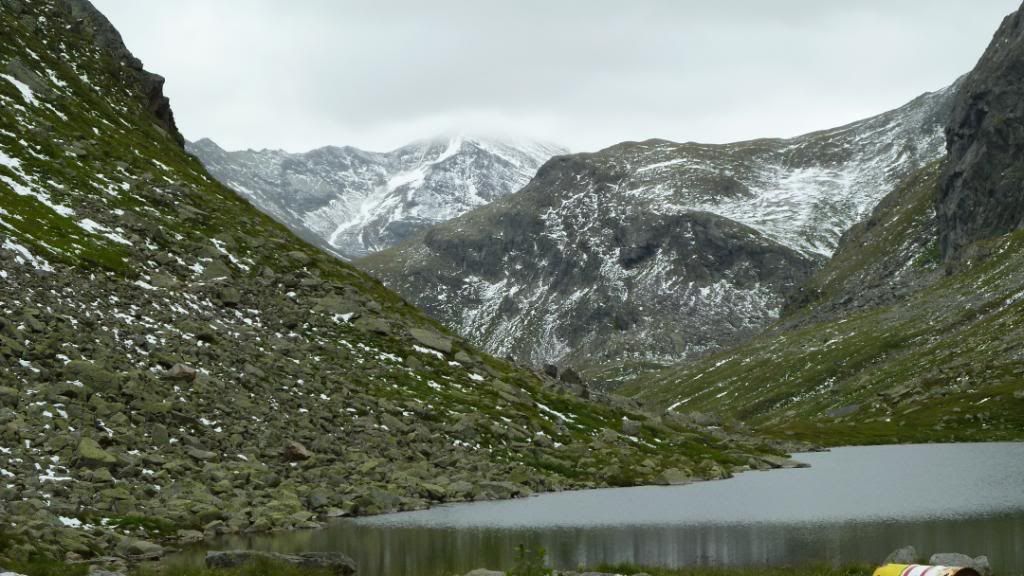 Eddie throwing snowballs at Nick, I said it was cold up there!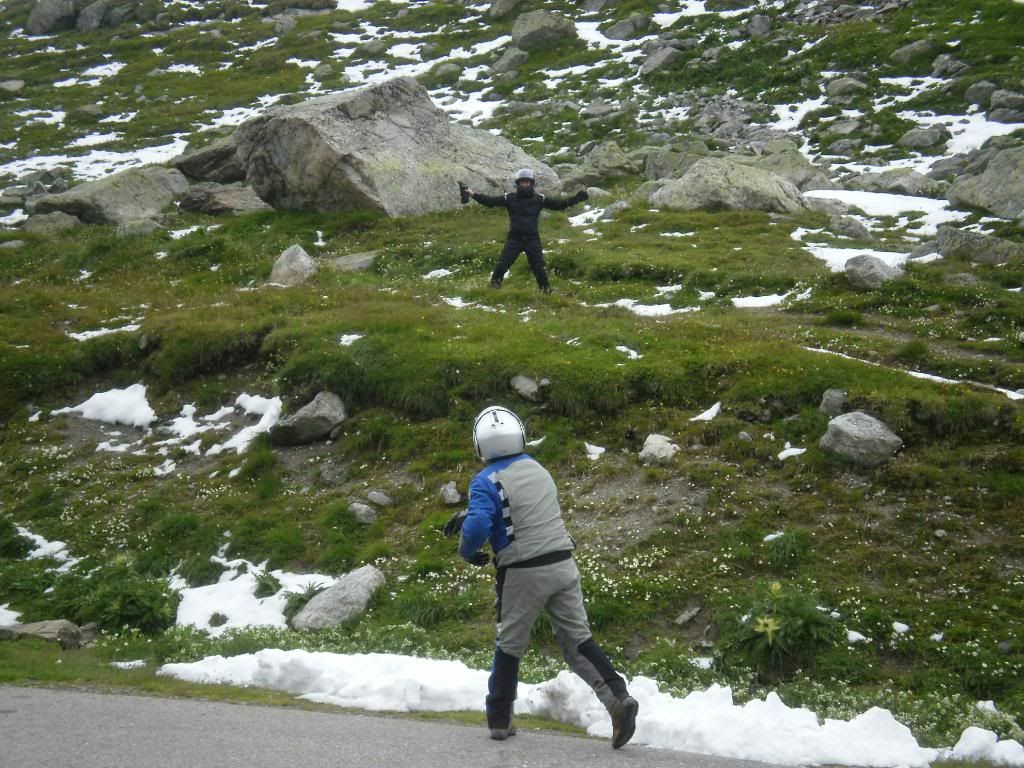 On the section of motorway skirting Liechtenstein we stopped at a services there for mid morning coffee and some great blueberry buns!
There was a kids attraction called Heidiland where wooden characters appeared out of this building and music played, whilst down below goats in a pen kept small children amused.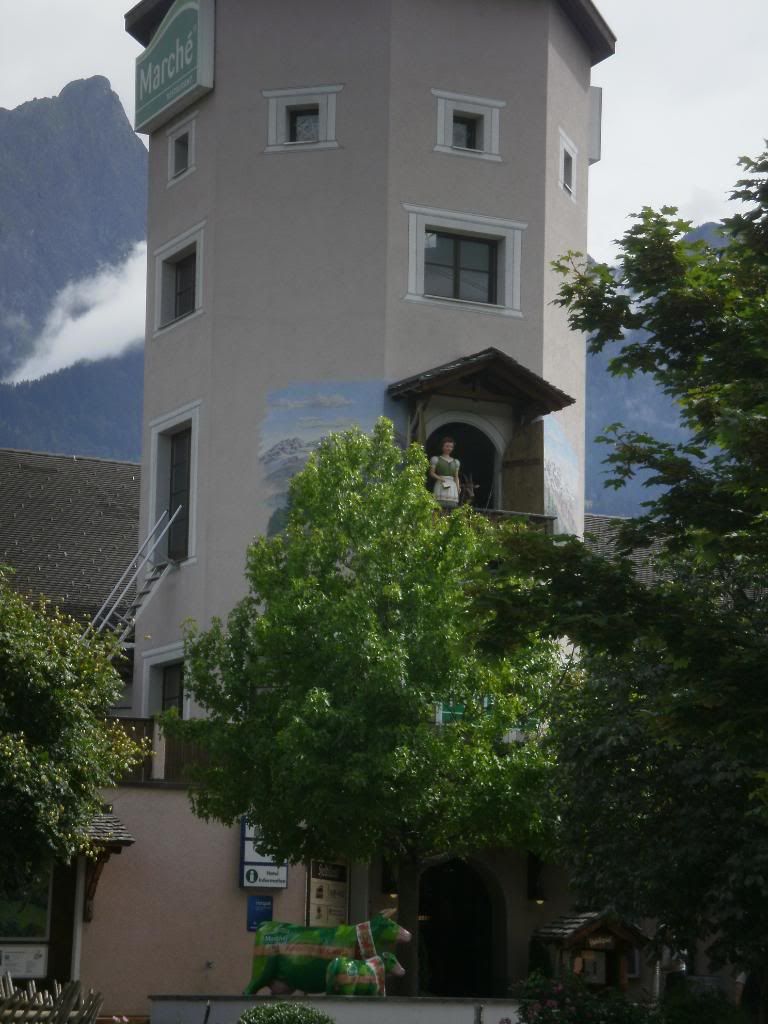 Once off the motorway there is a frustrating section of countless small villages and 50kph speed limits, but soon enough we arrived at the start of the pass where we stopped and I warned the group to take care on the first corners which are paved.
Roadworks and a tunnel delayed initial progress but soon we are ascending and enjoying the mountains and waterfalls that make this such a great pass.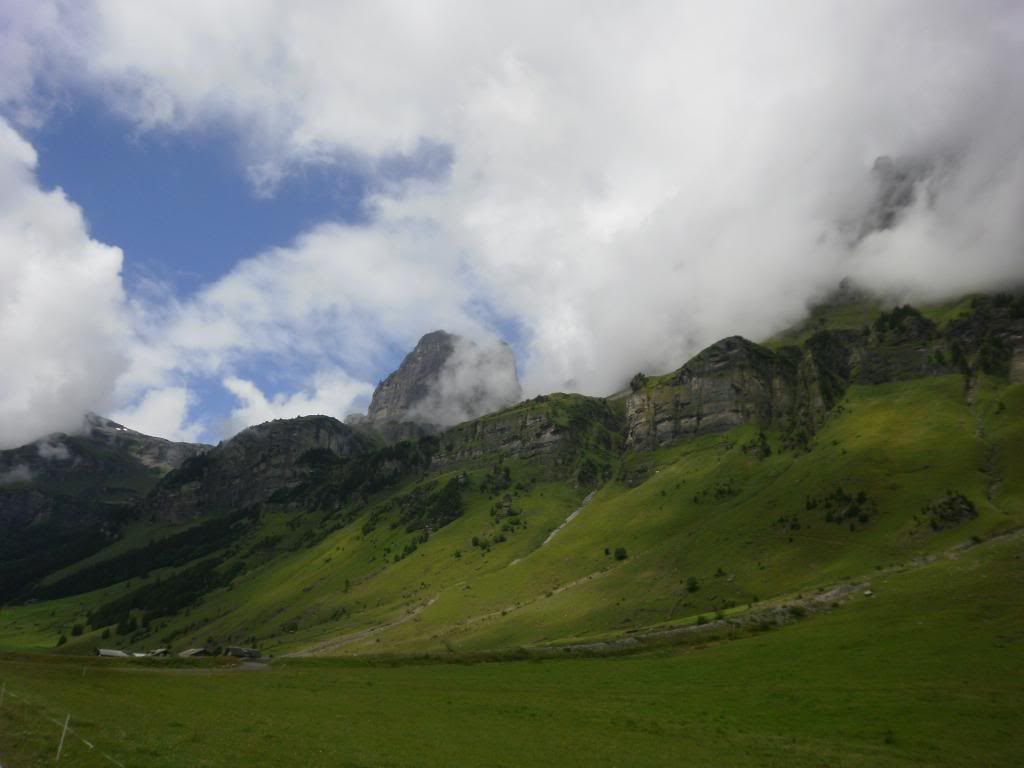 The group spent ages taking photos and I'd been at the top for a while before Nick and Terese arrived.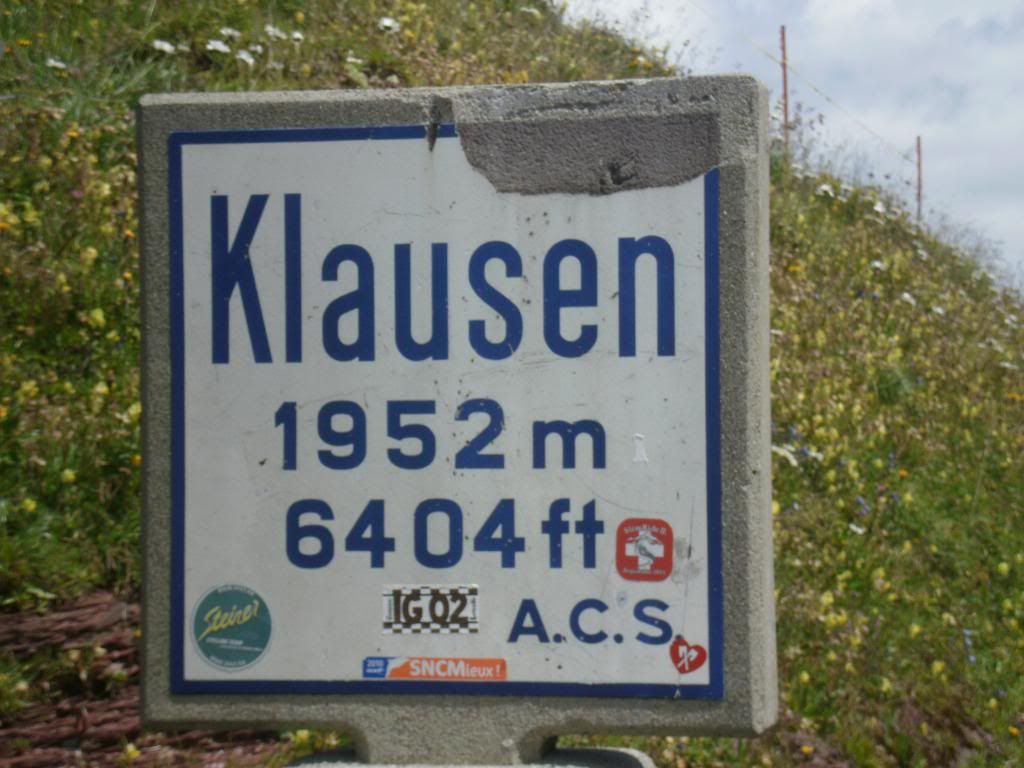 Church on top of pass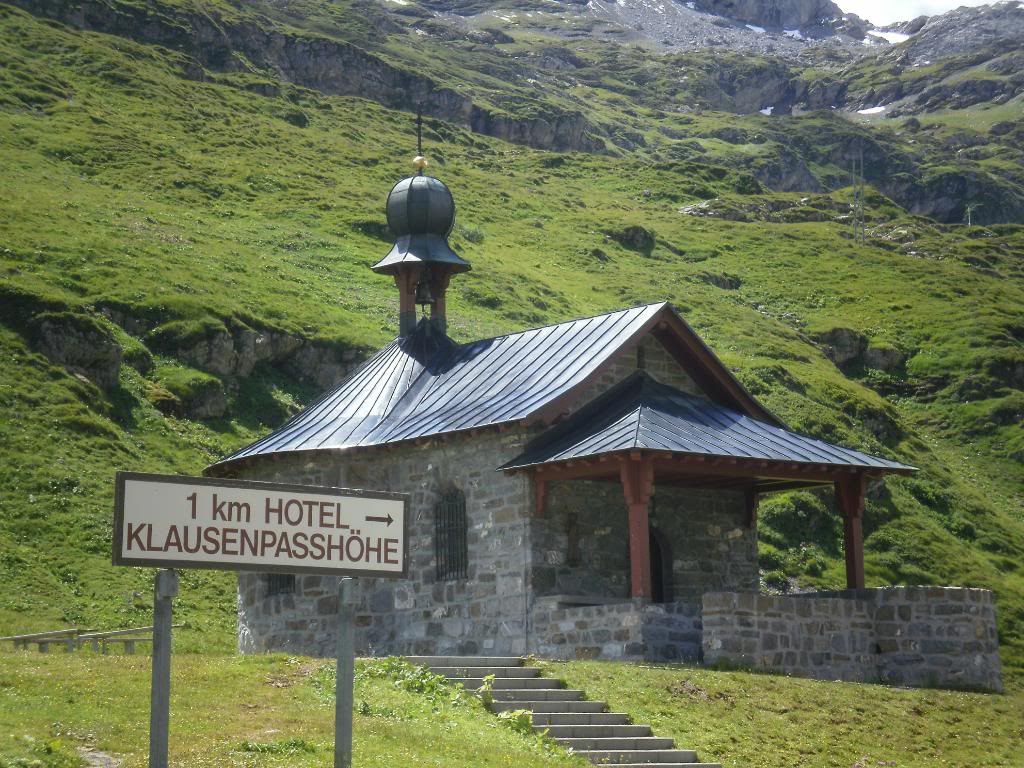 With Eddies arrival we went into the restaurant and ordered some food and drink and waited for Mike and Dave. When they didn't appear we started to get worried, even asking a German who pulled up outside if he had seen anyone? Eventually they did turn up and it transpired that Dave's bike hadn't started way down at the foot of the pass, and he'd had to take panels off it to find the solution, which was a faulty battery connection which he was able to fix before catching up with Mike who had gone back to look for him.
So after yet more BMW dramas we resumed our journey, but only after the low level cloud which enveloped the pass had blown away.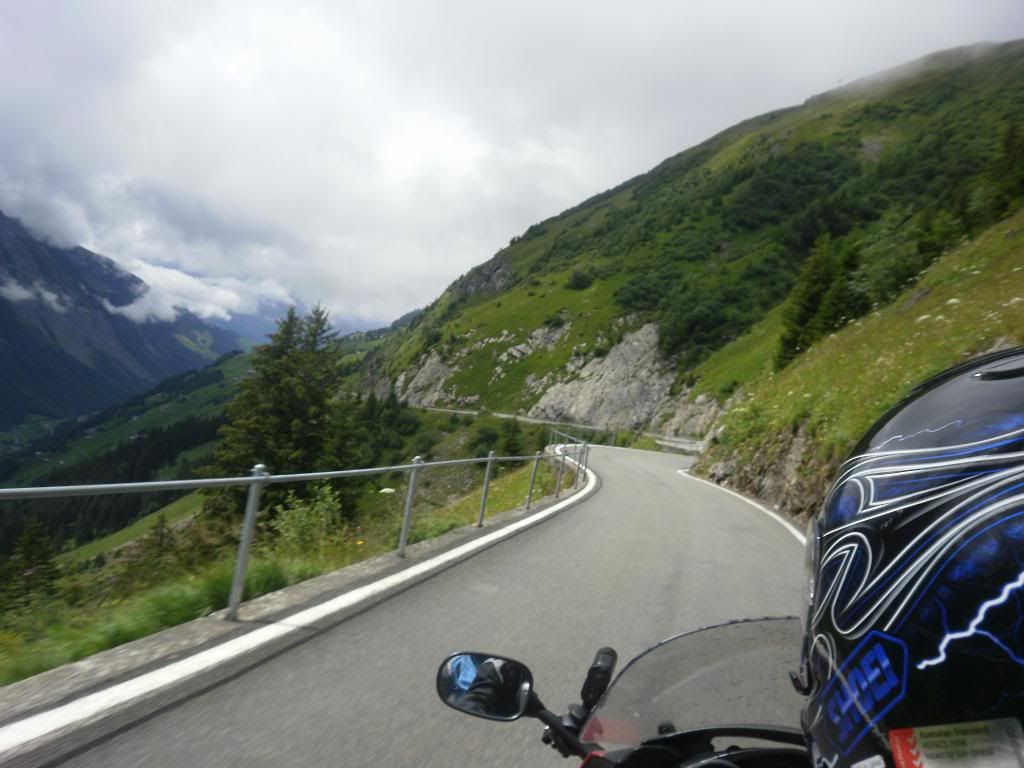 Great valley on way down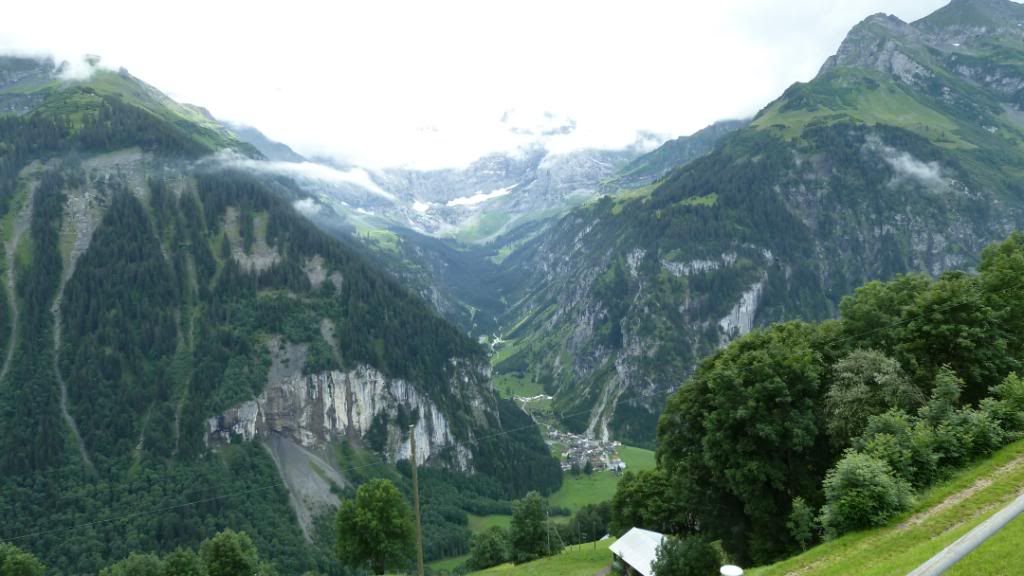 With the Klausen despatched it was back towards Wassen and the tunnels that lead to Andermatt
Officially the tour was now over and we had some pretty impressive stats. 4269 kms and nearly 72 hours of riding time. When you consider our moving average speed was less than 60kph, you get an idea of the amount of climbing we had done, with my count being at least 56 passes!
Saturday- Departure day
Eddie is the first to leave this morning, but as he has several days left before returning to the US, his plan is to head for Zermatt to see the Matterhorn. We just hope the cloud lifts enough for him to at least see something!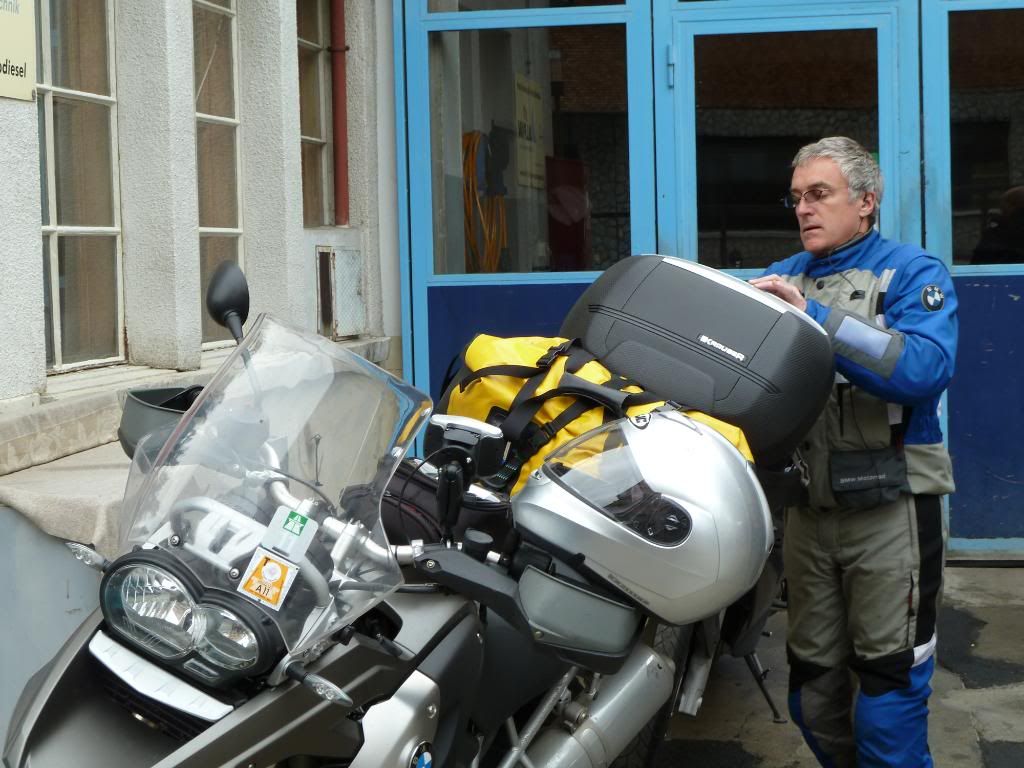 As the rest of us are readying ourselves, a group of young guys on a mix of scooters and mopeds pulled up at the petrol station outside the hotel, and I watched as they poured pre-mix oil into their two strokes, which brought back memories of my early riding experiences and a two stroke Puch Maxi moped.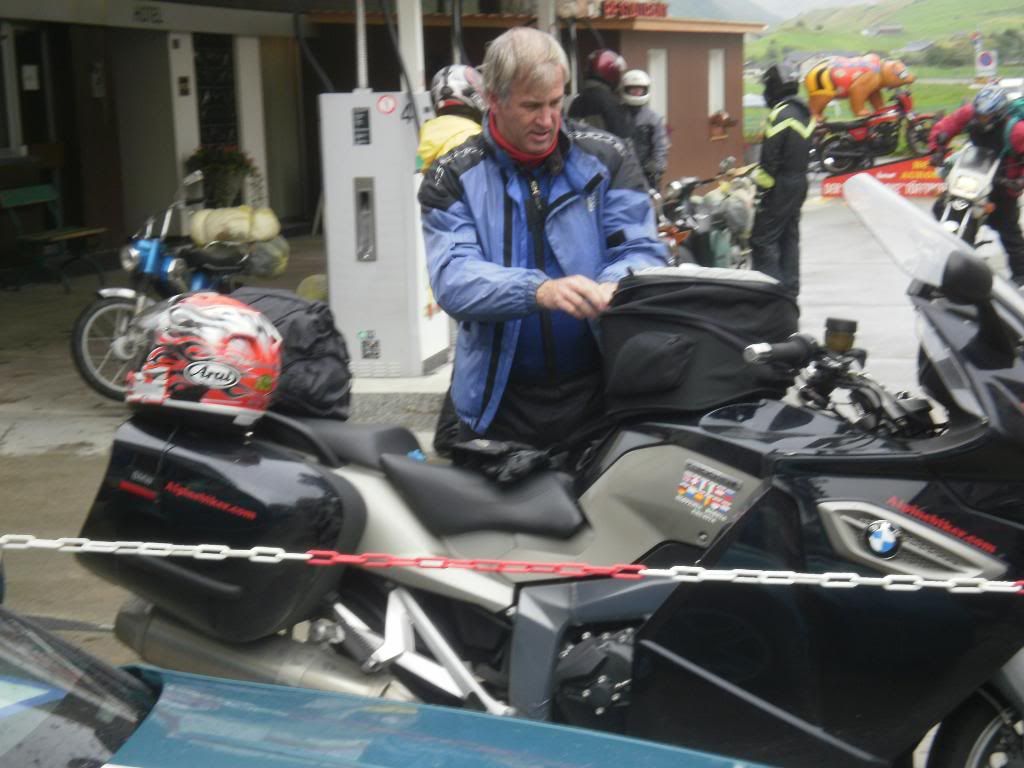 The weather looks iffy again and starting in waterproofs turns out to be a smart move as the Sustenpass is wet, very wet. Lights shining through the murk and gloom we make our cautious way up and over the pass which we had ridden a week earlier in the opposite direction in almost ideal conditions compared to today.
We all rode together as far as Interlaken where we stopped for coffee, to try and get warm, and to say our farewells to Dave and Mike who now had just a 20km journey to Thun to return their hire bikes before taking a flight back to Canada from Zurich the next day.
The lake at Interlaken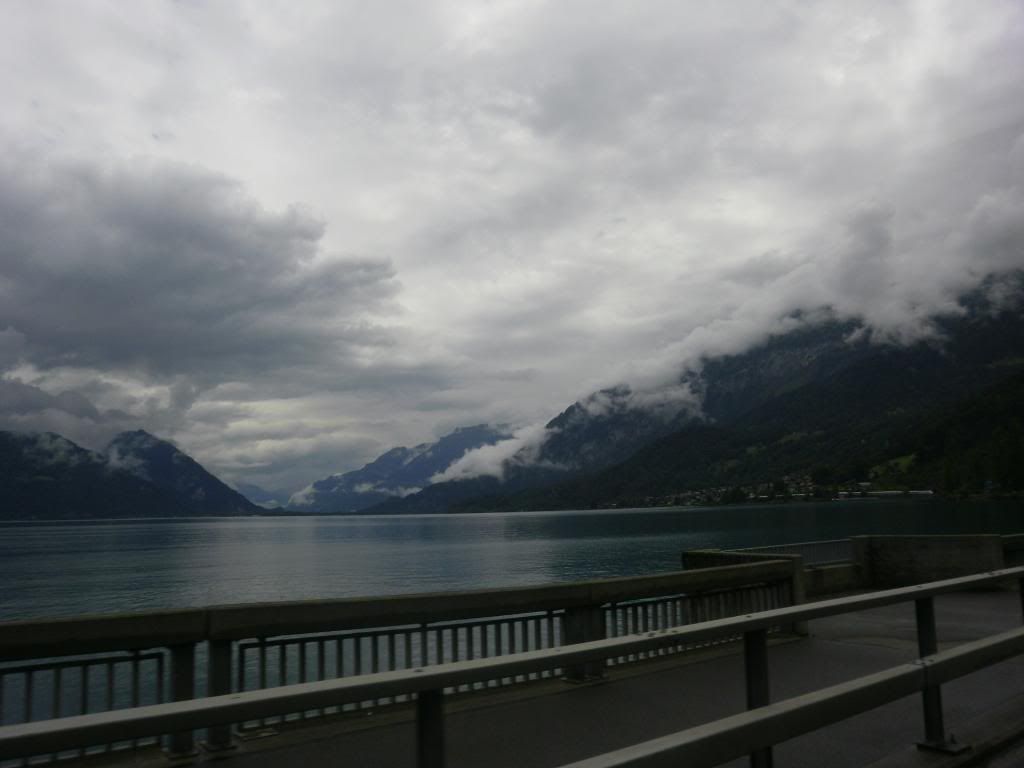 Mike and Dave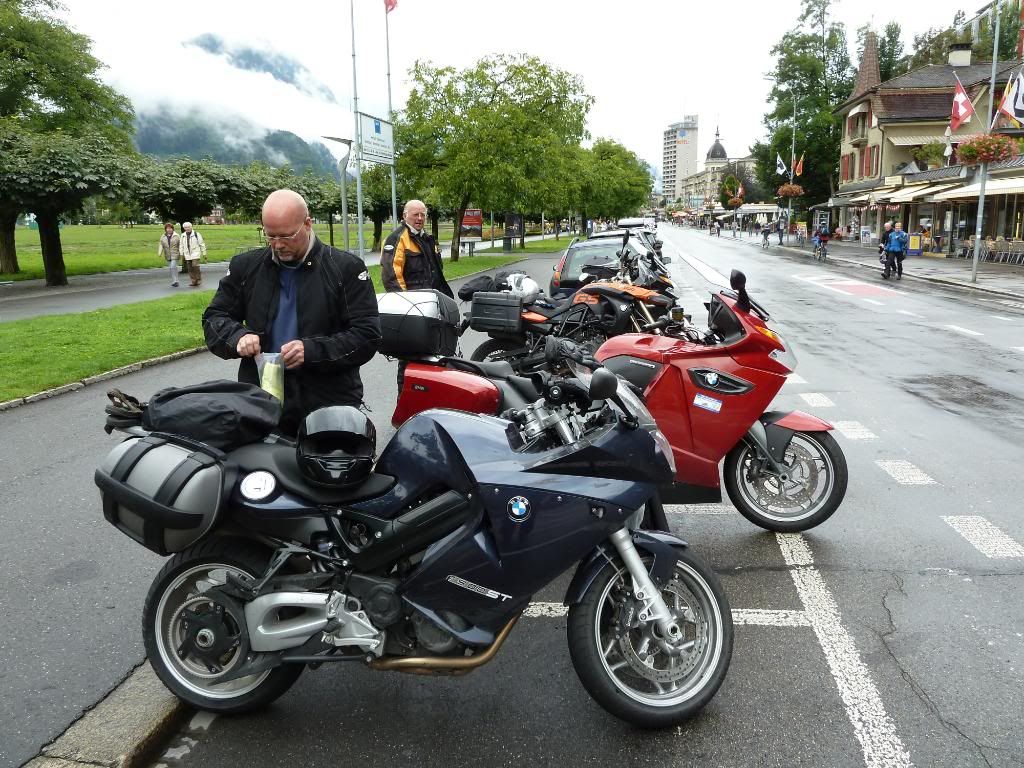 Now with only Nick and Terese remaining, we headed for Geneva over the Jaunpass.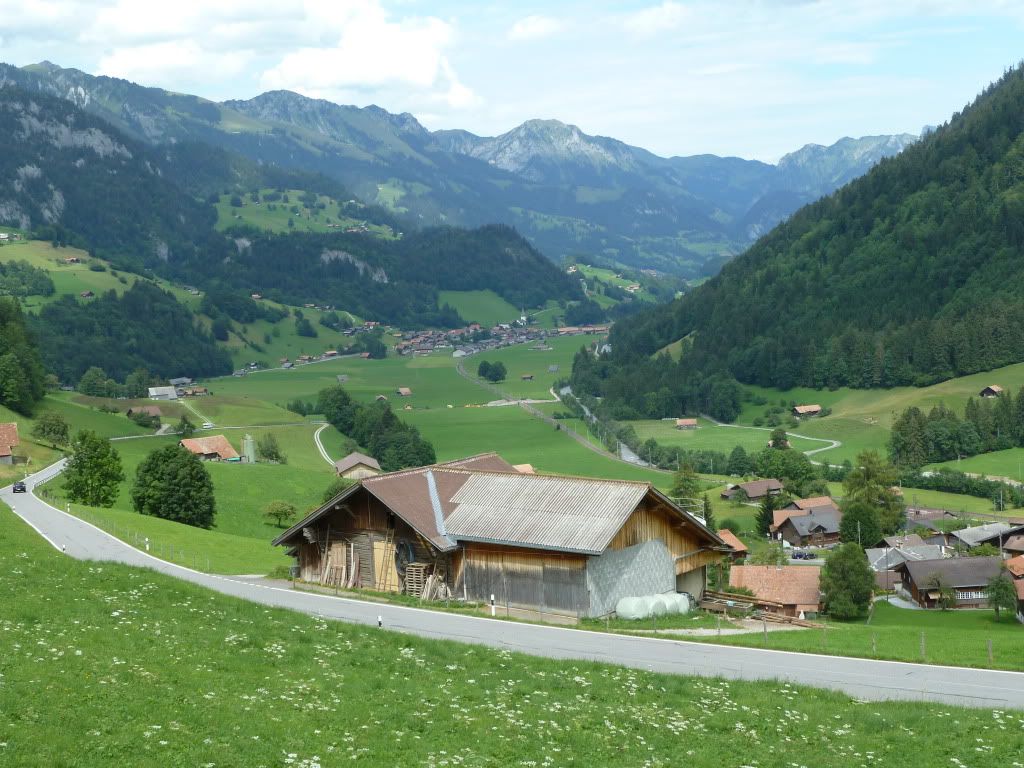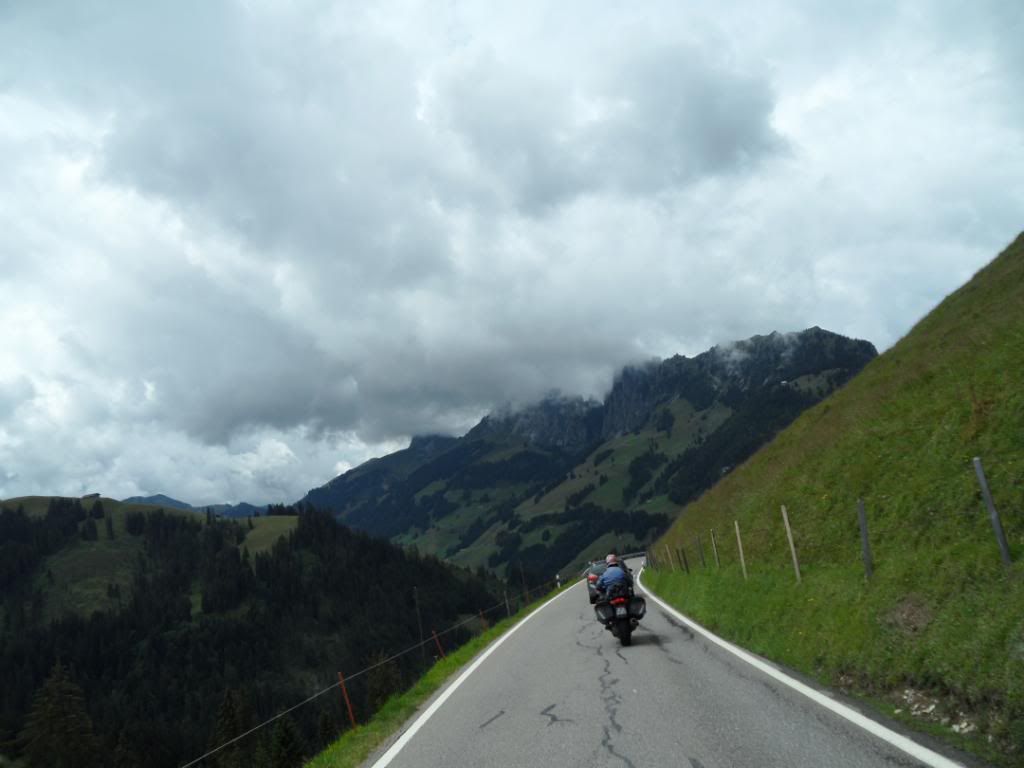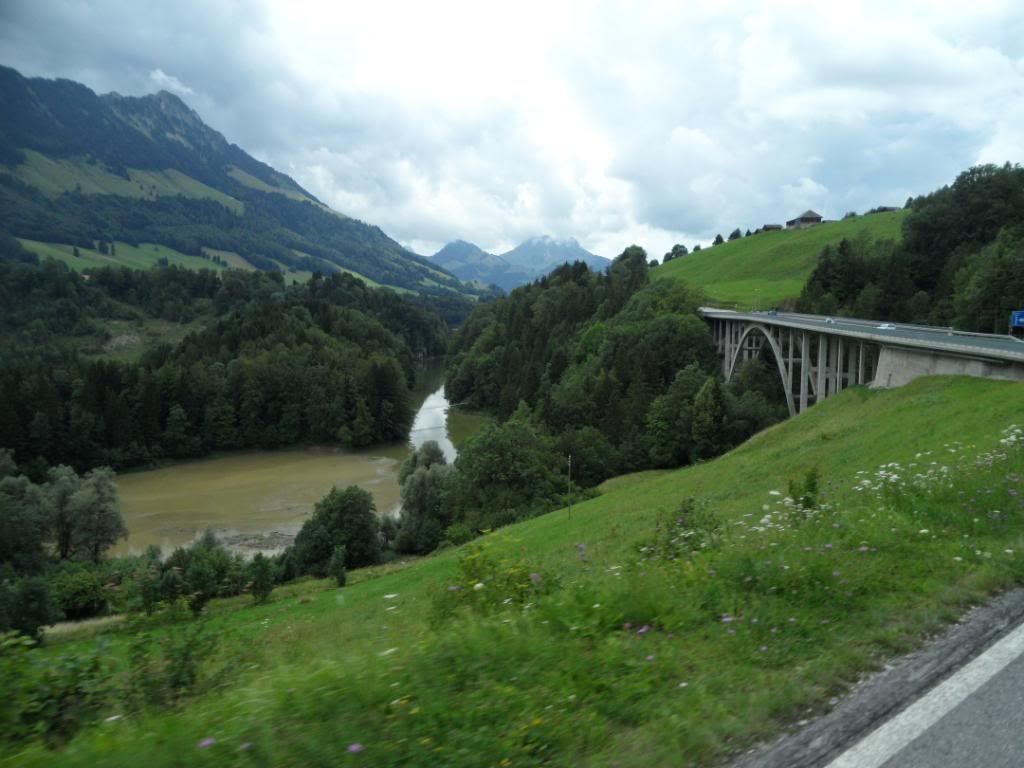 I can't EVER remember stopping to sleep when out riding, but it was now late afternoon and after 15 days I was tired and needed a power nap, so we pulled over on a convenient layby with benches and both Nick and I slept for half an hour whilst Terese guarded the bikes.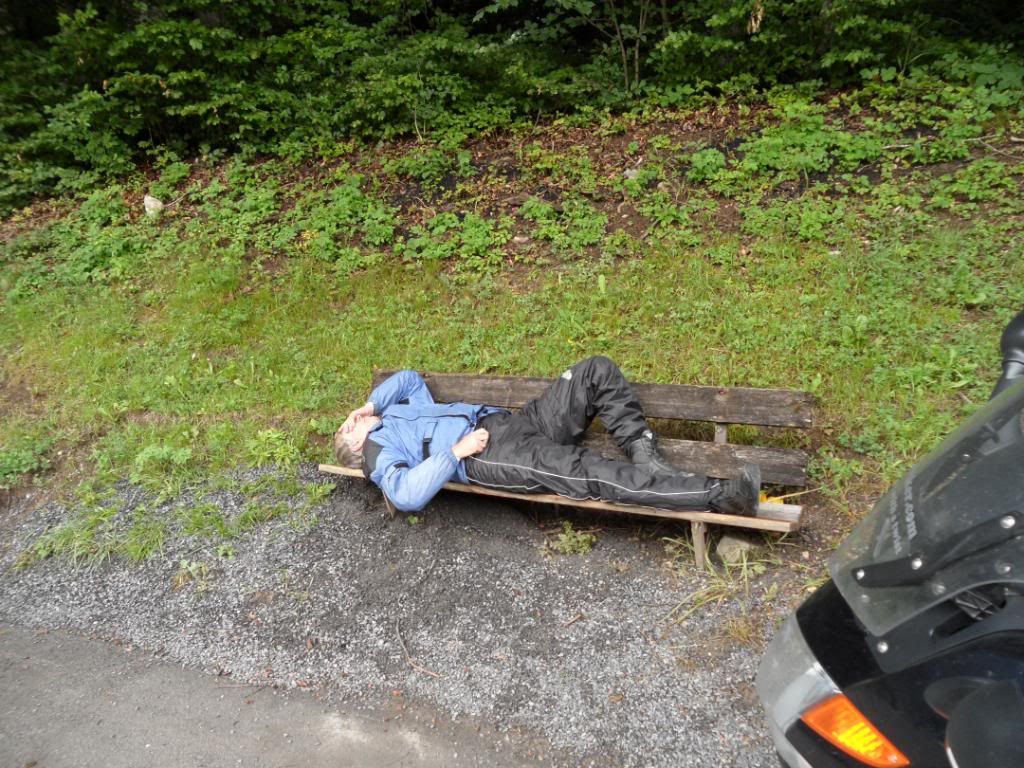 Finally back close to Geneva and with Nick and Terese installed in a local hotel just a 20 minute ride away from the BMW garage for Monday's repair work, the tour was officially over, no more bikes in the rear view mirror to check for, no more packing and unpacking of bags, no more mountain passes, just "normality".
SUMMARY- Looking back I would have to say this had been an eventful tour, starting from day one with the diesel episode, through 4 drops, and BMW's which seemed incapable of traversing high mileages without problems. The list comprised: Nicks K1300GT with a leaking driveshaft seal, Daves F800GS with a dodgy battery connection, Eddies GS1200 with leaking captor seal, and my GT which inexplicably lost it's mudguard extender somewhere on our travels! Only Mikes ST800
and the hired Deauville and Pan European (once running on petrol!) survived unscathed.
For the riders, well they survived somewhat better. Nick and I bizarrely both lost weight! Everyone's riding improved, and they experienced pretty much every type of weather imaginable; from monsoon rains, through sleet and snow, low cloud and mist reduced visibility, and of course, some sunshine! Looking back through this report it seemed that inclement weather impacted on us almost every day, but you know what, that's what makes alpine riding special. Sitting atop a pass watching clouds drift in and out exposing or hiding amazing views, riding through rain conditions that you'd probably normally never venture out in improves riding skills, and struggling through snow and sleet certainly focuses the mind and concentration. Considering the countries these guys came from and the challenges of alpine riding, they all "done good". Better still they all got back in one piece, and will have memories which they'll never forget (neither will I), and tales and bragging rights with their riding buddies to keep them going for years.
So guys (and Terese), hope you enjoyed yourselves and that reading this tale brings back some happy memories. It was a pleasure to ride with you all, hopefully we will stay in touch, and wear your tour t-shirts with pride, you earnt the right to wear them!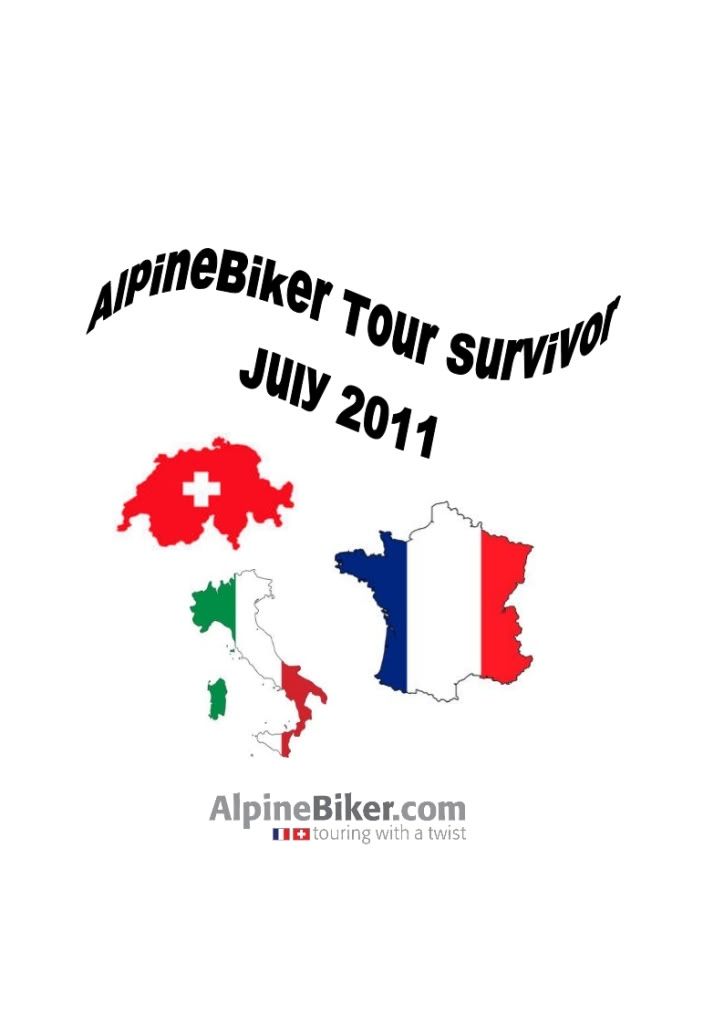 IF READING THIS RIDE REPORT HAS WHET YOUR APPETITE FOR ALPINE TOURING, THEN CHECK OUT THE www.alpinebiker.com WEBSITE FOR DETAILS OF 2012 TOURS- COMING SOON!