I've often written about how rides are dictated by weather windows, well this tour tale came about due to a time window. The year was rapidly heading towards autumn and opportunities to ride the cols were disappearing faster than a drunk's money at a bar. I had an itch to scratch, I wanted to go and ride in the Alps again. It looked as if I'd be on my own though, as Sue really didn't want to come and Mark had too many work commitments. I mentioned to Andy that I was going to be riding and he asked if he could come along too, especially given that my route, with a little alteration, would enable him to visit and walk the Formula 1 track around Monte Carlo. So, with some of Europes major cols to ride and an iconic destination to head for, we had a plan and looked forward to the off.
It's a seven hour ride to Andys place from mine, and then another two back down to what I consider the start of the ride I'd planned at Grenoble, so we compromised and agreed to meet at Grenoble, meaning we'd have an early start to the first day which would make a big difference in being able to get around my ambitious route.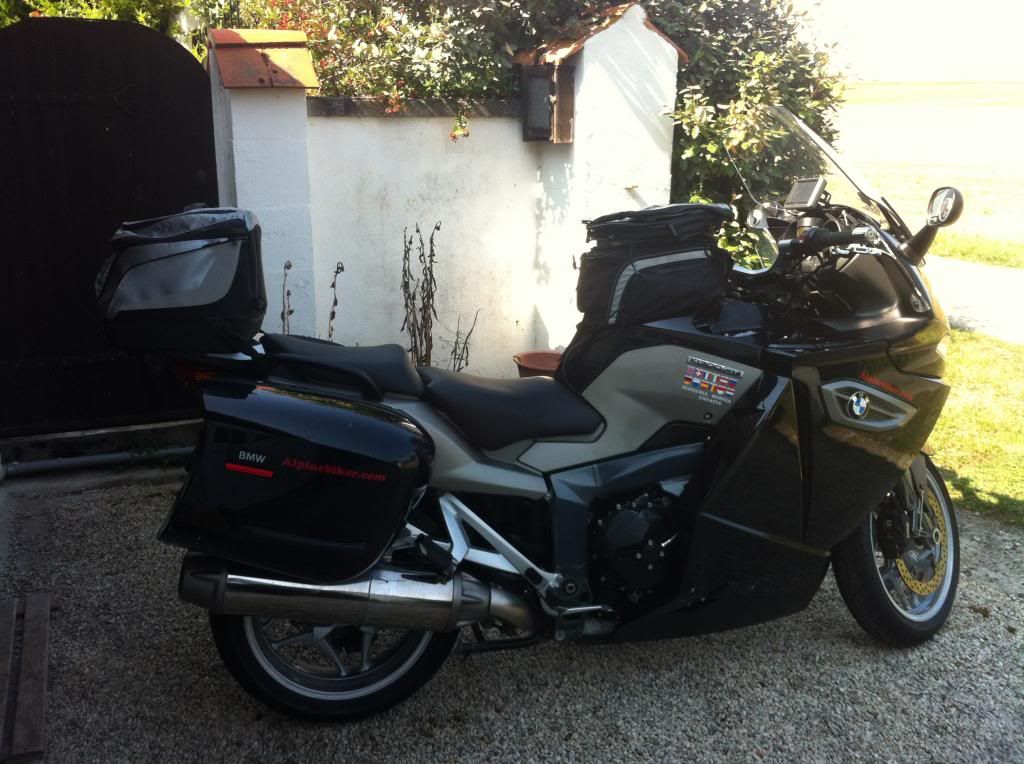 Battle bus loaded and ready for the off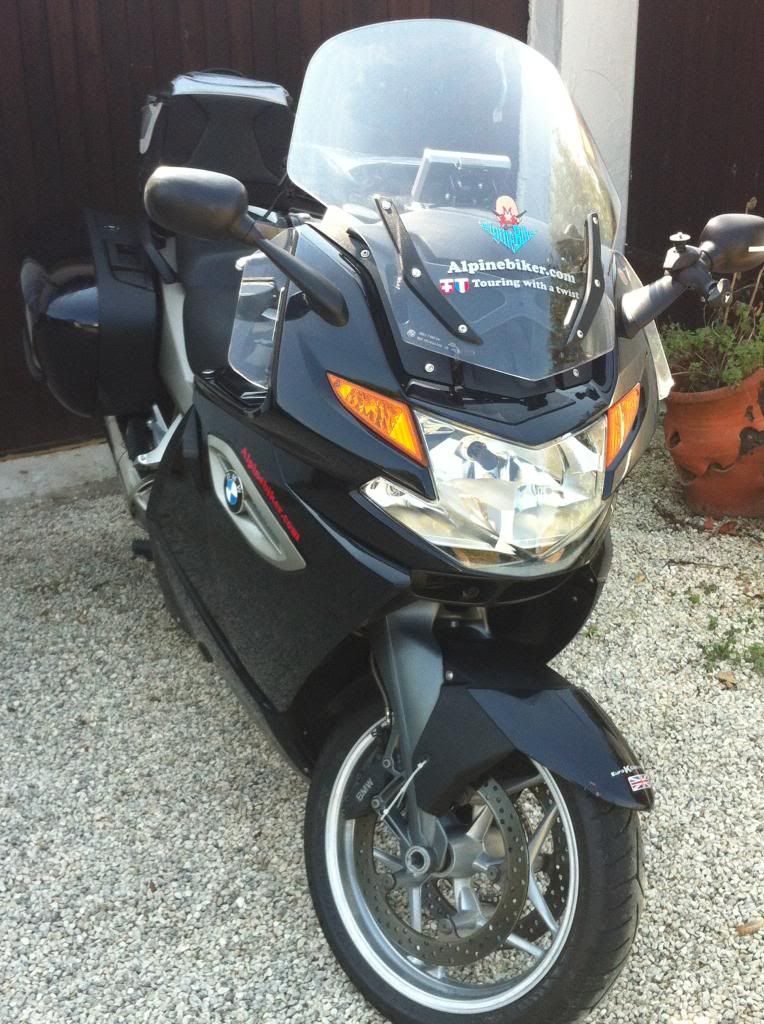 The GPS showed 6 hours to Grenoble, so at midday I set off on the predominantly motorway route there. That amount of time on boring roads gives you a lot of personal time to think about things, here are some thoughts  I had along the way.
Are these earplugs with speakers more sound deadening than the pair I have without?…….
It's amazing how much difference riding in the sun makes compared to being in the shade, especially at motorway speeds!……..
An hour passed already, only another 5 to go…..
France has an enormous number of road signs, departmental, regional, for chateaux, parcs, museums etc etc…..
Amazing that fuel consumption is only 5.4l/100….
Glad I wore a second undershirt, it's so much cooler out of the sun….
Great, only another 3 ½ hours left…..
Must be time for a break soon?…..
I'll stop here…….
Great, half way there now………
And so the ramblings went on and on as the miles and hours passed by.
Grenoble eventually reached, I filled up with petrol at a supermarket near the hotel, and after parking up in the hotel car park, took the opportunity to  chat with a couple of Brits who had just arrived, one on a bike superbly equipped for touring, an old ST1100 Pan European, the other manifestly and outwardly the complete opposite, a ZX-10R with just a pack strapped to the rear seat. Asking how he managed with so little luggage and on a sports bike, he told me that the bike wasn't too bad but he probably wouldn't tour on one again, and that he just threw away clothing after each day. Considering they'd already ridden from the UK down through Belgium, Germany, Italy, France and were heading to Switzerland, I reckon he was doing bloody well to still be walking and be as cheerful as he was! Fair play to you guys though, hope the rest of the ride went well and it was a pleasure to meet you.
Andy rocked up an hour and a half after I arrived, and after a couple of beers and dinner in the hotel we turned in and looked forward to the next days riding.
Stats for the day- Home to Grenoble a whisker under 600kms and just under 6 hours riding time
Day 1
8.12am. The bikes are packed, radios checked and working, and we're off. The hotel location puts us onto the D1075 towards Vif within minutes, and onto the start of three days of bend swinging.
Familiar views are welcoming and here's one showing early morning clouds over the nearly hills, and with temperatures not much above 15C this time of the morning I'm glad I'm wearing a second under layer beneath my vented summer jacket.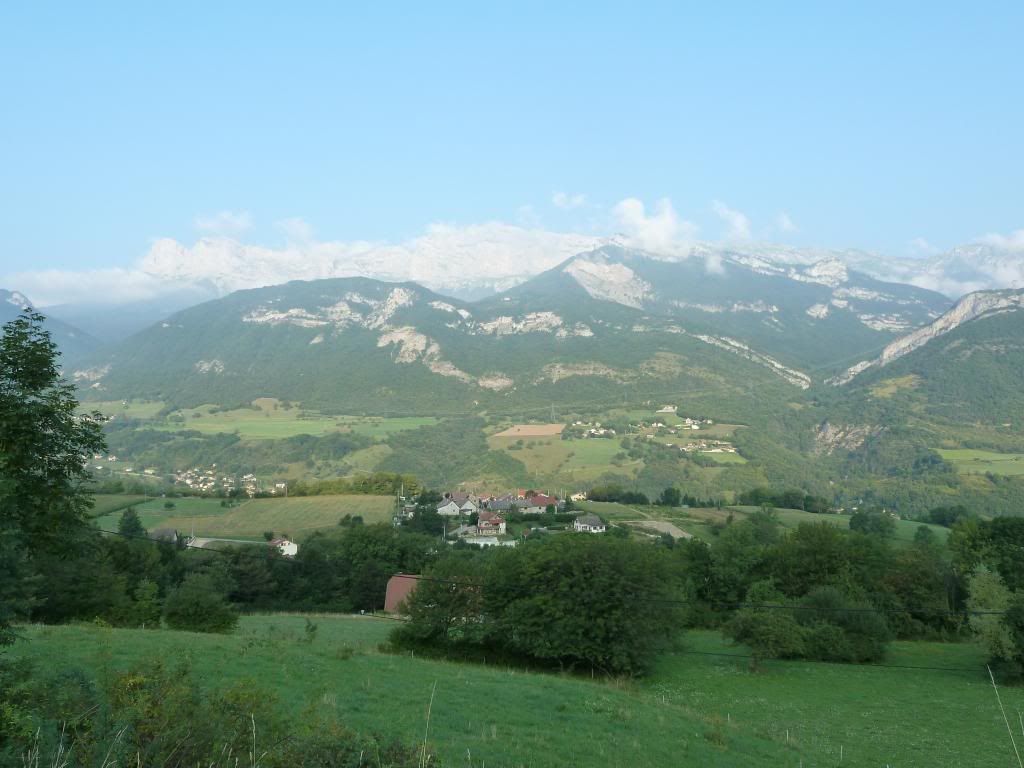 I know these roads so well that immediately I'm carving them with verve. Shifting gently off the seat I enter a sharp left hander and am shocked as the footrest extender decks out and momentarily moves me off line. Strange, ridden that corner dozens of times and not had that happen! I've recently switched to a Bridgestone BT030 front tyre and it has livened up the steering, but today I'm not getting the feedback I expect. I hadn't noticed anything odd on the motorway heading to Grenoble, but then again that was predominantly riding in straight lines, so what was going on? The beauty of radio to radio contact is the ability to talk with your riding buddy. After a quick comment to Andy about my handling woes he suggested I change the ESA setting to one plus luggage. Now that's something I've never needed to do on the old BT023 tyres, but seeking to resolve the "odd" handling I was experiencing, changed the setting, and lo and behold, all was restored to normal. Thanks Andy!
At Monestier the D1075 joins the N85, a road which runs in parallel to the Route Napoleon on the other side of the valley. I prefer this side because of the better road surface and the views, leave the N75 to the tourists who want to ride the busier and alternative route down to Gap.  The N85 crosses the Col de Croix Haute, it's only 1179m but has some great bends on the way to it's summit, although there are some very strange drivers going the other way today! Cars lining up for overtakes round blind bends aiming for me don't give me confidence in the early morning driving skills of others, but we continue safely to the turn off point towards Veynes and onto Gap without further problems.
In Gap Andy needs to stop to find an optician for contact lenses, and once sorted we head over the bridge into Savine le Lac and pause for coffee.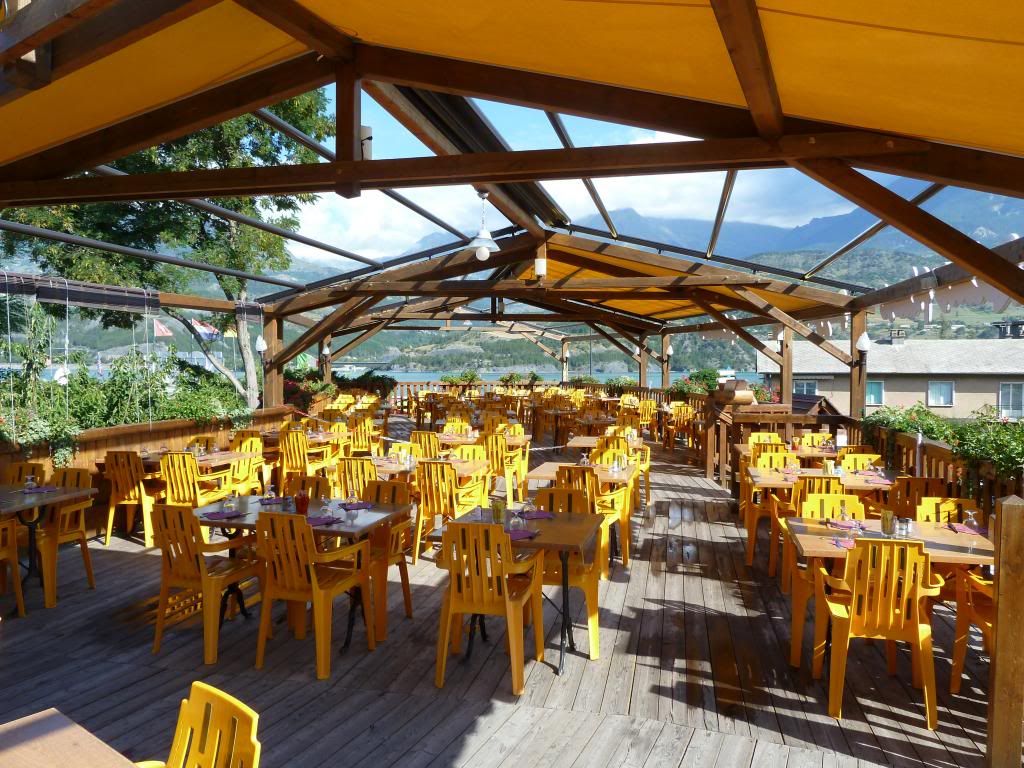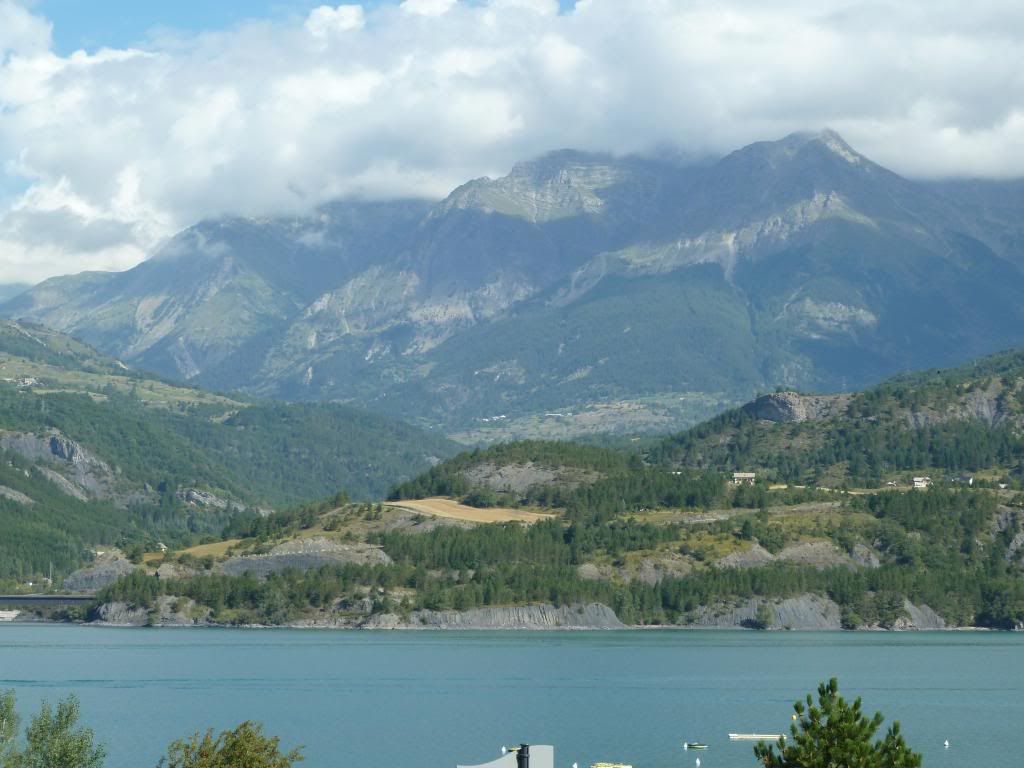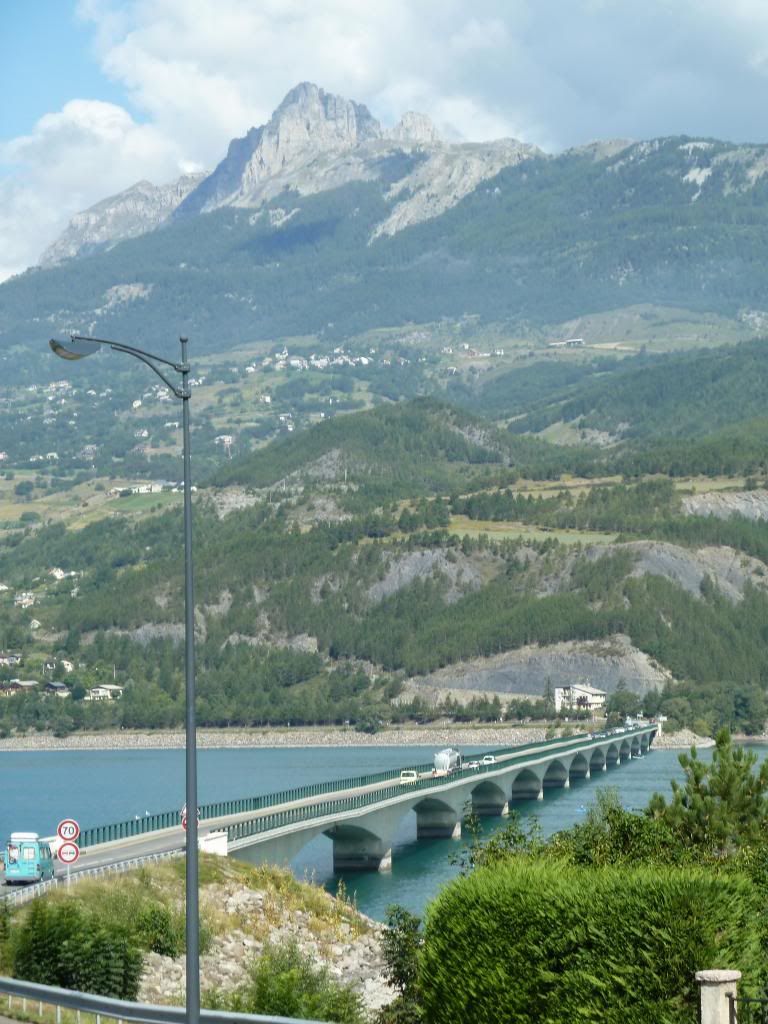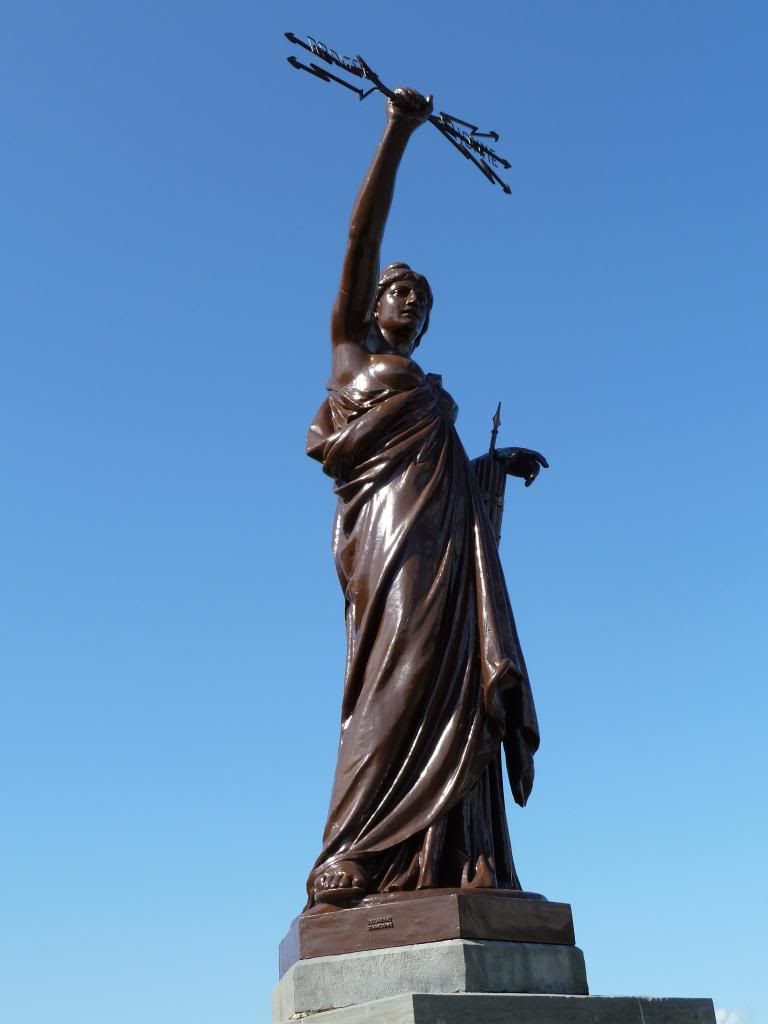 The Lac de Serre Poncon is one of Europes largest artificial lakes and today it seems to be quite full compared to other times we've visited. Circling the lake is always a pleasure, with magnificent views, beautiful blue water, and the 123m dam wall clearly visible in the distance.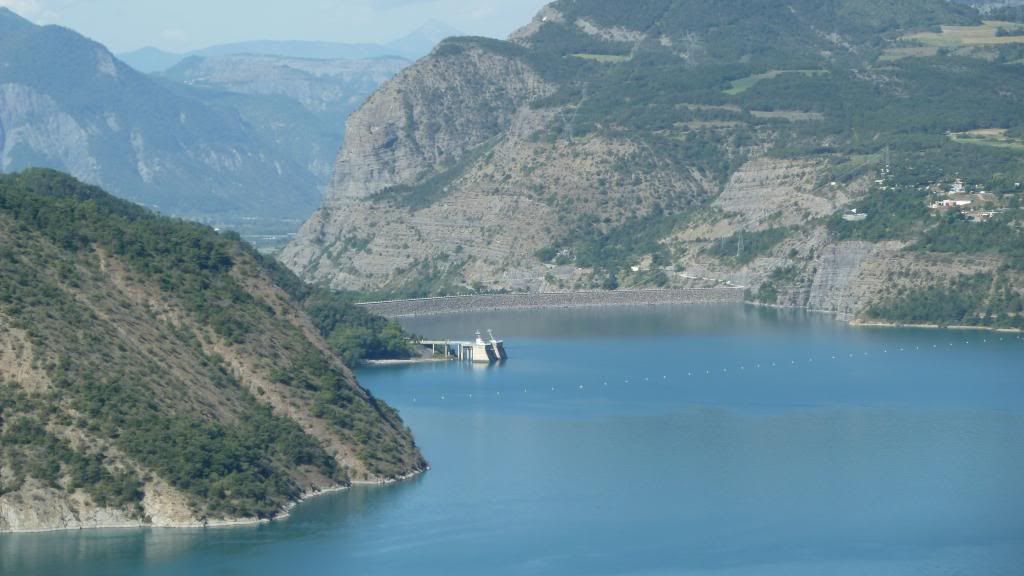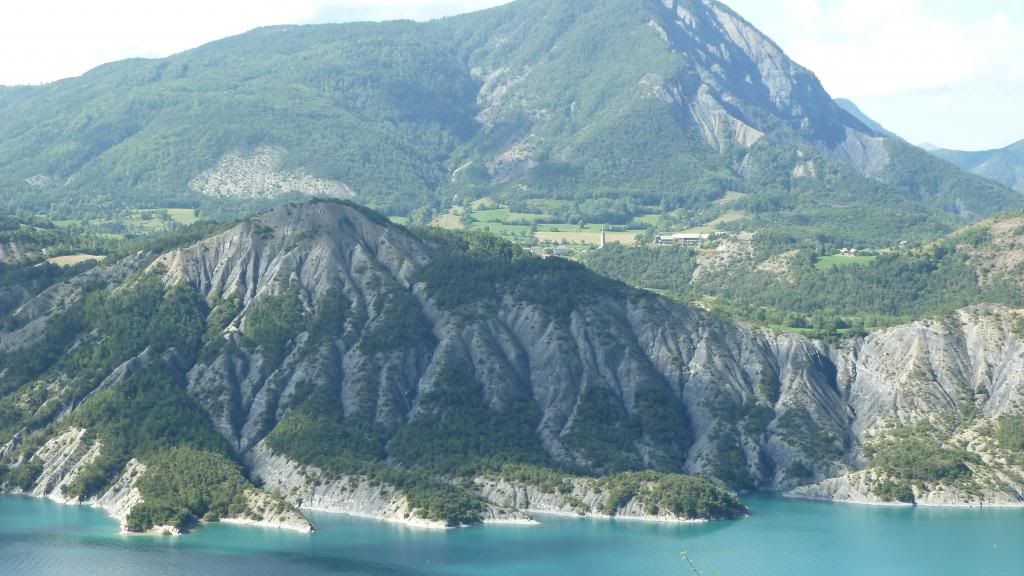 The next hour or so is spent on roads that I'd been looking forward to for so long. Small cols, winding roads, variations of fast open bends combined with  tight, twisty, and technical sections with the small cols of St Jean, De Maure (1346m) and Labouret (1240m) providing challenging riding, ending all too soon at La Javie.
The city of Digne comes next with it's huge sweepers leaving the city past the hospital and through a seemingly never ending 70kph speed restricted area.  The roads down to Barreme are now strangled by lowered speed limits too, and the joy of blasting down on these fabulous open roads has been neutered somewhat by the French governments continued reduction in speed limits everywhere.
Barreme to the Col des Leques and to one of my favourite spots in France, Le Bistro du Col. Normally I arrive after 6 hours riding and too late to eat lunch, but today, having a two hour head start after leaving from Grenoble, we arrive around lunch time and are greeted by a guy who has been there ever since I started riding the cols aons ago. He usually recognises me by my Haga replica, but I've got a new helmet this year, but once I introduced myself he recognised me and shook hands. His recommendation for the pork speciality of the day was excellent, and once again it was great to just sit quietly on the col watching others go by, chilling out to the super cool laid back music that they play there.
Here's Bertrand and his Monster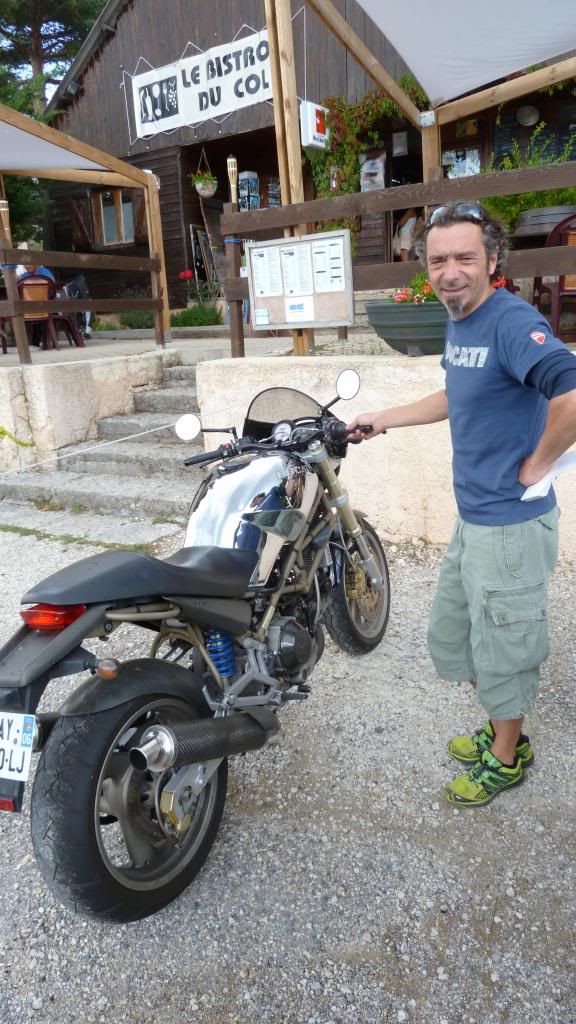 Over lunch we decided that rather than head down on the D6085 to Grasse, we'd try something different, so heading over the Clue de Vergons and Col de Toutes Aures to Entrevaux, we headed south on the D2211/D17 towards Sigale and Roquestron. I'd input a route to take us to Nice via this route after having checked waypoints on the map, but at Roquesteron it all went to pot. We were on a road that seemed to be getting progressively smaller, tighter, and less well surfaced. Joking over the radio Andy noted that if this was a departmental road heaven help us if we were to have tried the smaller roads marked white on the map!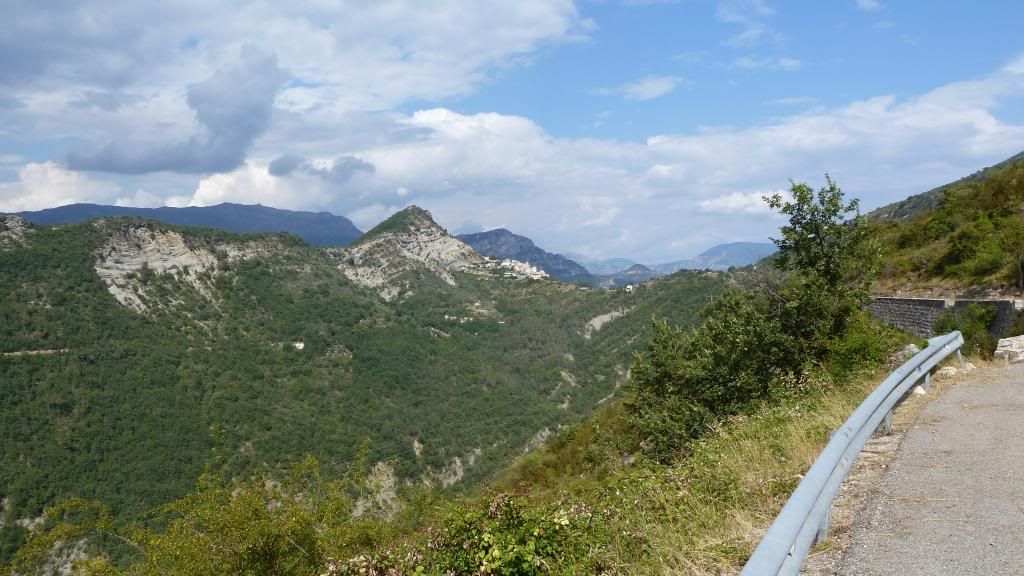 Things really did start to get worse though and the pace got slower and slower, the arrival time on the GPS suddenly leapt up by an extra half hour, and eventually at a junction the penny dropped, the GPS had routed us onto the white road we didn't want to ride on as it had calculated it was a faster route! With little choice other than to continue we dragged round the poorly surfaced and often gravel strewn roads before arriving in Nice, where either tiredness or poor interpretation of the GPS route led to us getting split up.  After a few minutes the phone rang, and Andy suggested we meet at a McDonalds, good idea except there were two registered in the GPS. Plan B was to meet at Flunch, which was supposedly only 10 minutes away. The GPS then sent me around a couple of housing estates before I eventually got on the right track and rolled up at Flunch to find Andy already there waiting for me.
Tired, pissed off, and in need of some chill time, I waited while Andy surfed the net and found a hotel for us. We booked and were there 15 minutes later. With the bikes parked securely in the underground car park, Andy went for a swim, then we met later in the bar for a couple of beers, had a pleasant evening meal, and after agreeing another early start for tomorrows trip to Monte Carlo, we turned in for the night.
Days stats- 382kms and 6 hours 29 riding time
Day 2
Sometimes technology goes wrong, and this morning was one of those times. Andy paid for his room and set off to the car park whilst the receptionist took my credit card, which was promptly refused. A second attempt failed too. I handed over a UK credit card which was also rejected. Now unless I'd been made bankrupt or someone had emptied my accounts, there was no logical reason for this to happen, and sensing my frustration the receptionist decided to try another credit card machine, and guess what, it worked this time! Accepting her apologies for the problems I descended to the garage where I blamed Andy for using his "dodgy" card earlier!
The lure of Monte Carlo was obviously a big one for Andy, he's watched Formula 1 for years and always wanted to walk the course but the opportunity had never presented itself, and clearly he was very keen to get there, as leading off from the hotel and entering the peage he was off quicker than a rat up a drainpipe.  At this early hour of the day there was little traffic anywhere and we were soon descending into Monte Carlo, and by 8.15 we were parked up and admiring the flotilla of very expensive boats moored in the harbour.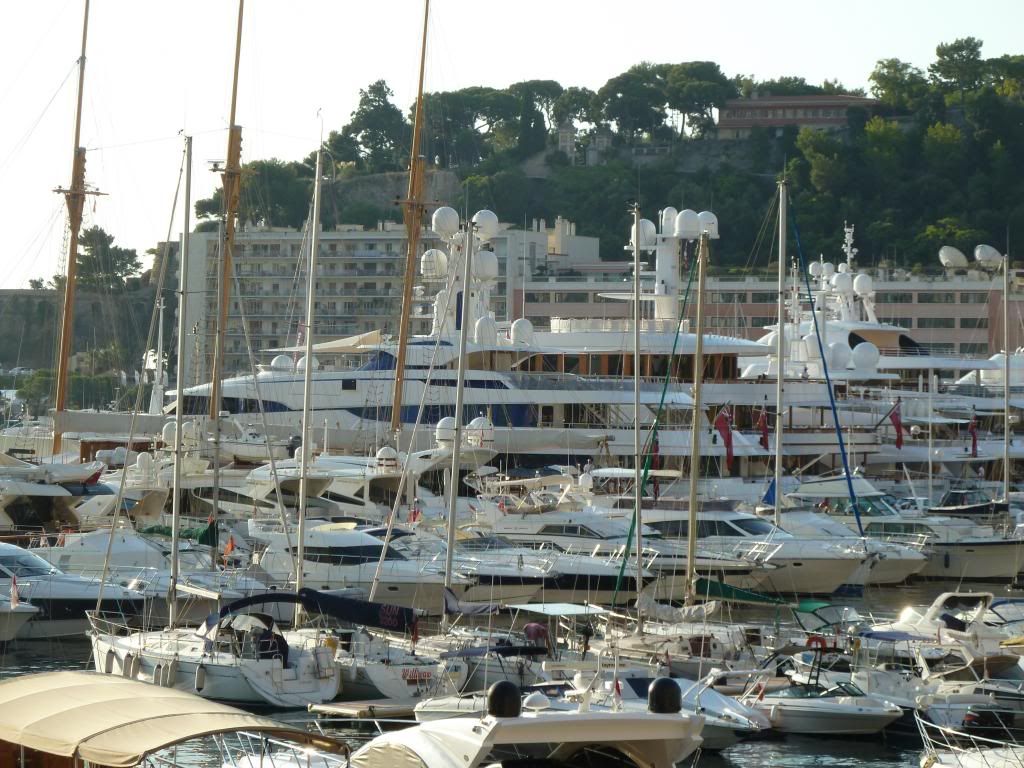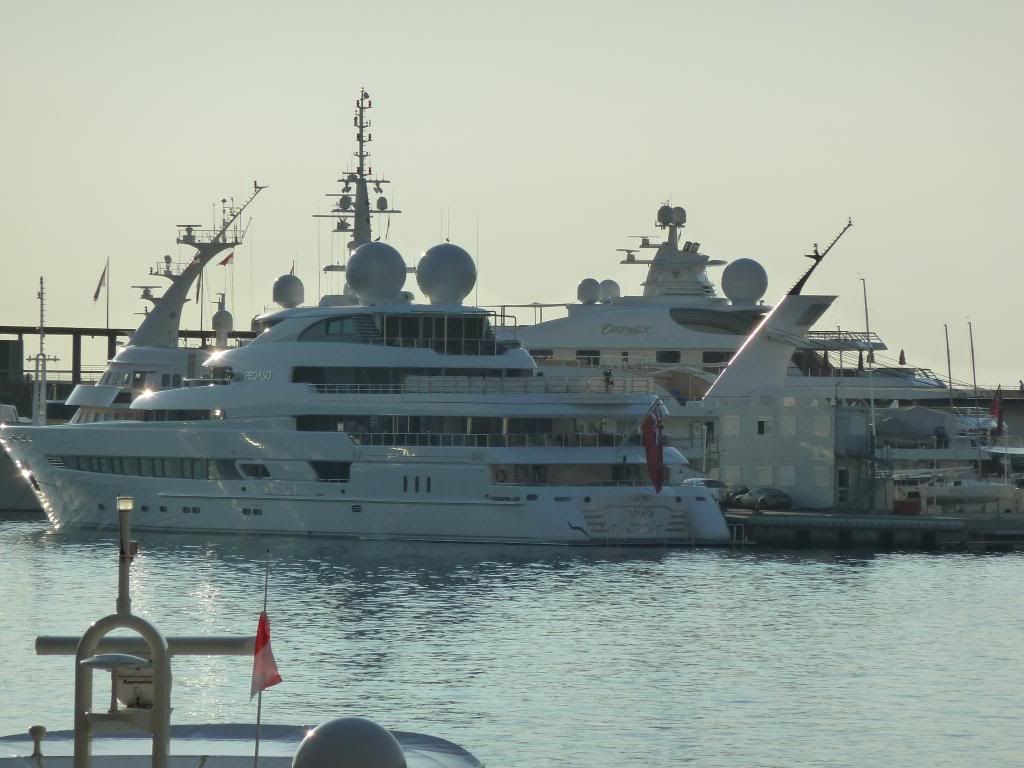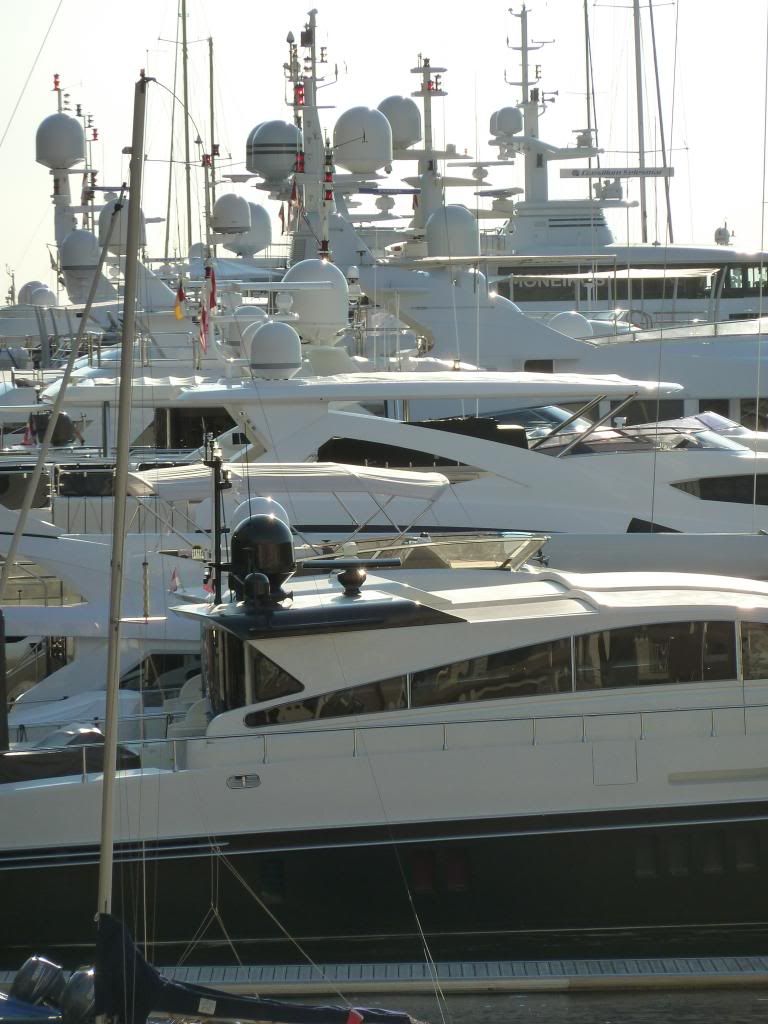 Taking the role of tour guide Andy excitedly pointed out the main points of the track as we walked around it.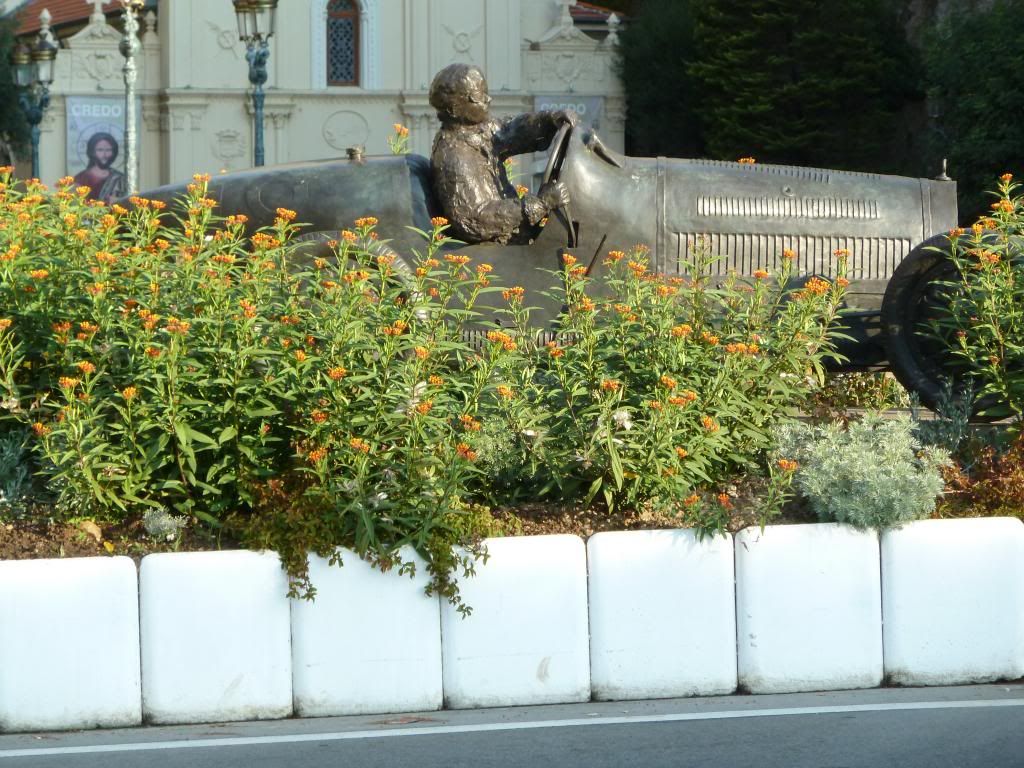 Crossing over the road from Tabac, we climbed the hill, past Beau Rivage and to the Casino where I'd last visited on a tour many years previously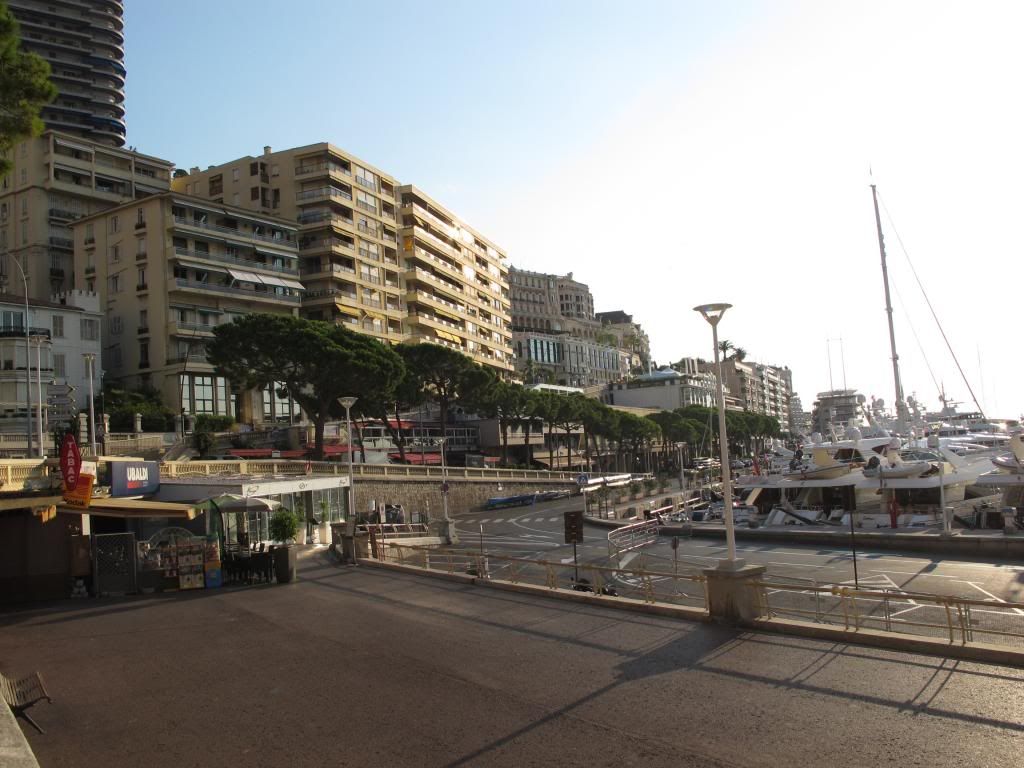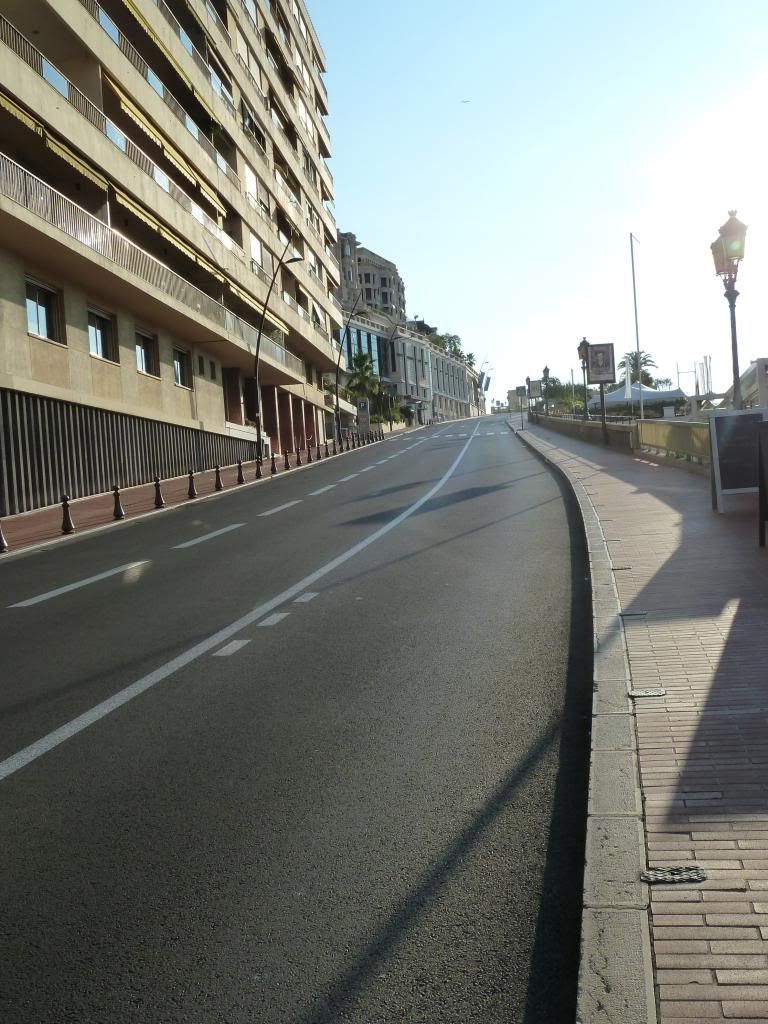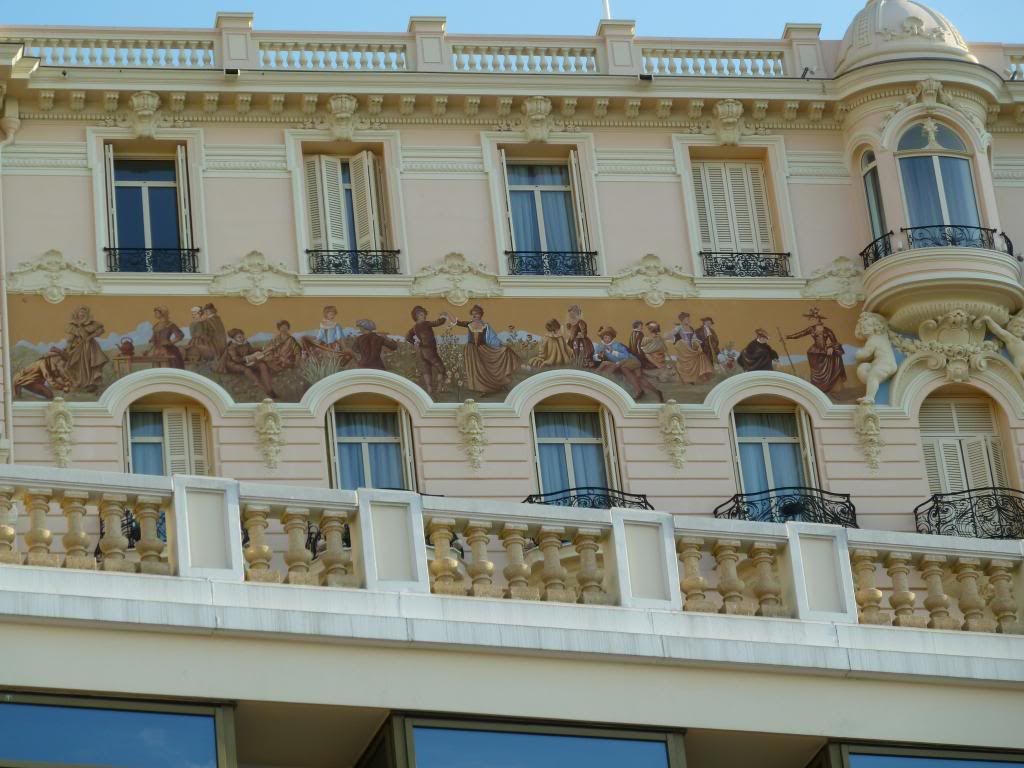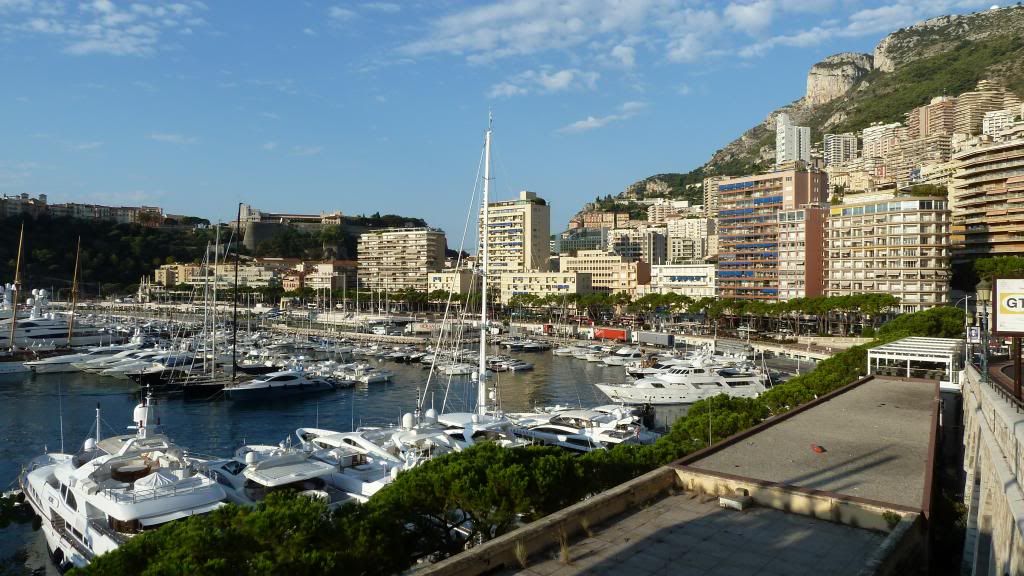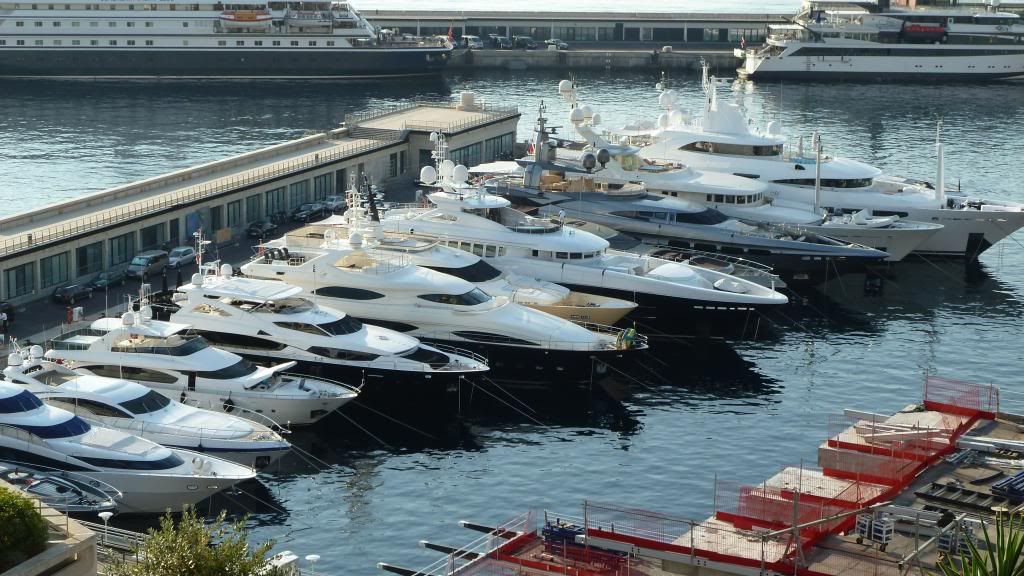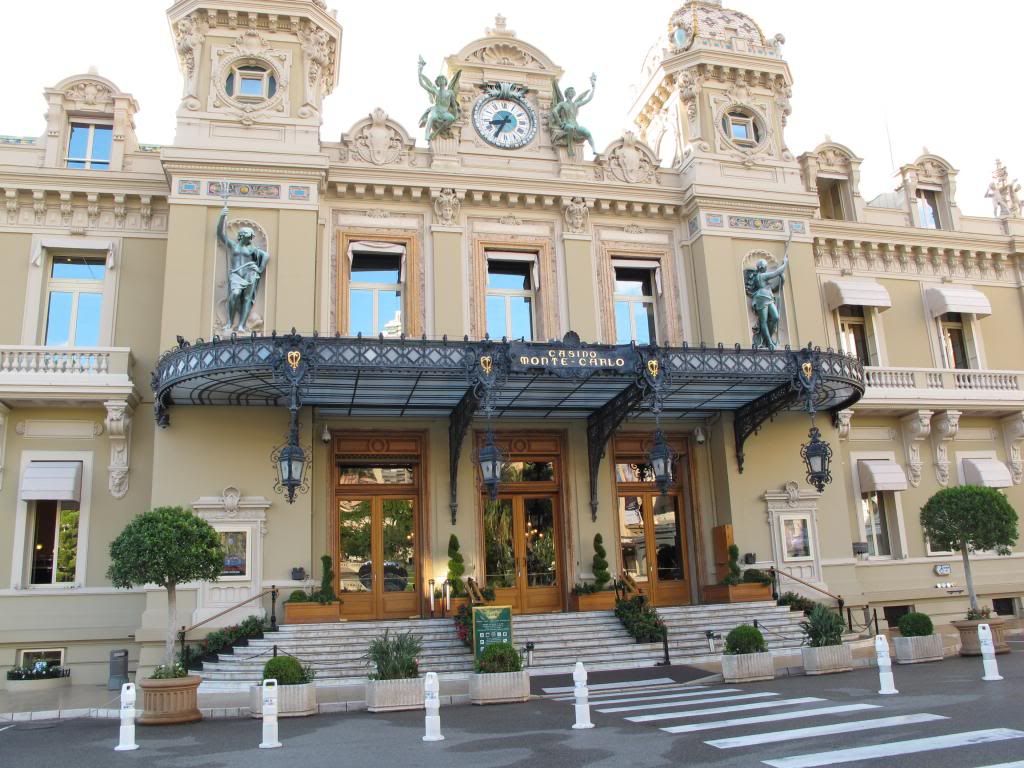 Mirror reflecting the casino opposite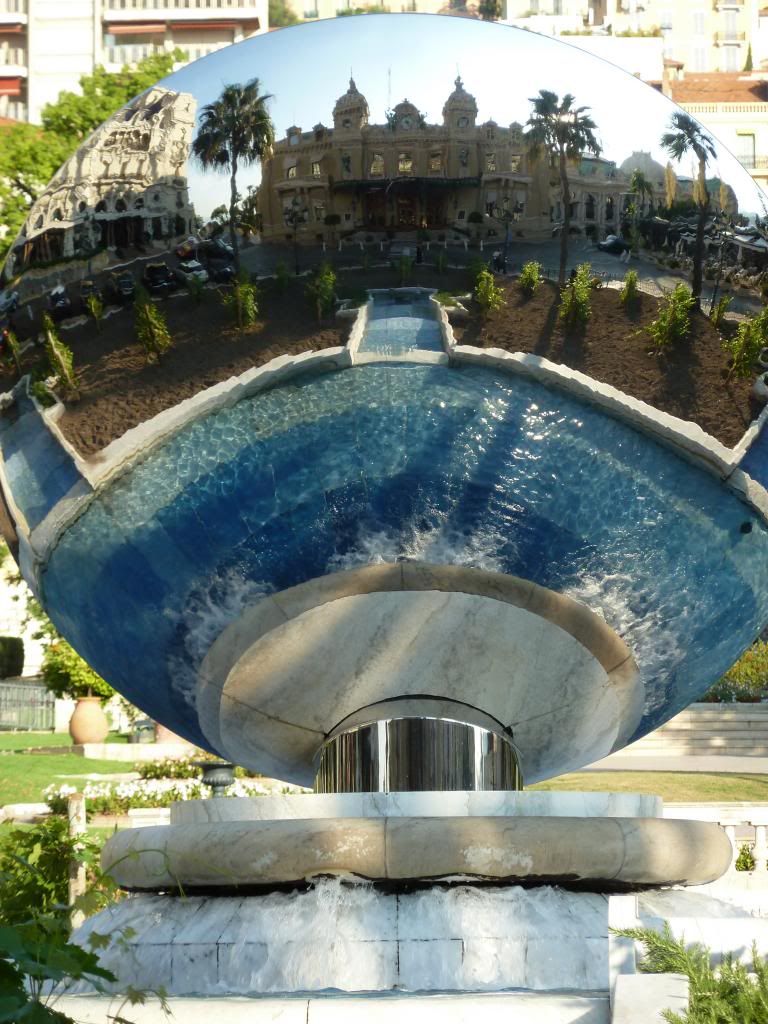 We followed the holes in the pavement where the barriers are inserted, amazed at the narrowness of the track and the tightness of some of the corners.
Mirabeau down to the tunnel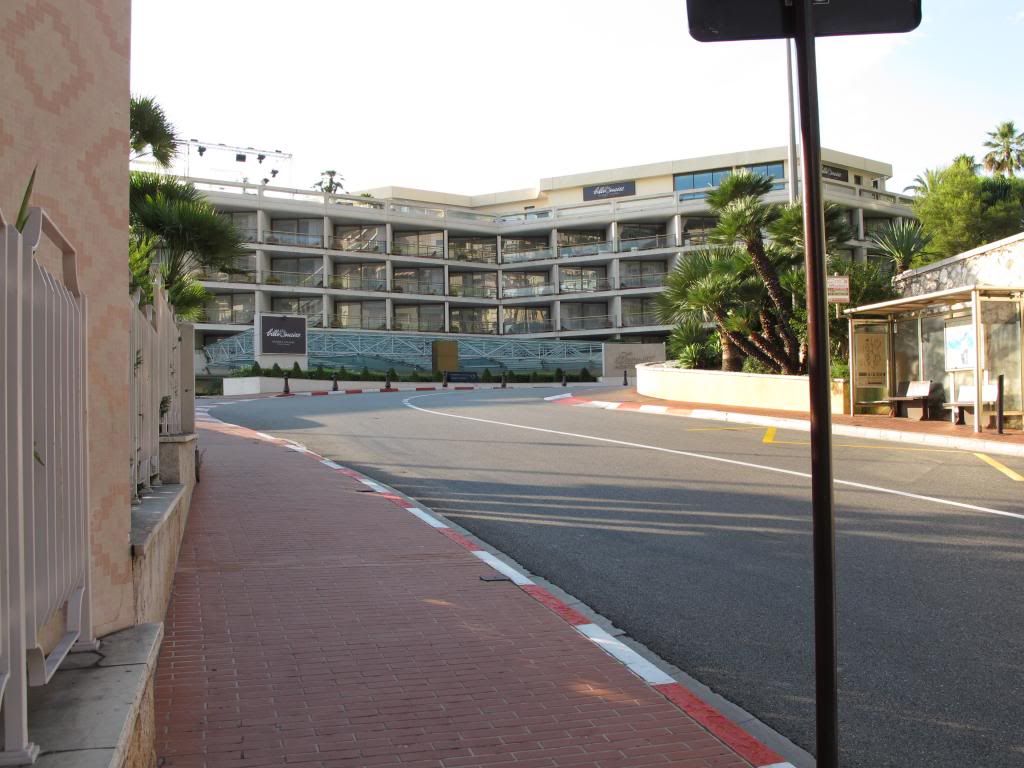 Comfy loungers to while away the hours gazing out at the view and luxury boats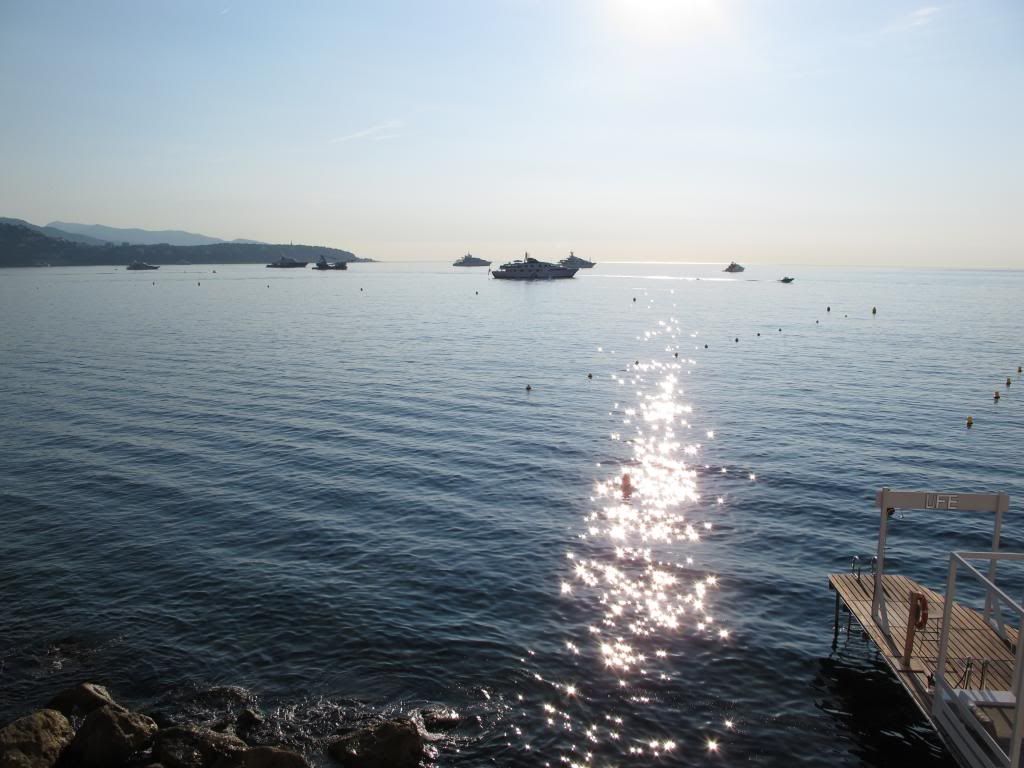 Surprisingly sharp bend!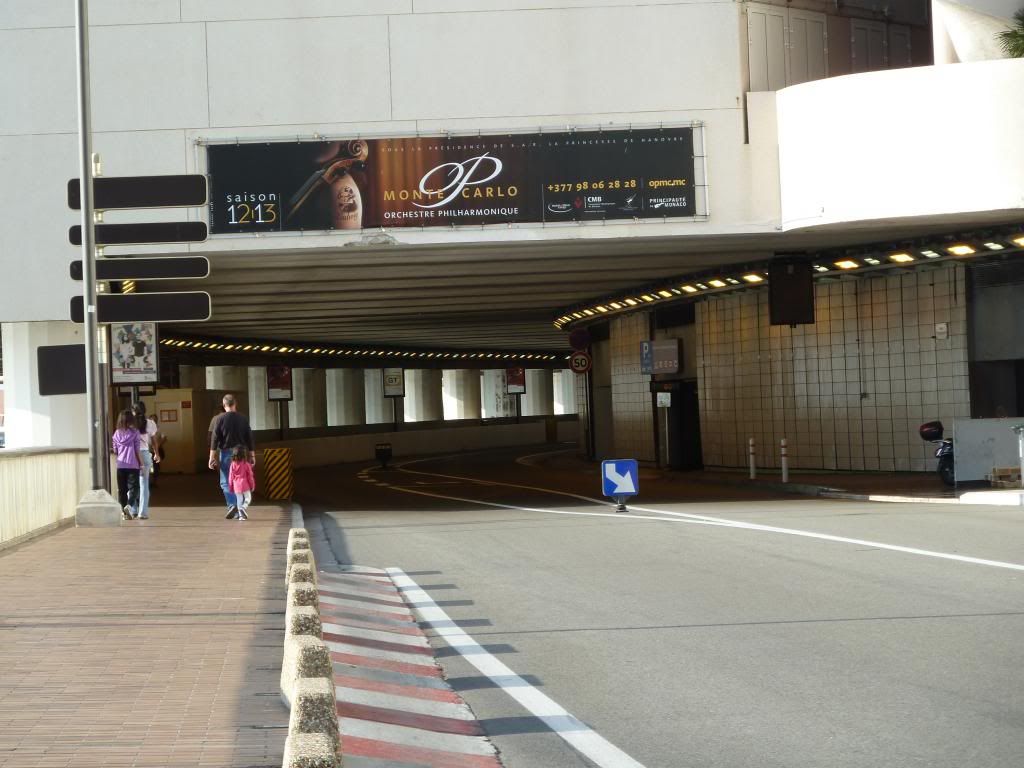 Walking through the marina the overriding smell is of diesel fumes and brasso as deckhands worked on polishing their bosses multi million pound vessels.
Local owner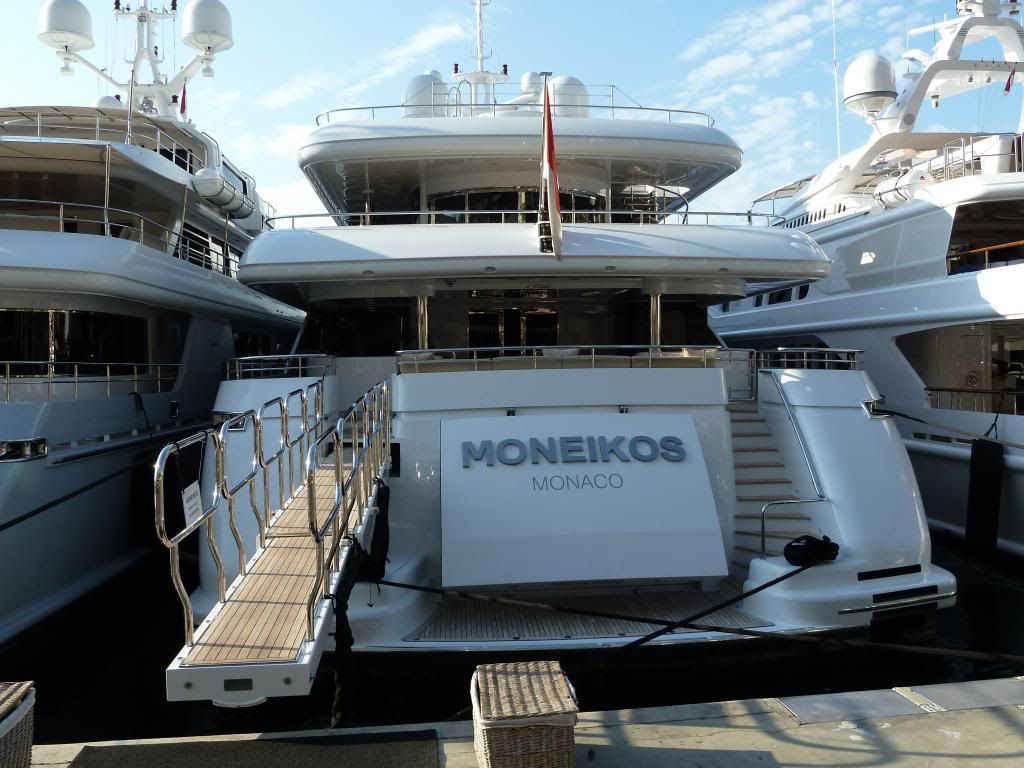 Great sense of humour and obviously huge trust fund!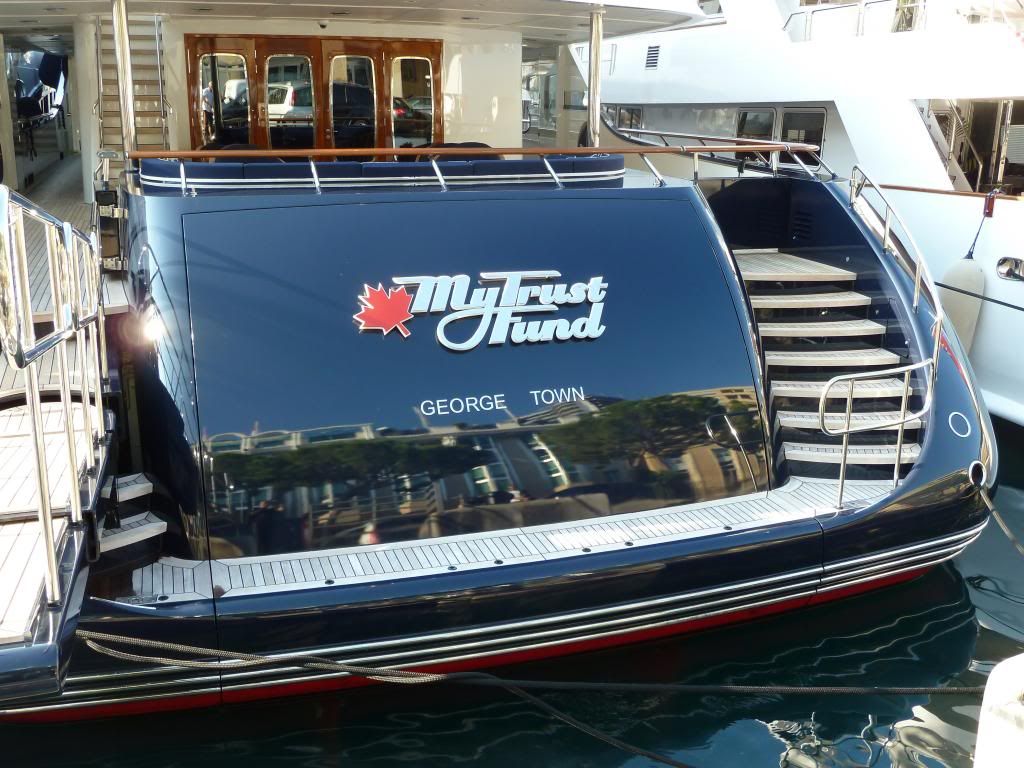 Andys next purchase?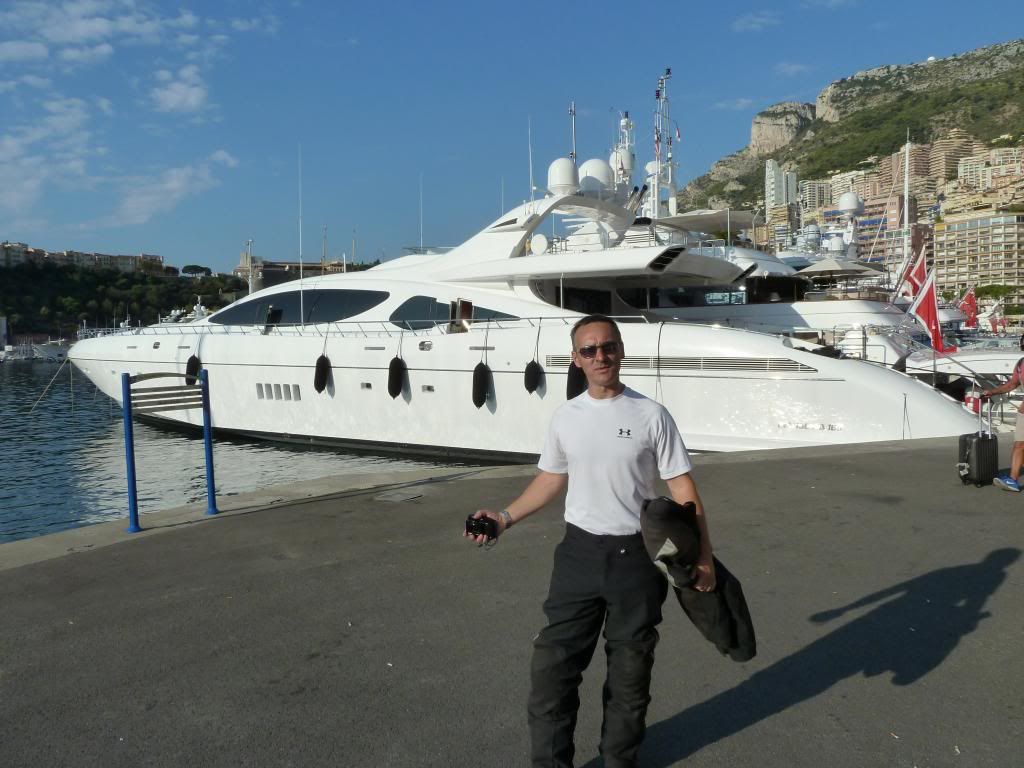 You can't quite see in this picture but even the tie ropes are neatly coiled to perfection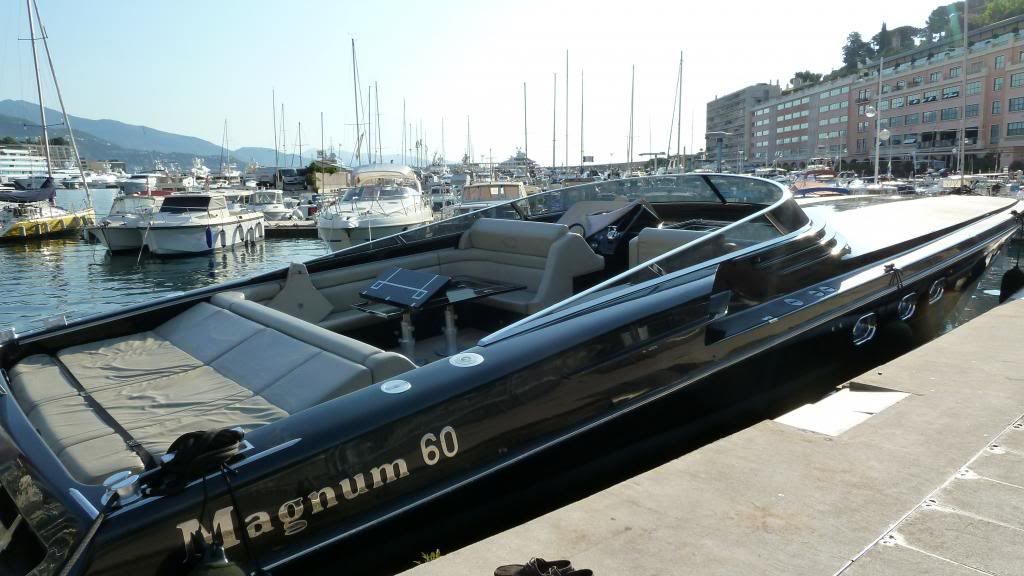 We walked on past the marina to Piscine, and La  Rascasse, with Andy continuing to tell stories about each place, I've never seen him so happy or animated, he was like a kid in a sweet shop, Nice when you can go somewhere or do something you've always wanted to do and it meets your expectations!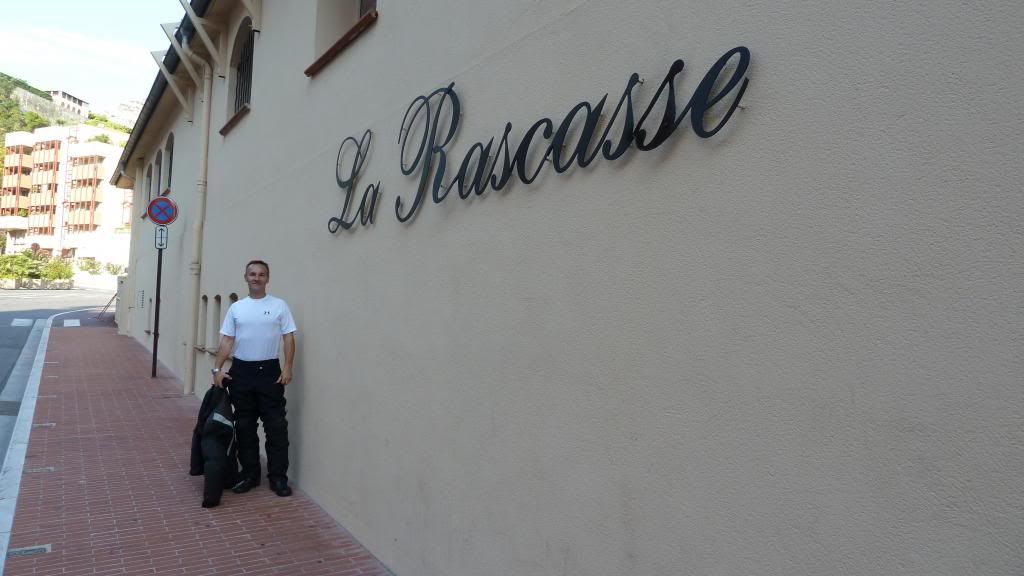 Fangio statue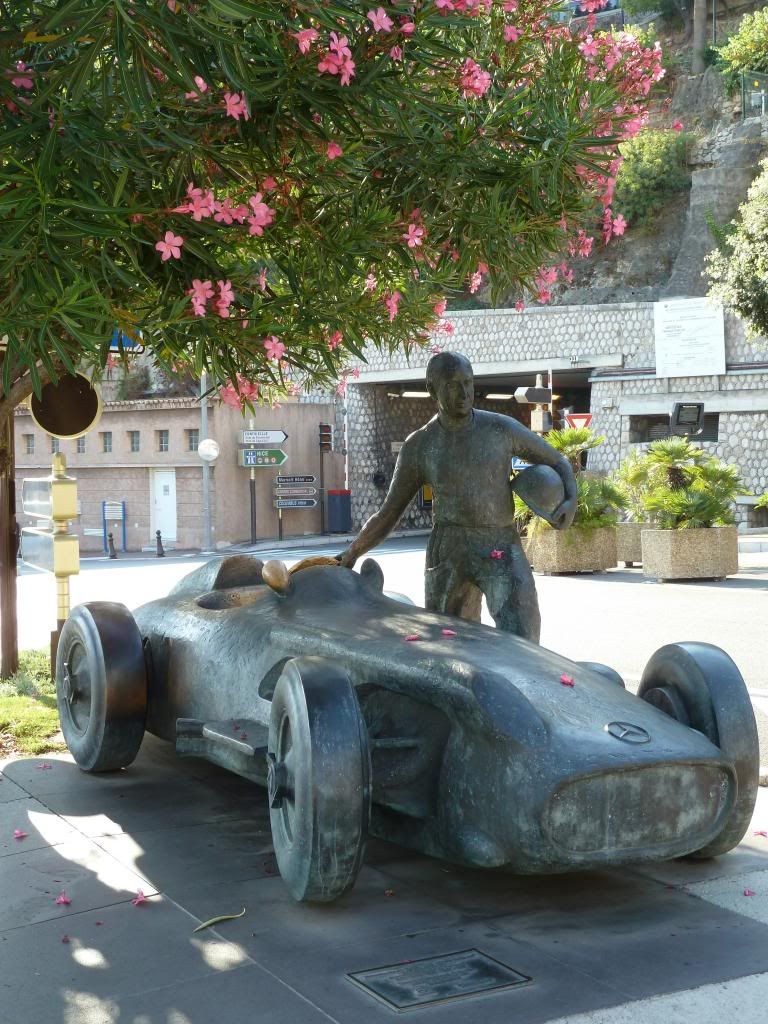 This guy had come a long way!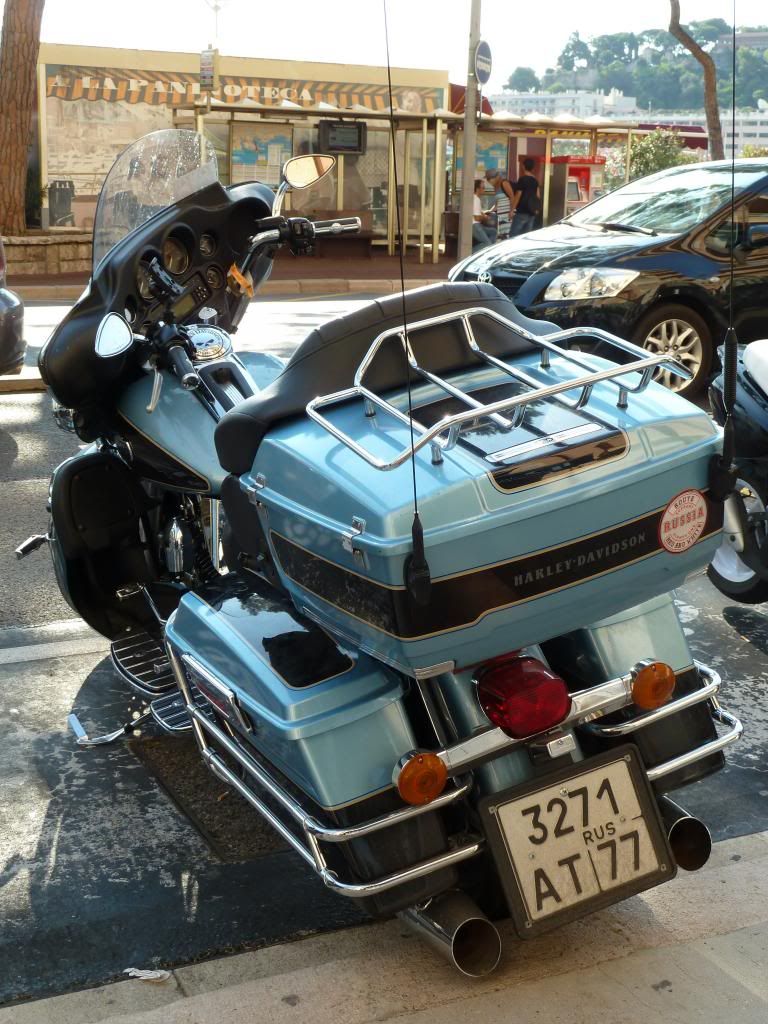 In the shop windows nearby there were lots of images and Grand Prix memorabilia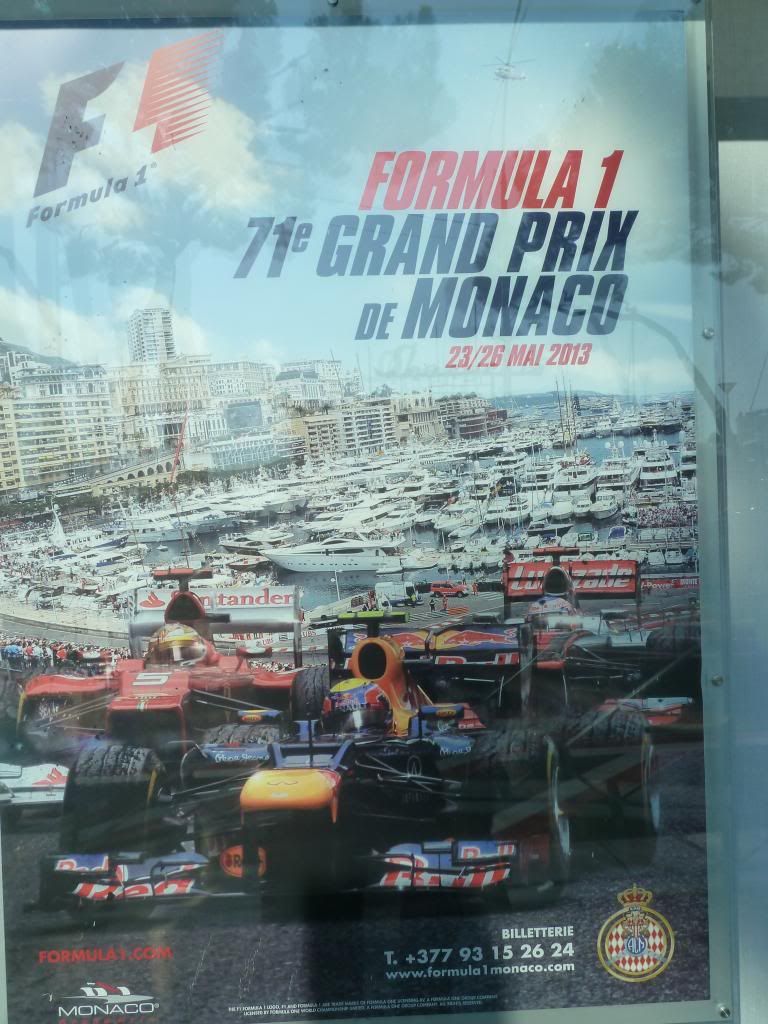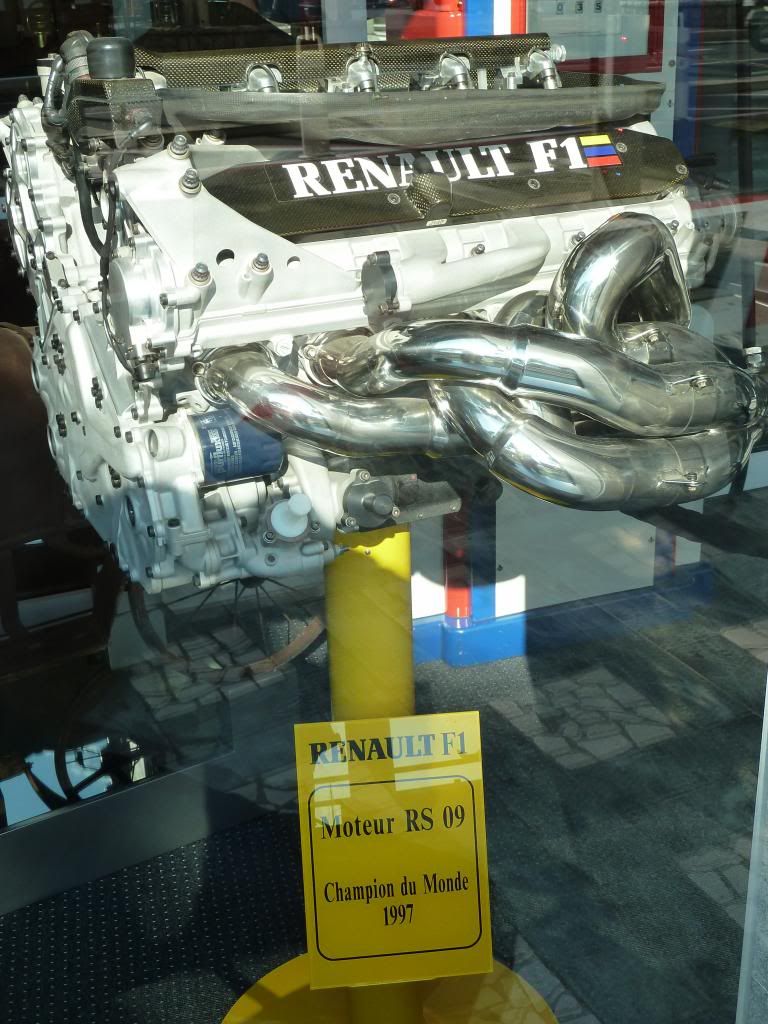 We eventually stopped for a drink, and less than an hour and a half after we started we were back at the bikes and ready to go again.
COMING SOON, PART 2- RIDING SOME OF EUROPES HIGHEST COLS